Three more energy suppliers have gone bust amid the surge in wholesale gas prices, the regulator Ofgem has said.
Enstroga, Igloo Energy and Symbio Energy said they would stop trading on Wednesday.

The trio are the latest companies to go under as soaring gas prices have made price promises by suppliers to customers undeliverable.

Together, the suppliers represent less than 1% of the UK market with a total of about 233,000 customers, Ofgem said.

Enstroga supplies gas and electricity to about 6,000 domestic customers, while Igloo has about 179,000. Symbio Energy has roughly 48,000 in the UK and a small number overseas.

The three energy supplies follow six others which have collapsed in recent weeks. A total of nearly 1.73m customers have been affected in September.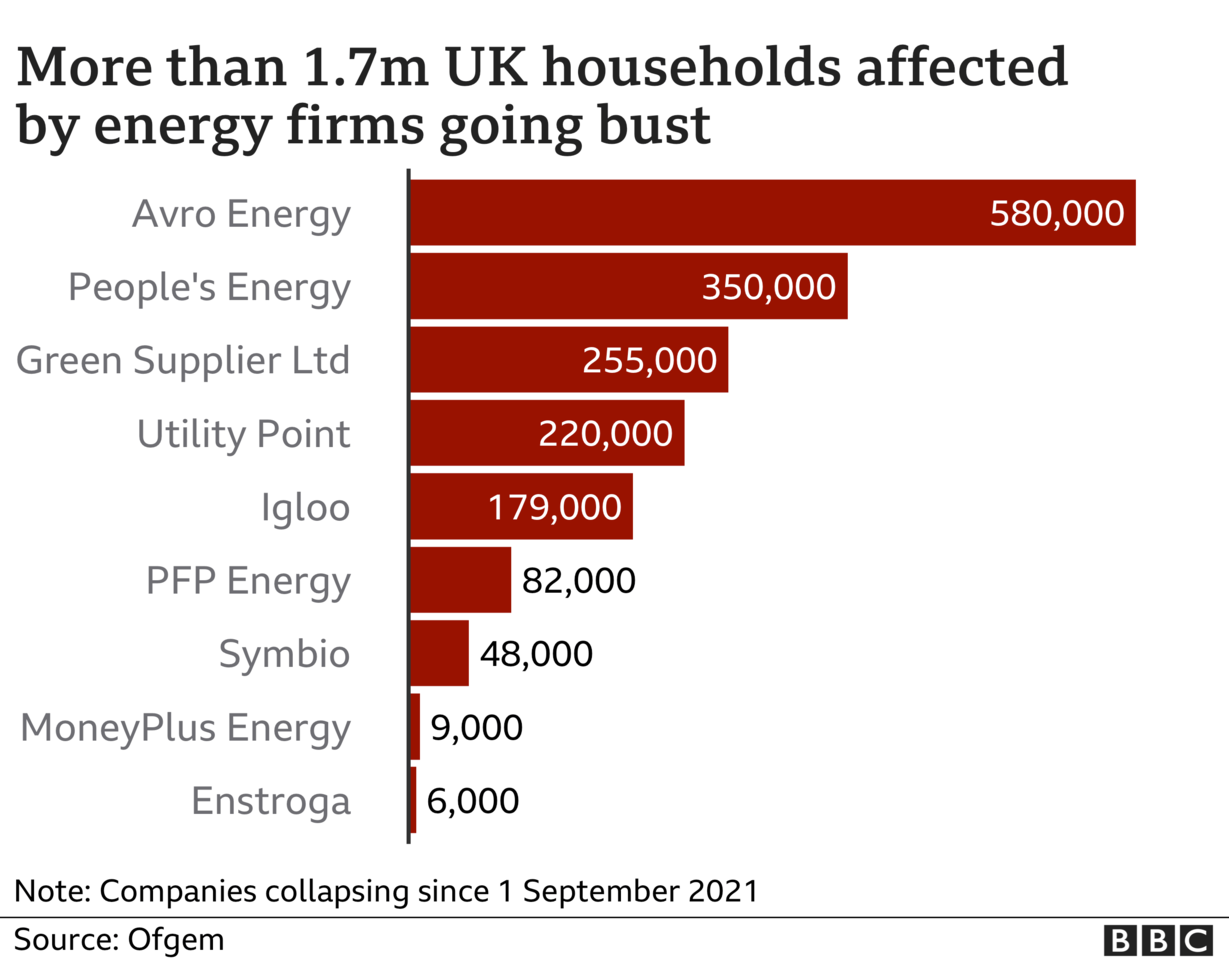 Ofgem said customers of Enstroga, Igloo and Symbio would continue to receive energy supplies and any credit to their accounts would be protected.

Affected customers will switched to a new tariff by Ofgem and be contacted by their new supplier, the regulator said.

It has advised people to take a meter reading and to wait until a new supplier has been appointed before looking to switch to another energy firm.

Ofgem added that consumers will also be protected by the energy price cap, which limits how much firms can charge per unit of gas, once switched to a new tariff.

Neil Lawrence, director of retail at Ofgem, said: "Ofgem's number one priority is to protect customers.

"I want to reassure customers of Enstroga, Igloo Energy and Symbio Energy that they do not need to worry.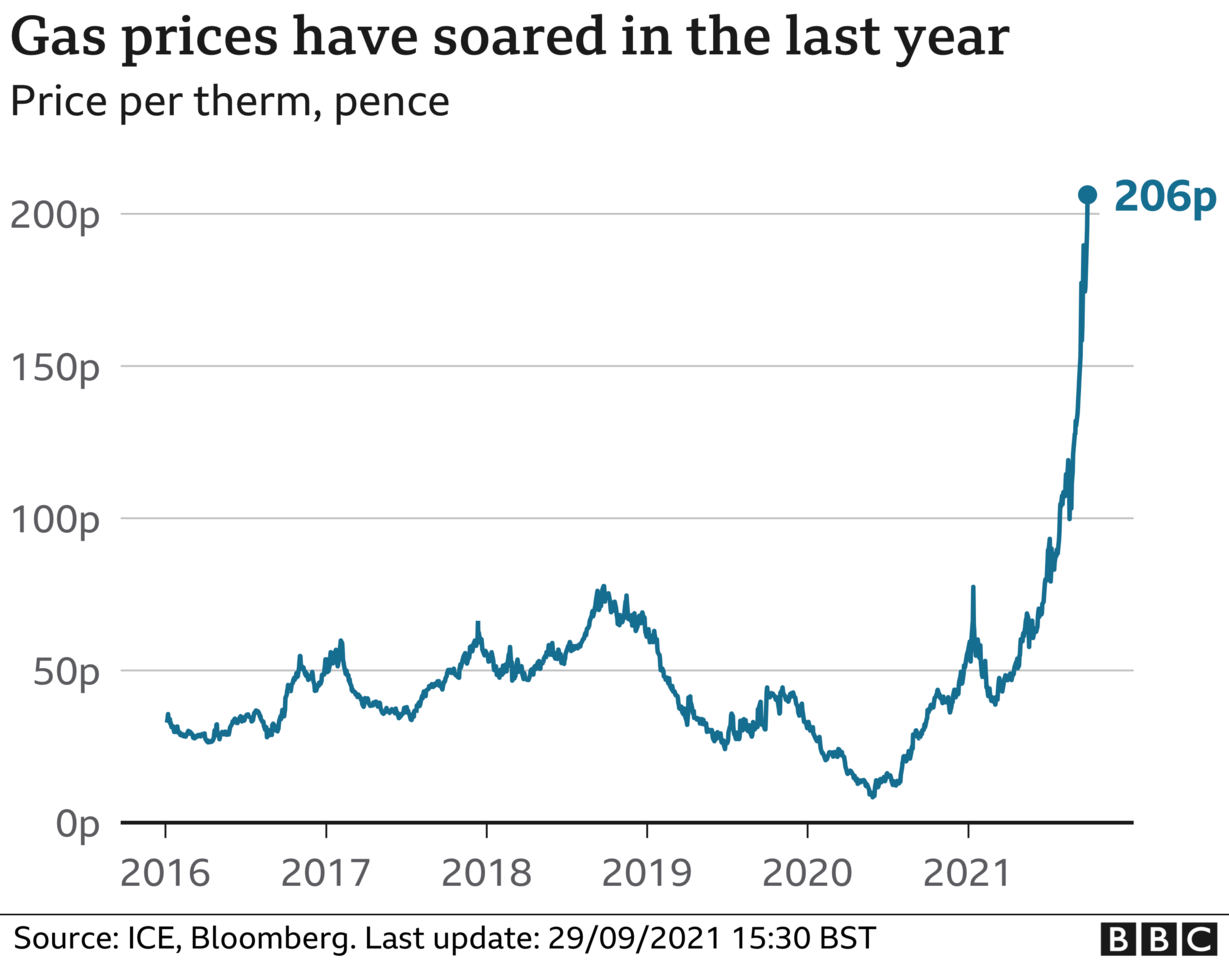 "Ofgem will choose a new supplier for you and while we are doing this our advice is to wait until we appoint a new supplier and do not switch in the meantime. You can rely on your energy supply as normal."

On Monday, Ofgem announced Shell Energy had been appointed as the new supplier for 255,000 gas and electricity customers of Green, which collapsed last week.

Green ceased trading on the same day as another supplier, Avro, whose 580,000 customers have been moved to Octopus Energy.

Jonathan Brearley, chief executive of Ofgem, previously told the BBC the cost of protecting customers from failing energy providers could lead to higher bills.

"As underlying costs rise, pressure on bills does go up," he said.

Mr Brearley has rejected claims from the industry the current crisis represents a failure to adequately regulate the market.

The government has said it is looking at issuing loans to bigger energy firms to help them take on stranded customers.

Business Secretary Kwasi Kwarteng has said the government would "not be bailing out failed companies" and added he does "not expect supply emergencies".


Consumers' attention may have been drawn to the queues for petrol this week, but this news is evidence the gas crisis is far from over.

It is a crisis that many more suppliers are not expected to survive. The pressure on them is increasing as wholesale gas prices are continuing to go up.

Meanwhile, tens of thousands of customers of these three collapsed companies will now wait to be moved automatically onto new, dedicated - but undoubtedly more expensive - tariffs.

Millions more face price rises on Friday, when Ofgem's higher price cap for variable tariffs kicks in.

As more and more suppliers fold, the cost of dealing with their customers will mean further price rises for everyone in the future are inevitable.