Nurses were beginning a two-day strike on Wednesday causing further disruption in the NHS in a winter of discontent for public services.

Royal College of Nursing members are walking out of 55 hospital trusts across England, including London, for 48 hours until Friday. They have announced two more strikes on February 6 and 7 in a "cost-of-living" dispute.

Downing Street has condemned the "significant disruption" the widespread strikes will cause.

The RCN has been calling for a pay rise at 5 per cent above inflation, though it has said it will accept a lower offer.

Inflation was running at 7.5 per cent when it submitted the figure to the independent pay review body in March.

But inflation has since soared, with RPI standing at 14.2 per cent in September.

Thousands of operations and appointments are expected to be cancelled during the two consecutive days of strike action. Almost 30,000 needed to be rescheduled following December's nurse strikes.

The health service is likely to run a bank holiday-style service in many areas.

The RCN has agreed to staff chemotherapy, emergency cancer services, dialysis, critical care units, neonatal and paediatric intensive care.

Some areas of mental health and learning disability and autism services are also exempt from the strike, while trusts will be told they can request staffing for specific clinical needs.

When it comes to adult A&E and urgent care, nurses will work Christmas Day-style rotas.

RCN chief executive Pat Cullen said: "We are doing this in a desperate bid to get him and ministers to rescue the NHS."

Across the NHS, there are more than 130,000 staff vacancies causing patient care to suffer "like never before".

London bus workers at Abellio will also strike on Thursday.

Piling further pressure on Prime Minister Rishi Sunak, train drivers with Aslef and the RMT unions as well as university staff are the latest to confirm they will take action on February 1, joining National Education Union teachers in England and Wales and around 100,000 civil servants in the PCS.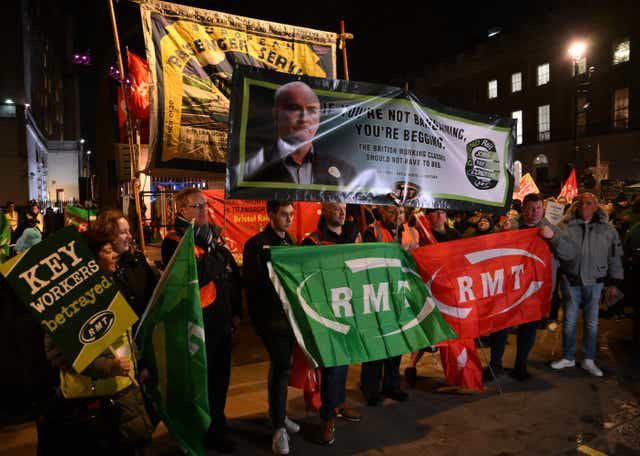 Demonstrators opposite 10 Downing Street
The action coincides with protests by the Trades Union Congress against the Government's legislation aimed at ensuring minimum levels of staffing are maintained during strikes in key workplaces.
Sunak's official spokesman said: "We're in no doubt that this strike action, some of which will fall on the same day or days, will cause significant disruption to the public – whether it's children having their education disrupted or the public trying to go about their daily lives on their commute.
"We don't think it's the right course of action, we continue to call unions to step away from the picket lines and continue with discussions."
A series of meetings of the Cobra emergency committee have already been held to discuss the response to strikes, and more are expected in the lead-up to the February 1 action.
"We have seen that we have been able to significantly mitigate against some of the challenges that would have otherwise been posed by some of these strikes," the Prime Minister's spokesman said.