Chancellor Rishi Sunak and his wife make the Sunday Times Rich List for first time with £730m fortune.
Their joint £730m fortune ranks them at 222 of the paper's annual list.

Recently, Ms Murty's tax affairs came under scrutiny after it was revealed she had "non-dom" status - meaning she did not pay UK tax on overseas income.

Ms Murty, the daughter of an Indian IT billionaire, later agreed to pay UK taxes on all her earnings.

Her 0.9% stake in her father Narayana Murty's IT company Infosys, estimated to be worth around £690m, earned her £11.6m in dividend income last year.

It is estimated her use of non-dom status could have saved her £20m in taxes.

The Sunday Times said the couple had made their first appearance on the Rich List now because it was only able to confirm Ms Murty's stake in her father's business over the last year.

Mr Sunak was later cleared of breaching the ministerial code after referring himself to Prime Minister Boris Johnson's standards adviser to check if he had properly declared all his interests.

A "non-dom" tax designation, short for "non-domiciled individual", is a term used for a UK resident whose permanent home, or domicile, is outside the UK.

Someone with the status only pays UK tax on money earned in the UK, but does not have to pay any tax to the British government on money made elsewhere in the world (unless they pay that money into a UK bank account).

Meanwhile, the latest ranking of the 250 richest people in Britain also revealed a record 177 billionaires in the UK this year, the Sunday Times said.

Overall, the richest individuals and families in the UK this year are worth £711bn, an 8% rise on last year's £658bn.

The expanding fortunes of Britain's wealthiest people comes amid a growing cost of living crisis, with UK inflation rising sharply to 9% in the year to April - meaning prices are rising at their fastest rate for 40 years.

In February, Mr Sunak announced a £9bn package of measures, including a £150 discount to council tax and a £200 loan for energy bills in the autumn, but he is under increasing pressure to offer more support to households as energy bills and food prices continue to rise.

Sri and Gopi Hinduja, who run the India-based conglomerate Hinduja Group, topped the list with their £28.47bn fortune - a growth of more than £11bn in a year.

Entrepreneur Sir James Dyson and his family jumped to second in the rich list after a £6.7bn increase to £23bn.

Who makes the top 10?

According to the Sunday Times, the 10 richest families and individuals in the UK, the estimated value of their fortunes and the primary source of their wealth are:

*  Sri and Gopi Hinduja and family - £28.47bn (industry and finance)
*  Sir James Dyson and family - £23bn (household goods and technology)
*  David and Simon Reuben and family- £22.26bn (property and internet)
*  Sir Leonard Blavatnik - £20bn (investment, music and media)
*  Guillaume Pousaz- £19.259bn (online payments)
*  Lakshmi Mittal and family - £17bn (steel)
*  Christoph Henkel and family - £15bn (chemicals)
*  Guy, George, Alannah and Galen Weston and family - £13.5bn (retailing)
*  Kirsten and Jorn Rausing - £12bn (inheritance and investment)
*  Charlene de Carvalho-Heineken and Michel de Carvalho - £11.42bn (inheritance, brewing and banking)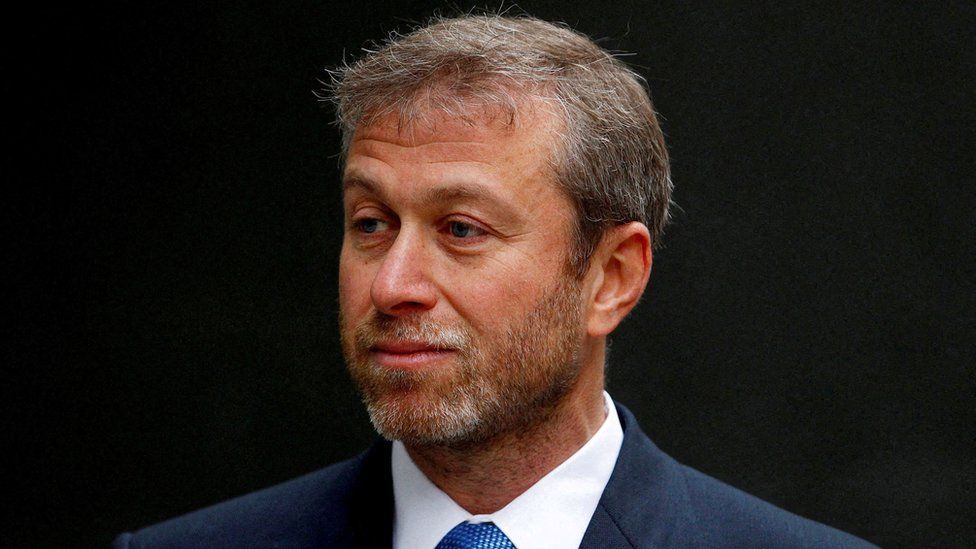 Russian billionaire Roman Abramovich's ranking dropped sharply after being sanctioned over the Ukraine war

However, Chelsea owner and Russian steel magnate Roman Abramovich's wealth halved in a year to £6bn - dropping him 20 places from his 2021 ranking to 28th on this year's rich list.

The oligarch is the biggest loser of all in this year's Rich List, the Sunday Times said.

The plummet in Mr Abramovich's fortunes followed his being sanctioned over the war in Ukraine, the enforced sale of Chelsea and the sharp fall in his shares in steel company Evraz.

The premier league club is expected to be sold in late May, after £4.25bn deal to purchase it was agreed with a consortium led by American businessmen Todd Boehly.

Another notable billionaire with ties to Russian President Vladimir Putin whose fortunes have suffered since sanctions were imposed, if not so dramatically, is Uzbek-born Russian oil oligarch Alisher Usmanov.

His estimated worth dropped by £3bn to £10bn, falling from sixth to 11th place.
For more info, please visit https://www.thetimes.co.uk/sunday-times-rich-list