The rising cello star on making her acclaimed acting debut opposite the Hollywood A-lister, studying Michael Caine and returning to music after a whirlwind year
Sophie Kauer's first ever acting role was as a nobleman, complete with eyeshadow beard, at the back of a school production of The Tempest. Her only lines were to say, "Aye" three times. Her second acting role is opposite Cate Blanchett, in one of most anticipated films of the year.

Tár is set in the rarefied world of the Berlin Philharmonic and tracks the fortunes of the orchestra's (fictional) first female chief conductor Lydia Tár, played by Blanchett. The 21-year-old Kauer plays Russian cello prodigy Olga Metkina, who entrances Tár just as the conductor-composer becomes enveloped in personal and professional crisis.

This may be Kauer's professional acting debut, but it's also a role she was born to play as a rising star cellist herself – she is currently in her third year at the Norwegian Academy of Music in Oslo. "Music is so all consuming and demanding that I never expected something like this to happen," she says. "Nor did I think they cast real musicians in movies."

We meet in the grand drawing room of the Soho Hotel, off Dean Street. She is still wearing the crimson ruffled Dior dress from her photoshoot, which fits admirably with the décor, though she tells me normally she's more of a "Dr Martens girl".

Tár is already something of a sensation, and she is sensational in it. Director Todd Field's first film in 16 years received a six-minute standing ovation at the Venice Film Festival in September, with critics tipping Blanchett as the instant frontrunner for the best actress Oscar in March. Kauer's performance was also met with high acclaim.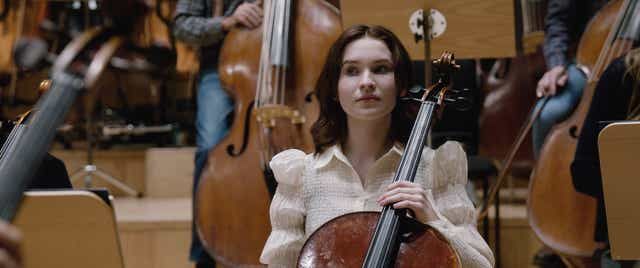 Sophie Kauer stars as Olga Metkina in Tár
It has all been a bit of whirlwind, and the musician-turned-actor is still coming to terms with the hoopla. She has gone from snow boots and "grotty practice rooms" to the red carpet of Italian festivals. "The whole film thing is still very surreal. I'm not sure if it will hit me, though it's starting to feel a bit more real now it's in London."
Her role as Olga has been described as "mesmerising"; by turns naïve, seductive and steely. "She's so rude, it was so much fun to play someone who is so different to me," Kauer smiles – and it's true she is an engaging, friendly interviewee, taking each question on its merits – adding that the character's motivations are not entirely clear, not even to her, despite quizzing the director extensively.
"None of us entirely know what's going on. You never really know if Olga is calculating and there is a plan, or if she's very childish and caught up in how she's achieving her wildest dreams and this is all going over her head."
Born in London to an English mum and German dad, Kauer grew up in Guilford. She started playing cello at eight after her parents signed her up to a course at the Royal Academy of Music, and she chose the instrument "because I got to sit down while playing".
"It's quite late to start among my peers, most people start around four. I used to want to be a figure skater, and I responded a lot to the music I used to skate to." The skating stopped when the cello started taking up more time – which also ruled out school plays – though it has still proved useful during her studies in Norway as the students skate on the lakes when they freeze.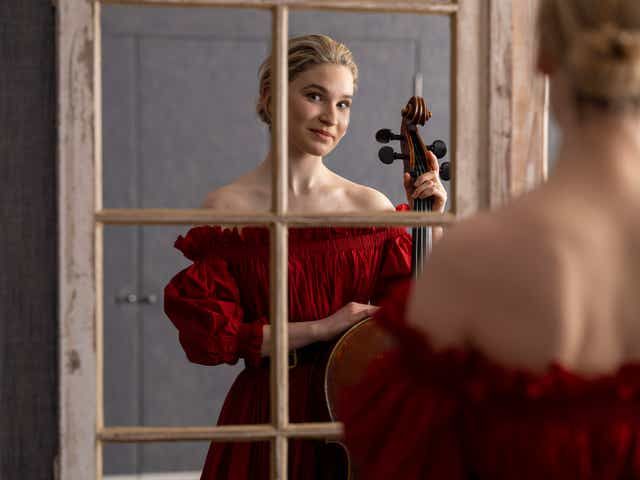 Kauer has won a number of music competitions in the UK, including the Search for a Cello Soloist competition and all the prizes open to her at the Junior Royal Academy of Music, where she studied for seven years. If that gives an indication of her drive and talent, her efforts to study under renowned cellist Torleif Thedeén at the Norwegian Academy of Music gives another.

"I was determined to study with him and I wanted to tick as many boxes as possible, so I learnt Norwegian in 10 months. It was really risky because he only takes one bachelor student every couple of years and there aren't very many spaces at all," she says (she speaks five languages in total – English, German, French, Norwegian and Swedish).

"Sometimes when I really want to do something I just have to do it. It's not cockiness, it's like when you see your goal and you have to go for it. So I buckled down and I really worked hard." Unsurprisingly, Thedeén took her on.

She's driven, and ambitious – as is Olga – and Kauer thinks the film portrays the world of classical music "perfectly and authentically", though her experience differs from that of her character. Tár also tackles still-relevant issues, such as predatory sexual behaviour and cancel culture.

In one scene, in which Lydia Tár is giving a Juilliard masterclass, Max, a student who identifies as "bipoc [black, indigenous and people of colour] pangender", refuses to engage with the music of Johann Sebastian Bach, believing the composer to be misogynist.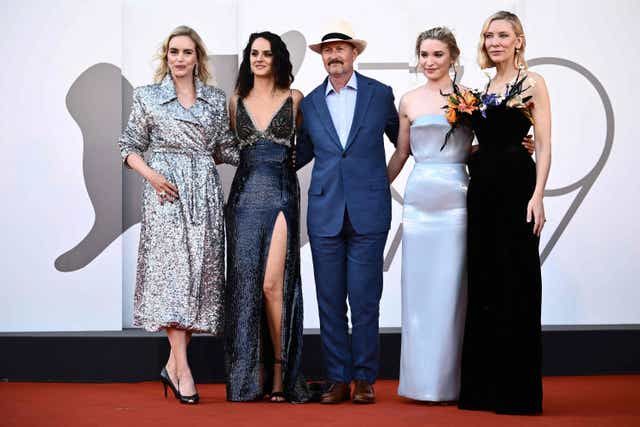 From left, Nina Hoss, Noemie Merlant, Todd Field, Sophie Kauer and Cate Blanchett at the 79th Venice International Film Festival in September 
"I have experienced this, there are some people who just refuse," Kauer says. "I do really sympathise with [Max] and do think we need to be better at including different voices and ethnicities and genders. I think we've been a bit slower to evolve compared to other art forms in that respect. But it's well on the way."

She adds, "But you can't just erase history and the vast majority of music because it was written by white males, that's just how it is, you can't rule it all out."

The film is also timely given in September, the Independent Society of Musicians, the UK's professional body for musicians, released a report that revealed the "devastating scale" of discrimination, which included sexual harassment and racism, in the classical music industry.

"I think it's not just in the classical music industry, it's in a lot of industries," Kauer says. "I'm glad I'm growing up now and not 20 years ago, but it's still there… That is the industry we work in but it's getting a lot better and I can't say I lack female role models in classical music."

She was asked to talk about the subject on stage in Los Angeles during a post-film Q&A, which was understandably daunting but, she says, "I believe it's something we need to talk about."

Kauer's journey to film stardom started when a friend forwarded a "random casting call" on Facebook and said she should apply (hundreds of cellists did – "I know loads of them!"). She sent off self-tapes and was called for a Zoom audition with Field, the film's director, and a host of casting directors.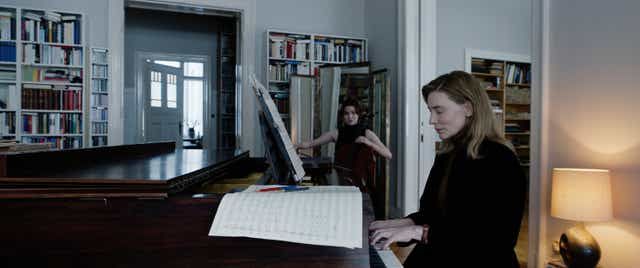 Sophie Kauer and Cate Blanchett in Tár

She says, "I wasn't obsessed with getting it because it was so far from my reality. Sometimes it's the same when I'm playing a concert and there's no time to prepare. You can play your best because you don't have these expectations for yourself and you just let go." Kauer prepared for the audition as best she could – "I like to be someone who puts in 110 per cent" – but the issue was "I didn't have any idea what good acting was. I didn't feel I could judge that".

When, deep in end-of-semester exams, she was asked to record part of Elgar's Cello Concerto in E Minor, she said she could send the tape a fortnight later. Field called asking for the video more urgently and when she hesitated, "he said, 'If you send it and it's the level we hope you are, you have the part.'"

More than just being at the level Field and casting director Avy Kaufman hoped, after listening the director told one magazine "our jaws hit the floor".

Despite being "overwhelmed, excited and frightened", the chance to work with Field and Blanchett as well as composer Hildur Gudnadóttir, who won an Oscar for her work on Joker, and the Dresden Philharmonic was just too good an opportunity for Kauer to pass up.

She also thought it would be a chance to change minds about classical music. "There are a lot of misconceptions about classical music being old fashioned and inaccessible," she says. "So it's been a big goal of mine to bring classical music to a wider audience, to take away some of the fear around it. So it's lovely that [with this film] I'm sort of helping."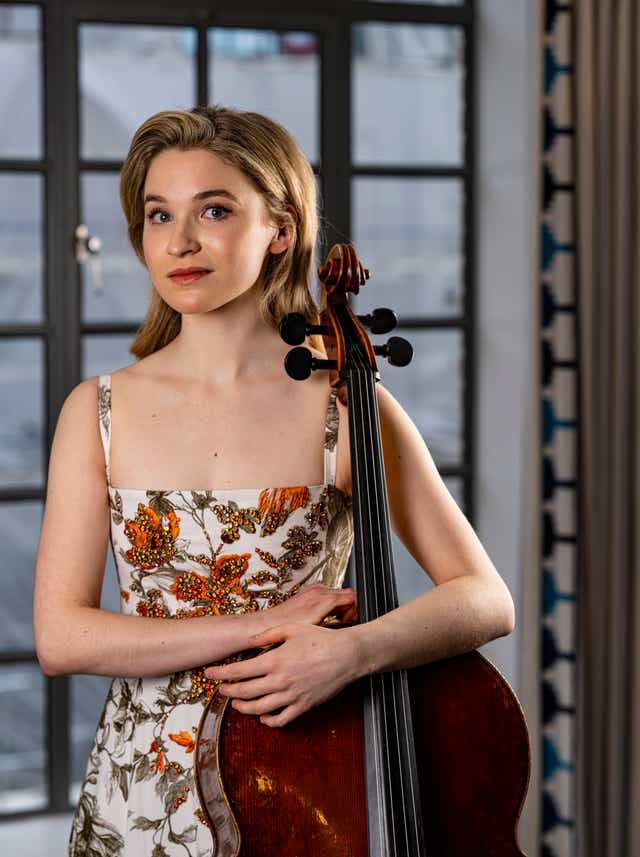 Meeting Blanchett was "surreal", she says. "She really is so lovely, and I learnt so much from her. She's really been taking care of me throughout these press tours. She practically hugged me up the red carpet in Venice. I learned to act from Cate and Todd and that is the most amazing thing ever." Before turning up on set, she had help from another veteran – watched a Michael Caine acting masterclass on YouTube to prepare.

If Kauer was a musician learning how to act, at the same time, Blanchett was an actor learning how to conduct an orchestra. "I was so impressed. All the conducting in the movie is Cate, there's no one off camera. We had very little time to rehearse and the orchestra is playing off her."

In playing her Elgar solo, she had just one rehearsal with the Dresden Philharmonic and Blanchett conducting. It is her playing on the film and the soundtrack. "Todd wanted it to be authentic and messy and raw, so they are live takes. When he told me this I was like 'Oh my God, no'. It was a real baptism of fire."

Kauer still has 18 months of her undergraduate degree left. So what is it like returning to her studies after this whirlwind experience? "I love studying and I love playing the cello," she says. "I'm finishing my degree. It's what I've wanted to do since the age of seven, to be a cellist. So it was lovely to come back."

Still, if another interesting role comes along she'd be happy to do more acting – "as long as it doesn't interfere with the cello" – though she's keen to find roles outside of cellists. "Not to say I'd rule out playing a musician; you've got to see what comes your way… My life is really not going to a plan."

And when I ask if she has had any more acting offers yet, it's the first time her response is coy. "Maybe," she laughs with eyes twinkling. "Maybe…" That's music to the ears.