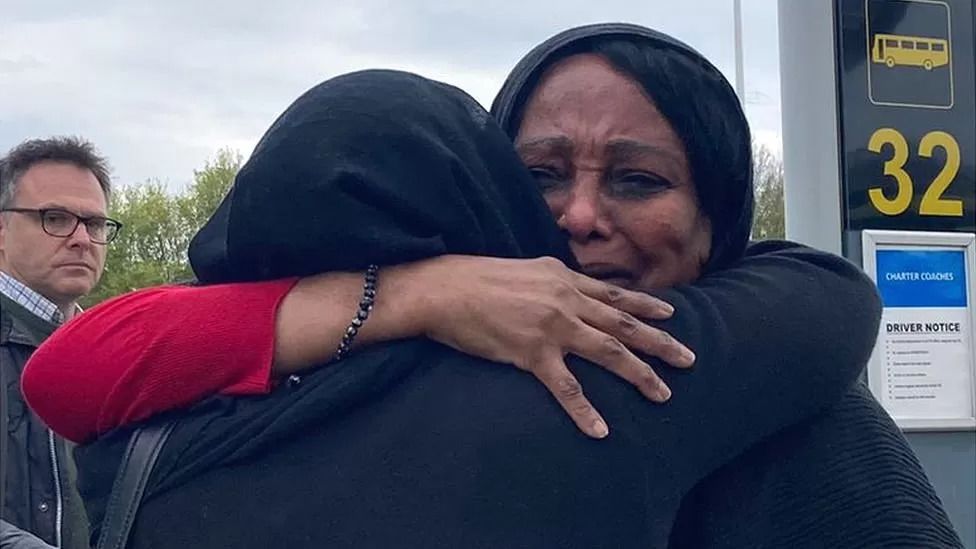 Sudan evacuation: 'We're very grateful to be alive'
After days of dread, fear and desperation, British families are now on rescue flights out of Sudan, making the 3,000-mile journey to safety.
At Stansted Airport, emotions ran high as relatives clutched flowers and waited to see whether their loved ones were on the next airport bus.

One little boy called out "mum" when he saw his mother get off the bus.

The arrivals, looking tired and relieved, were coming to the end of a very long and frightening journey.

Many will have risked their lives to travel - without any assistance - across Sudan's capital, Khartoum, during a fragile ceasefire to reach an airfield.

From there, they joined RAF planes taking them out of Sudan, away from the conflict and on to Cyprus. Then they were brought to the UK on a chartered flight and into the arms of waiting relatives.

As of around 22:00 BST on Wednesday six flights had evacuated 536 British nationals from Sudan, the Foreign Office said.

But there has been criticism of the slowness of the UK government's evacuations compared with other Western countries such as Germany, which completed its evacuations on Tuesday evening.

Home Secretary Suella Braverman said the government would be supporting British nationals and their dependents, but added there were no plans to introduce a legal route for people fleeing Sudan to claim asylum in the UK.

However, Alicia Kearns, chairwoman of the Commons foreign affairs select committee, said elderly people dependent on their British citizen children should be allowed on flights to the UK.

"In the same way we treat children who are dependent on their parents, we should respect that some elderly people are dependent on their children," she said.

Clashes between the Sudanese army and paramilitary group the Rapid Support Forces (RSF) began on 15 April. Hundreds of people have since died and thousands have been injured in the conflict.

A ceasefire began in Sudan at midnight local time on Monday, but is due to expire at the start of Friday.

Writing on Twitter, Foreign Secretary James Cleverly warned the UK could not guarantee how many further flights would depart once the ceasefire ends.

Airlifting large numbers of people out of Sudan has been complicated by major airports becoming battlegrounds, and movement out of the capital has been perilous.

One evacuee described seeing burnt houses and cars everywhere on her way to the airfield, just outside Khartoum. Others had seen dead bodies, she said.

But now, back in the UK and little over an hour from her home in Acton, west London, Nemar told gathered reporters of her happiness and pride at making it home.

"I am very happy to be here," she said. "The British government has been marvellous - I feel very proud that I have made it here," she added, before wrapping her arms around her sister in emotional scenes.

There were more tears or relief and joy at the airport, with people saying they finally felt safe and protected.

Tariq, who saw the building next to his shelled in Sudan, said: "We're very grateful to be alive."

He thanked the British government but said they should be trying to save more people.

"We don't know who's going to make it out. We are very lucky, but not everyone is as lucky as us," he added.

Shama, one of the first off the airport bus, told reporters and her family: "We're safe. We're in no danger - I'm back and no longer scared."

Asked about the speed of the British response to the violence in Sudan, she said: "It was slow but we're here."

Earlier at Larnaca Airport, in Cyprus - where Britons boarded their second flight - Shereen Soliman spoke of her relief at escaping Sudan.

"It was something else. I can't even describe," the mother and fashion designer told the BBC from the departure gates.

"It was bad, it was very bad, I even don't want to remember it."

Shereen was on a three-week holiday with her son Karim, 10, and eight-year-old daughter Diyalam, who were excited to be visiting family in their homeland when the fighting broke out.

"In two weeks they [her children] were asking me to go back to London."

Karim said: "We heard lots of gunshots while we were in the house. We also heard explosions. I saw men with guns but they were friendly because they were on our team."

But he said he was looking forward to being back in London because it was safe there.

However that has not been an option for all of the family. Others did not have the right to go to the UK with her, Shereen said.

"I had to leave my parents, my siblings, the whole family there. So I'm very worried about them. I really feel sorry for Sudan because it's my home, my country. I wanted my kids to feel safe there."

Asked how she felt about the British authorities' handling of the situation compared with the French and the Germans, she said: "They were slower than the others, but still they saved us.

"That's what matters, right?"

Her feelings were shared by fellow British national, Yahya Yahya, who has been trying to flee Sudan with his family since the fighting started 11 days ago.

He told the BBC it was "a very difficult time" and he was "thankful that we've finally made it to a safe place".

"The first day that the war started [I tried to leave the country], because I wanted to try and get my kids to a safe place," he said.

Asked about the delay in knowing that Britain would help evacuate its people, Yahya took a sharp intake of breath. "It was quite difficult, but it was ok," he said.

Other stories have emerged of timely escapes. One British man whose sister managed to be evacuated overnight told the BBC she felt overwhelming relief to have escaped Khartoum, where food and water have become scarce because it is not safe for people to leave their homes.

He said at one point she and 13 others had only four dates and one egg left to share between them.

Brigadier Dan Reeve, the most senior military official overseeing the evacuation, said there was capacity to evacuate about 500 people a day.

He defended the decision not to escort people to the airport, even though some other countries have done this with their nationals.

He told the BBC: "This is not a race to get it wrong. In my professional judgement it would not be safe to bring people together in one location in Khartoum and seek to extract them.

"We've seen incidents of convoys being attacked."

Around 120 British troops are supporting the evacuation at the Wadi Seidna airstrip. Downing Street said the British military would defend the airfield in Sudan but clarified efforts would be made to avoid "active engagement" with other forces.

The government is also considering a seaborne evacuation from Port Sudan, some 500 miles from the capital. HMS Lancaster and RFA Cardigan Bay have been sent to the region.
AI Disclaimer
: An advanced artificial intelligence (AI) system generated the content of this page on its own. This innovative technology conducts extensive research from a variety of reliable sources, performs rigorous fact-checking and verification, cleans up and balances biased or manipulated content, and presents a minimal factual summary that is just enough yet essential for you to function as an informed and educated citizen. Please keep in mind, however, that this system is an evolving technology, and as a result, the article may contain accidental inaccuracies or errors. We urge you to help us improve our site by reporting any inaccuracies you find using the "
Contact Us
" link at the bottom of this page. Your helpful feedback helps us improve our system and deliver more precise content. When you find an article of interest here, please look for the full and extensive coverage of this topic in traditional news sources, as they are written by professional journalists that we try to support, not replace. We appreciate your understanding and assistance.