The government is offering barristers tens of millions of pounds in extra payments in a bid to end a strike which has seen record criminal court delays in England and Wales.
The offer includes higher fees for more cases, including those which have not yet reached the stage of a full trial.

But the government has not improved its 15% pay offer, and barristers want 25%.

The Criminal Bar Association (CBA) said it would ballot its members on whether to accept the offer and end the strike.

The barristers' strike added to an existing backlog of cases in the courts which resulted from the impact of Covid, and cuts to the criminal justice system.

Official figures show more than 8,500 people are in prison awaiting trial.

Walkouts began in June after years of complaints from criminal barristers that the system of legal aid, which makes up the bulk of their pay, had resulted in cuts to their income of 35% in the last decade.

The industrial action was ramped up in September when the CBA began an indefinite, uninterrupted strike.

Barristers are self-employed and largely paid for the time they spend in court taking part in trials.

The government had offered to increase rates by 15% but only for new cases, with payment to be made after the main hearing or trial in each case.

Because of the backlog in the courts, barristers faced waits of several years to receive the higher legal aid payments.

The government has agreed to bring forward the higher rate of legal aid to cover most current cases now in court, regardless of whether they have reached the trial stage.

The deal will cost the government £54m, most of which will be for bringing forward legal aid payments to barristers, but £19m of the money will be for improving the fees of solicitors on criminal cases.

'Generous proposals'

Justice Secretary Brandon Lewis said: "My priority in these discussions has been to ensure that victims aren't forced to wait longer to see justice done.

"These are generous proposals, and I would strongly urge all members of the Criminal Bar Association to consider carefully, end their strike and work with me to deliver better outcomes for victims of crime."

Mr Lewis has also agreed to add extra payments totalling £3m for case preparation work, which previously went unpaid.

There also will be £4m in new payments for barristers to take part in a new system of pre-recorded evidence sessions, designed to be less stressful for vulnerable witnesses.

Finally, the package includes £5m in fees for work in youth courts, and more money for solicitors.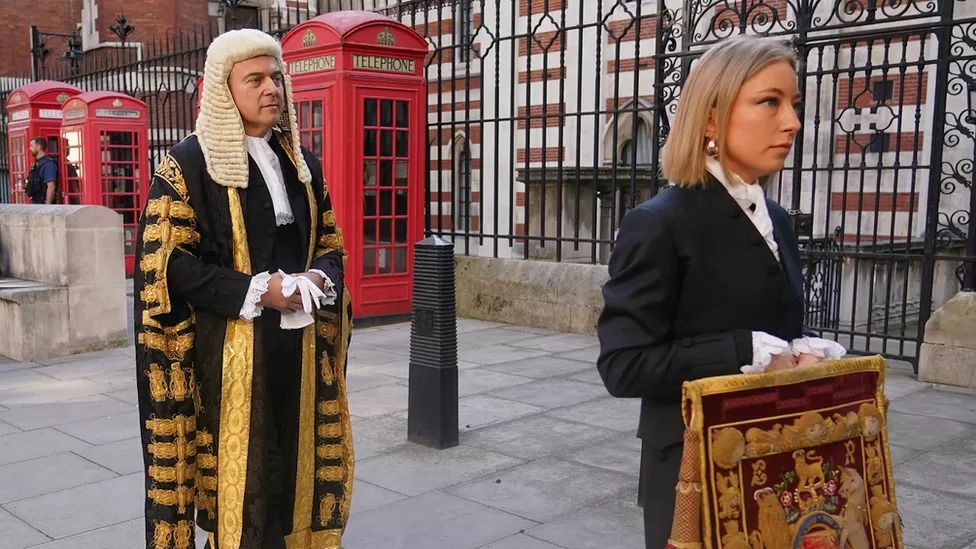 Brandon Lewis was sworn in as Lord Chancellor on Thursday

The CBA, which represents barristers, is irritated the deal was made public by the government before it could inform its core membership.

"That really has not helped," a CBA source said.

It stressed that trust in the government among barristers, particularly those in the early stages of their career, was at "rock bottom".

Kirsty Brimelow, who chairs the CBA, later added: "The offer from government has resulted from constructive talks between the Ministry of Justice and the leadership of the CBA.

"This offer represents substantial positive movement from government. As a result, the offer will be put to a ballot."

The ballot will run from late on 4 October until midnight on 9 October.

Separately, the Law Society, representing solicitors, warned it would advise its members not to undertake criminal defence work if their fees do not rise in line with barristers.

"Reaching a compromise with criminal barristers but not providing parity for solicitors is short-sighted," said Law Society president Stephanie Boyce.

Thousands of workers across different industries have taken, or considered taking, strike action this year.

Railway unions are in a continuing dispute with the government and railway companies over pay, job cuts and changes to terms and conditions. Refuse workers, Royal Mail staff and employees at container ports have also walked out.