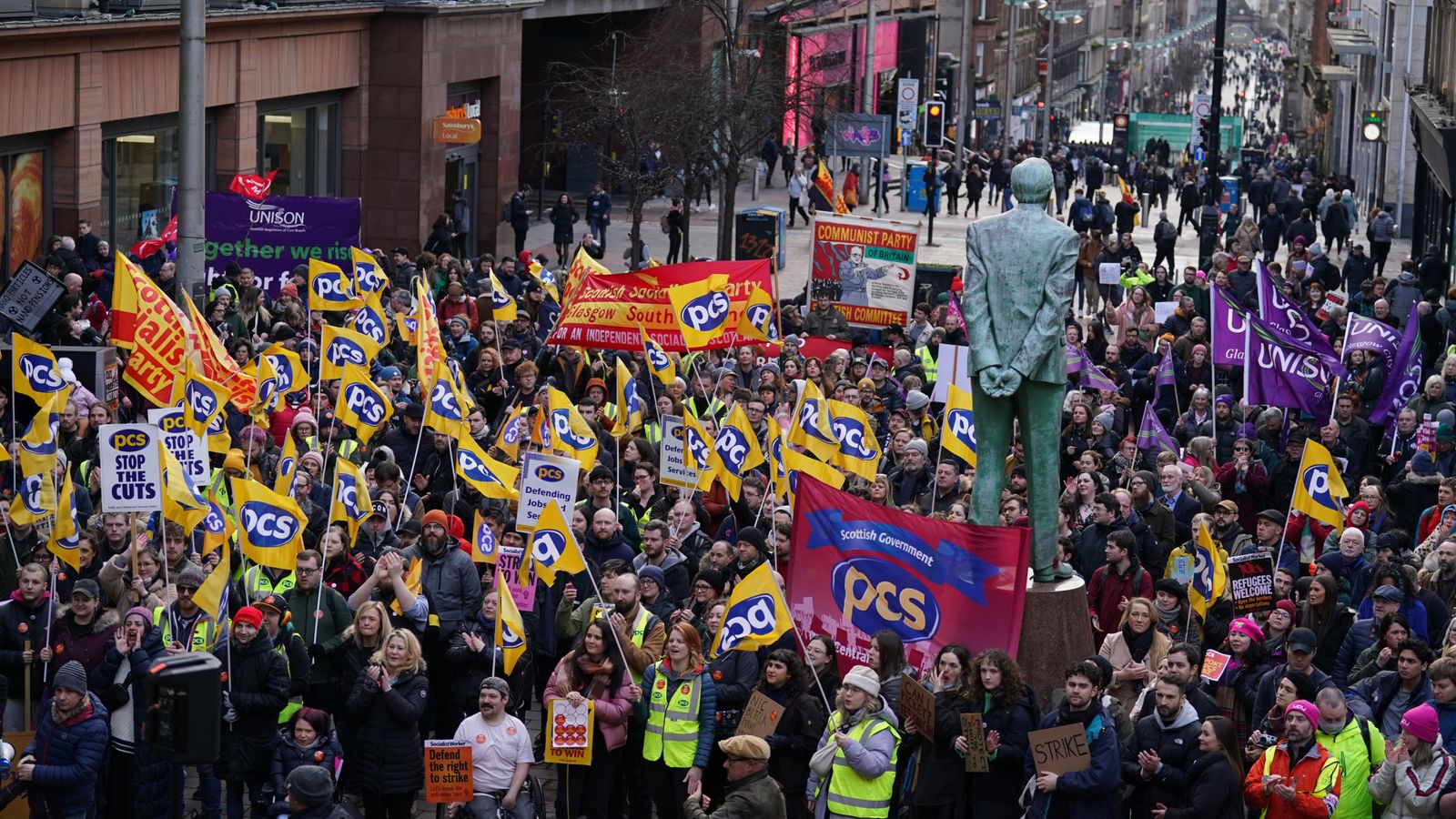 Strikes on course to expand and escalate this year without compromises
Sky's Paul Kelso spends the day talking to key figures behind many of the public sector disputes and finds a resolve to raise the stakes because of a lack of government engagement.
Unions have been taking strike action for months but today the wave of strikes that began last summer finally broke at the entrance to Downing Street.

The biggest day of industrial action in more than a decade saw about 500,000 workers walk out across the country, led by hundreds of thousands of teachers.

The centrepiece was a march in central London led by the National Education Union (NEU), attended by tens of thousands of teachers, children and parents - not a bad turnout given a rail strike had been called in solidarity.

Gathering in the sun outside BBC Broadcasting House the mood was determinedly good-natured, with women in the majority, plenty of children along for the day out, and hundreds of home-made signs suggesting DT (design-technology) classes have been busy in the last week.

For all the good humour, this still amounted to a show of strength from the public sector, a signal as the government appears to dig in on multiple pay disputes, that they are here for the long haul too.

As the march wound through Piccadilly Circus and Trafalgar Square there was a common theme; fairness.

"If bankers' pay has been uncapped, why can ours be held down?" asked Rosell Rundell, a secondary school teacher from Pimlico Academy.

"We're not being paid in line with inflation, it used to increase year on year so we could afford to live but it's not happened for a long time," said Brickley Stuhrdent, an English teacher from Oasis Academy Shirley Park in Croydon. "We are here because we absolutely love teaching and we want to be able to keep doing it."

At the head of the march Mary Bousted, joint general secretary of the NEU, was dismissive of the government position, articulated on a morning media round by the education secretary that there is no money to pay teachers more than the 5% on the table.

"I think the government doesn't know how to negotiate, it doesn't understand unions, it doesn't recognise our legitimate place and it doesn't know negotiation takes hard work, not an hour's meeting here or there, and compromise," she said.

Asked by Sky News if there was an acceptable pay offer between the 5% and the current inflation rate of 10%, Ms Bousted said: "There might be but I'm not negotiating it with you. There's always a compromise to be struck but it has to be based on a real improvement in my members' wages."

On Whitehall the teachers were met by members of the Public & Commercial Services (PCS) union picketing the Cabinet Office, some of the 100,000 civil servants who walked out of 124 government departments, including Border Force posts and Job Centres.

Mick Lynch of the RMT, the most recognisable of union bosses who has used the rail dispute as a platform to campaign for higher public sector pay, said the solidarity pointed to a protracted dispute.

"This turnout is sending a clear message, people are fed up with the way they are being treated," he said. "Many of these workers have not had a proper pay rise for more than 10 years.

"Next week the health service will be out and there will be rolling strikes, I'm confident, right through the spring and summer unless we get a deal."

What the unions have in common is a demand that pay keeps up with inflation, currently running at more than 10%, and having existing offers of no more than 5%, and only half that in the case of the PCS.

The government line, made by education secretary Gillian Keegan, is that there is no money available for higher pay, and if there was, higher settlements risked fuelling inflation.

The notion of a wage-price spiral, in which higher pay entrenches inflation, is deeply contested economic territory, particularly when it comes to public servants whose pay is funded by the taxpayer, rather than customers.

What is clear is that for now, at least, there is no movement from the PM or chancellor.

Sky News understands there has been no private contact with unions indicating that a compromise may be imminent.

Jeremy Hunt has still not responded to an invitation to meet with union bosses despite offering to do so.

Individual ministers say they are ready to talk but Paul Nowak, general secretary of the Trades Union Congress, said without a mandate from the top they are wasting their breath.

"The reality is that ministers are not empowered to negotiate properly so the prime minister needs to come out of hiding, put money on the table and deliver a fair pay settlement for public sector workers," he said.

"Put our paramedics, teachers and civil servants up against our Cabinet of millionaires who seem intent on ignoring these issues and I know who I think the public support."