A fifth attempt to restore power-sharing in Northern Ireland since May's assembly election has failed.
The attempt to elect a speaker was blocked by the Democratic Unionist Party as part of its ongoing protest against Brexit trading arrangements.

NI Secretary Chris Heaton-Harris said he would implement new powers to cut assembly members' salaries "very soon".

Irish Foreign Minister Simon Coveney has suggested that pay cut would take effect from January.

Mr Heaton-Harris confirmed he would implement a 27% cut "very, very soon", after a law giving him the power to cut Stormont salaries came into effect on Tuesday night.

Mr Coveney told Evening Extra: "I hope that the decision around that - which won't take effect until January - will be very short lived because we have to find a way to get devolved institutions back up and running again, which will make salary a non issue."

The new law also means the NI secretary is under a new legal obligation to call a fresh Stormont election, which would take place no later than 13 April if the institutions are not restored by mid-January.

The legislation also clarifies the limited decision-making powers provided to civil servants while there is no Northern Ireland Executive in operation.

'A farce'

The assembly sat on Wednesday after a Sinn Féin recall request - a move backed by the Alliance Party and the Social Democratic and Labour Party.

The motion called on the DUP to end its boycott of power-sharing to help deal with the cost-of-living crisis.

But the DUP again refused to vote for any of the candidates for Speaker - a position that must be filled before any other business can be heard.

Northern Ireland has been without a functioning government since February, when the DUP walked out of the first minister's role in protest against the protocol.

Sinn Féin won the largest number of seats in May's election, but no new power-sharing executive could be formed due to the DUP's ongoing boycott.

Unionist politicians argue the post-Brexit trading arrangement undermines Northern Ireland's position in the UK.

It keeps Northern Ireland aligned with some EU trade rules to ensure goods can move freely across the Irish land border.

Negotiations between the UK government and the EU to resolve differences over the protocol are continuing.

The last failed recall was in October, ahead of a deadline to restore power-sharing.

'Whinging like a girl' criticism

Speaking on Wednesday, Sinn Féin's would-be first minister, Michelle O'Neill, accused the DUP of abandoning the public "to a Tory government intent on inflicting cuts and austerity in society".

"We do not have months to ponder, but rather weeks to take action and create stability and certainty for society, businesses and politics," she said.

The DUP's Gordon Lyons said the recall was "nothing more than a farce".

"Devolution needs a firm foundation to succeed and that foundation will never be in place as long as the issues around the protocol are unresolved," he said.

The Alliance Party's Kellie Armstrong said she did not expect the DUP to end its boycott.

"I expect every household in Northern Ireland to face a cold winter without the same level of help that is being provided to others across the UK," she said.

The SDLP's Matthew O'Toole accused the DUP of "always shirking, always deflecting, it's always somebody else's fault".

"The tragedy is that the DUP are addicted to power but hate responsibility," he said.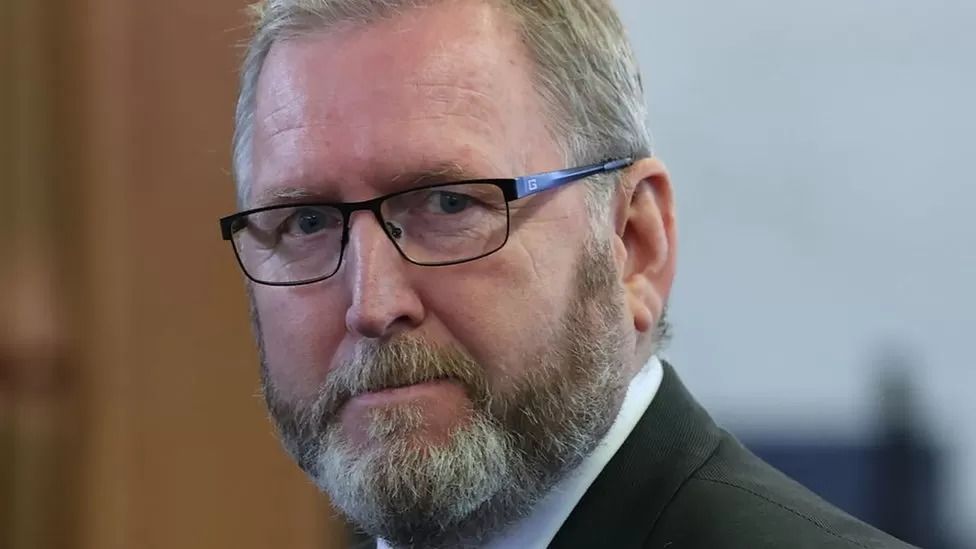 Ulster Unionist leader Doug Beattie landed himself in hot water with some of his comments

Ulster Unionist leader Doug Beattie described the recall of the assembly as gesture politics which was born out of frustration.

"The reality is this, like three years before with Sinn Féin, the DUP simply do not care", he said.

He accused the DUP and Sinn Féin as "two sides of the same damn coin".

But Mr Beattie faced criticism after accusing some DUP members of screaming and "whinging like a girl from the side lines".

Lagan Valley assembly member Emma Little-Pengelly tweeted that she was proud "of the many strong girls and women" she knows.

A new law giving the Irish language official status, also received Royal Assent on Tuesday.

The culture, language and identity bill will allow the use of Irish in courts and see the appointment of Irish and Ulster Scots/Ulster British commissioners.
Doug Beattie under fire for 'whine like a girl' remarks