An energy firm has apologised for poor communication with households struck by more than a week of power cuts after Storm Arwen.
As of 22:00 GMT on Friday, Northern Powergrid said it had restored power to 98% of homes affected across the North East, but 5,100 remained cut off.

The firm previously warned some could be without power until Wednesday, 12 days after the storm's 98mph winds tore down electricity lines.

In Cumbria, 350 homes remain cut off.

About 1,250 homes in Scotland are also without power, while a £700 cap on compensation has been lifted allowing all those affected to claim £70 for each 12-hour period they are left without power - after an initial £70 for the first 48 hours.

Energy regulator Ofgem has also warned it would take enforcement action against network companies which failed to restore power to customers quickly enough.

Northern Powergrid has been criticised by some home owners - especially in remote parts of County Durham and Northumberland - who have been unable to speak to the firm or get updates on when their power would be restored.

A spokeswoman for the firm said: "As well as creating enormous challenges for us in terms of the engineering work we have to do to respond, the scale of the disruption has made it very challenging for us to communicate effectively with our customers.

"We have heard that loud and clear - and we are sorry that we weren't able to do better in that respect."

She said engineers now had a "much clearer picture of the repairs needed" although "it's not perfect" and "we will still find some surprises".

The firm said it had about 700 jobs to complete and their "best estimate right now is that the last of that work will be completed on Wednesday".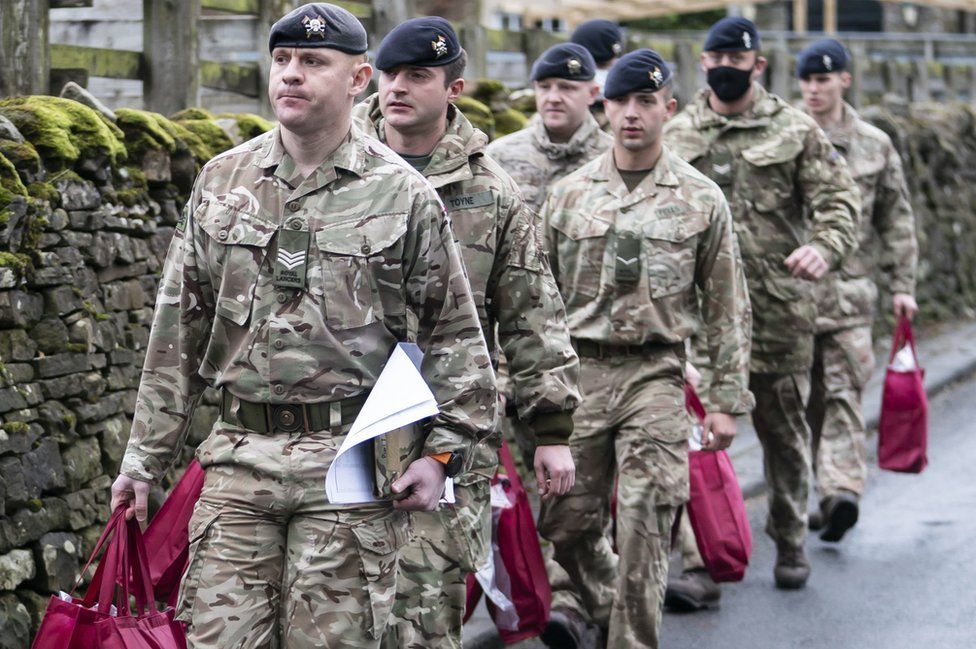 Soldiers have been delivering supply packages

Stephen Deakin from Dissington, near Newcastle, said he had been without power for eight days and counting after a tree knocked a an electricity pole into his garden.

He said he has called Northern Powergrid "every day to complain" as he feared the wires could kill someone if power was turned back on.

He said: "I'm not knocking people on the ground but communication on this has been woeful.

"I understand it's kind of an unprecedented situation but why did they not have a plan in place? Why were people not helped sooner?"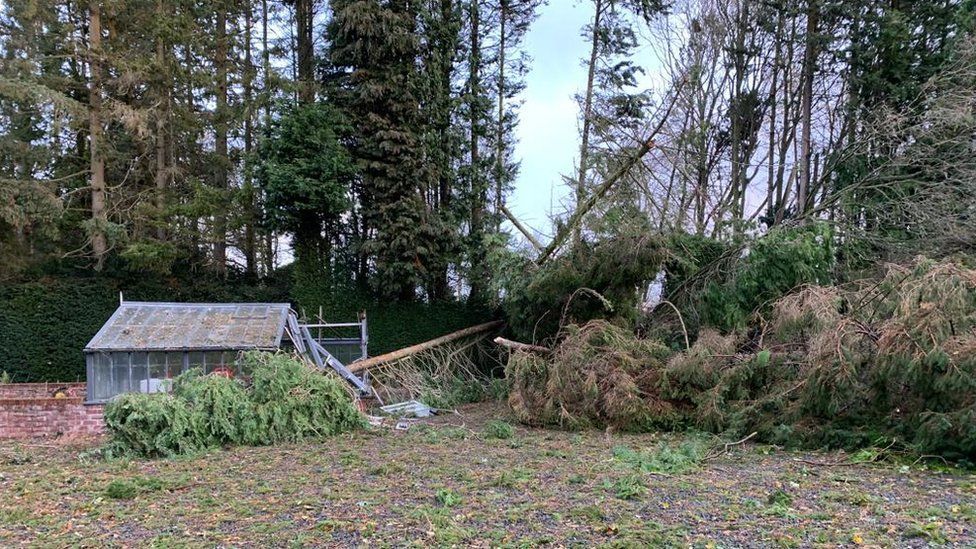 Trees fell into Stephen Deakin's garden bringing down an electricity pole

Major incidents were declared in County Durham and Northumberland with more than 160 Army and Royal Marine personnel being deployed to help residents.

Daljit Lally, chief executive of Northumberland County Council said: "We absolutely understand people's frustrations. They are cold, tired and worried.

"We know [Northern Powergrid] are working flat out and bringing all available resource to the county to reconnect people as soon as they possibly can but it is a vast county and the devastation to powerlines has been catastrophic."

In Cumbria, Paul Bircham, from Electricity North West, said all properties should be restored by the end of the weekend, with more than 1,000 being reconnected overnight.

He told BBC Radio Cumbria the remaining properties included holiday lets and second homes, hence a delay in them being reported to the firm.

'Rebuild the line'

Overnight repairs had been hit by some problems though, with a a restored line in Crosthwaite being taken back down by another falling tree, but he said: "We will make more connections this morning."

Mr Bircham also said there were other "business as usual" power cuts caused by damage unrelated to the storm, which the firm was fixing.

"We have a good track of which are the longstanding faults and what to put to the top of our priority list," Mr Bircham said, adding: "We will be working to strengthen the repairs we have made and rebuild the line."

Ofgem has said it will review the response of the power companies to the damage caused by Storm Arwen.

Chief executive Jonathan Brearley said the watchdog was "deeply concerned" by the delay in power restoration, adding: "We want to establish the facts and make sure we understand what has happened, whether the network companies have met their obligations. If they haven't, we will take enforcement action."

Meanwhile, The Met Office has issued yellow weather warnings for rain in parts of the North East of England between 18:00 GMT on Saturday and 05:00 on Sunday.