Police need to end the overuse of stops and searches on black and ethnic minorities, a watchdog has said.
The Independent Office for Police Conduct is calling for guidelines that protect minorities from being stopped due to stereotypes and racial bias.

Its report raised the case of a black boy who said he was searched more than 60 times between the ages of 14 and 16.

Searches handled insensitively could leave people "humiliated and victimised", it said.

The watchdog has made 18 suggestions for change to police forces in England and Wales.

Stop and search is the power given to police to search an individual if they have "reasonable grounds" to suspect the person is carrying illegal drugs, a weapon, stolen property, or something which could be used to commit a crime.

Another case highlighted in the report involved a 15-year-old black boy who was stopped because he smelled of cannabis and was in a high crime area - video showed the boy being punched and kicked by an officer. No drugs were found and the officer was later found guilty of assault.

Black people were seven times more likely to be searched than white people in the year ending March 2021.

People from an Asian or mixed ethnic background were about two-and-a-half times more likely to be stopped and searched than white people.

The IOPC said although stop and search was a legitimate policing tactic, it was time to "break the cycle" of a disproportionate use of stop and search which was causing "trauma" and damaging confidence in policing.

Sal Naseem, the IOPC's lead on discrimination, warned: "It cannot be underestimated how traumatic a stop-and-search encounter can be on an individual.

"If carried out insensitively, a person can be left feeling humiliated and victimised.

"The experience can also be the first interaction for some young adults and if it is a negative one, this can have a lasting impact on that person and the trust they put in the police."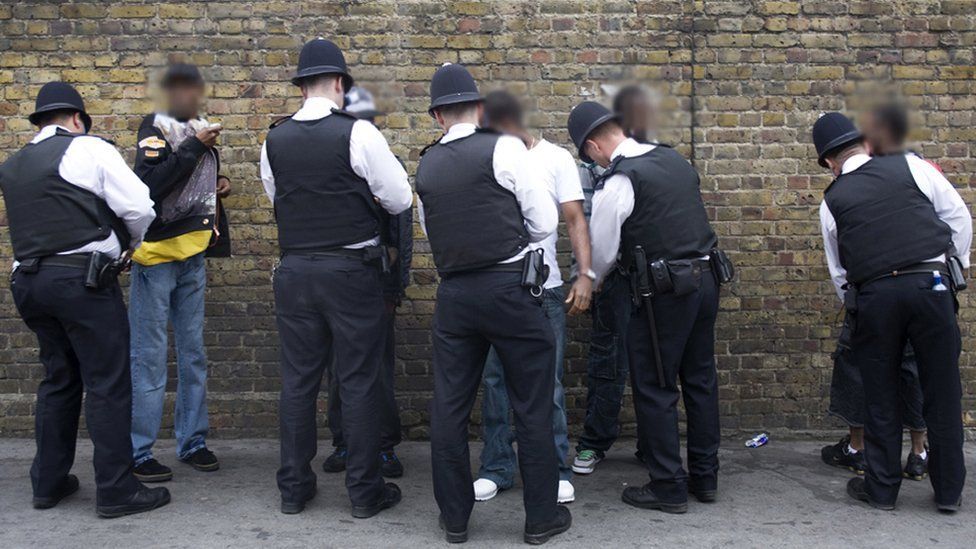 The powers have been described as an important tool in dealing with knife crime and drugs

Among the IOPC review's recommendations were calls for the College of Policing and the National Police Chiefs' Council to create guidelines on how to protect people from ethnic minorities from being stopped and searched because of "decision-making based upon assumptions, stereotypes and racial bias."

It also recommended the bodies along with the Home Office commission research into the trauma caused to black and Asian people by stop and search.

The National Police Chiefs' Council said police have not always "got the balance right" with stop and search.

Amanda Pearson, a deputy assistant commissioner with the Met police who is the National Police Chiefs' Council lead for stop and search, said: "We recognise that the level of disproportionality in a tactic like stop and search is continuing to damage relations with people from Black, Asian and other ethnic minority backgrounds.

"It is our responsibility to ensure that we balance tackling crime with building trust and confidence in our communities, and we haven't always got that balance right with stop and search.

"We acknowledge the IOPC's recommendations and we will work together with the College of Policing to support forces in getting the balance right."