The SNP's new Westminster leader has denied plotting to oust his predecessor Ian Blackford.
Stephen Flynn was elected group leader on Tuesday after Mr Blackford abruptly announced he was standing down.

Several MPs have since resigned from the SNP's front bench team, with Pete Wishart saying he was "bemused" about why Mr Flynn had sought a change.

But Mr Flynn, 34, told BBC Scotland that he only decided to stand for the job after Mr Blackford's resignation.

This is despite the fact he had distanced himself from the role only two weeks earlier, saying he had "no intention of standing" amid rumours that he was "on manoeuvres".

Mr Blackford, a close ally of SNP leader and First Minister Nicola Sturgeon, announced last week that he was standing down from the post he had held for five years - but will be staying on as MP for Ross, Skye and Lochaber.

This followed months of speculation about his future in the role, which included claims that Mr Flynn was seeking to replace him.

Mr Flynn then won a leadership vote against another ally of Ms Sturgeon, the Glasgow Central MP Alison Thewliss.

Allies of the new leader say he plans to set up a smaller front-bench team, which they say would allow other MPs to focus on constituency work and campaigning for independence.

And three prominent members of the front bench group have already stepped back, with defence spokesman Stewart McDonald and international development spokesman Chris Law joining Mr Wishart, who was its agriculture spokesman.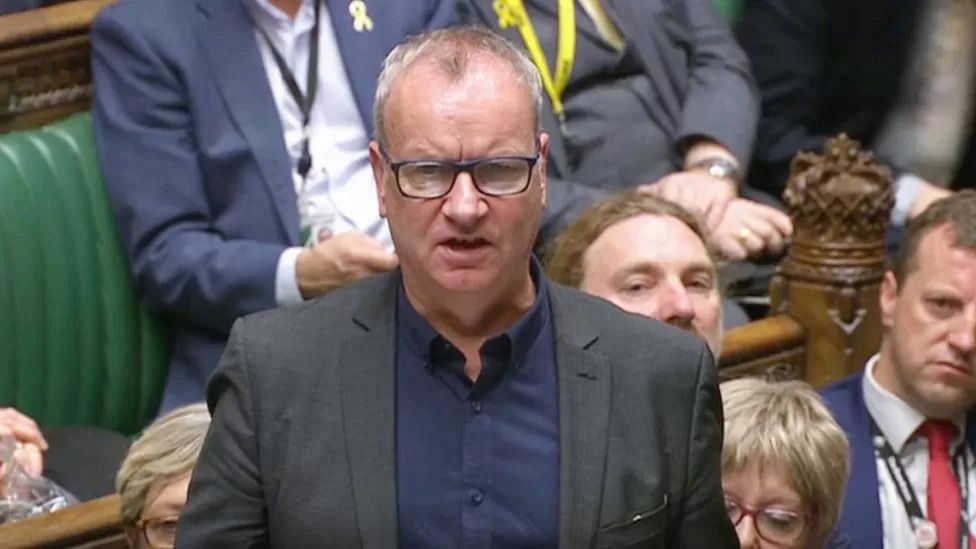 Pete Wishart said he was "bemused" about why Stephen Flynn had sought to replace Ian Blackford as leader
Mr Wishart was the most outspoken in his criticism, writing in his resignation letter to Mr Flynn that he was "bemused as to the reasons why you felt it was necessary to seek a chance in our leadership".
He also suggested that the new leader had been "canvassing opinion for a leadership challenge" prior to Mr Blackford's departure.
However, in an interview with BBC Radio Scotland's Drivetime programme, when asked if he had plotted to oust his predecessor, Mr Flynn said "no, of course not".
He said: "Some folk have been watching a little bit too much House of Cards. There has been some very uninformed opinion in the public domain.
"Ian was very clear about this in his comments when he stepped down that now was the time for fresh leadership. I was quite keen to put myself forward, Alison did as well and I'm glad I received the backing of colleagues."
When pressed about Mr Wishart's criticism, Mr Flynn said he wanted to keep the veteran MP "on board".
He said: "Ian himself took the decision to stand down, and its for Ian to address any concerns Pete might have in relation to that. I can't speak for Ian in that regard.
"It was off the back of Ian's decision that I decided to put myself forward to be SNP group leader at Westminster.
"I am looking forward to us all coming together to really put pressure on the Tories and highlight the issues facing the people of Scotland in relation to the cost of living crisis, the damage being caused by Brexit, the complicity of the Labour Party in relation to that and of course the fact that Scotland has a democratic right to choose its own future."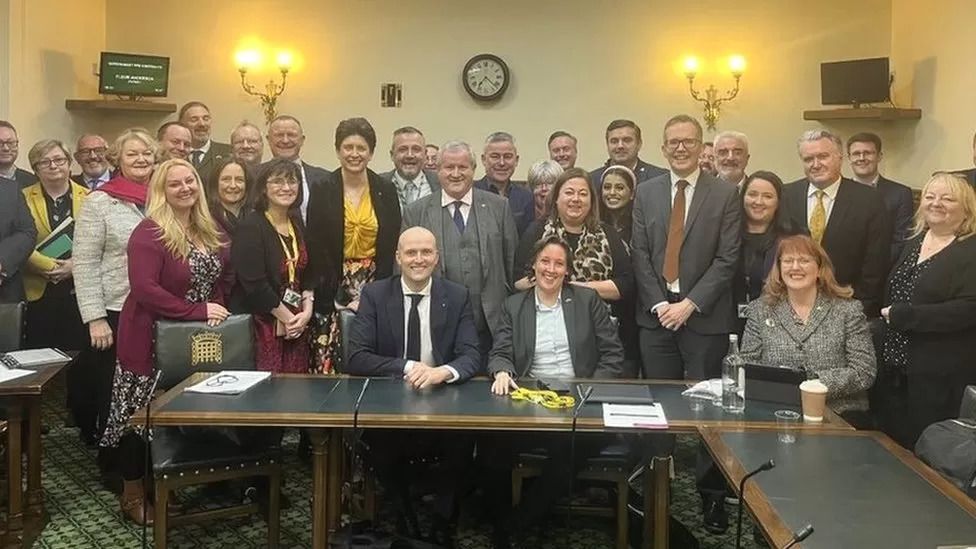 Mr Flynn said he was putting together a "dynamic" team to lead the SNP at Westminster

Mr Flynn described the three MPs who resigned as "incredibly valued colleagues", adding that he was putting together a "dynamic set of folk" to lead the party at Westminster.

He also pledged his loyalty to Ms Sturgeon, who he referred to as "perhaps the most effective and efficient politician in the entire of Western Europe".

He said: "Ultimately we are SNP MPs, and that means we are not concerned about which bench we sit on in Westminster, be that a front bench or a back bench.

"What we are interested in is making sure that Scottish MPs don't sit on those green benches, and that is our ultimate aim. When it comes to that myself and all of my colleagues will be at the forefront of that battle."

Political opponents have accused the SNP of "fighting like ferrets in a sack", with the Scottish Conservatives claiming that "the party's reputation for iron discipline" was disintegrating.

But MP Stewart Hosie told BBC Scotland on Tuesday - the day before Mr Wishart quit - that talk of division was "complete fiction", saying he had "no idea where these stories have come from".