The three candidates vying to replace Nicola Sturgeon as SNP leader have set out their plans for independence during the contest's first live TV debate.
Humza Yousaf said he wanted to build a "consistent majority" by continuing the party's radical agenda.

Kate Forbes said a new approach was needed to win over undecided voters, adding "continuity won't cut it".

Rival candidate Ash Regan said the SNP had "lost its way" and pledged to unite the broader Yes movement.

The debate, hosted by STV, was marked at points by the candidates' personal attacks on each other's political records.

Following Nicola Sturgeon's decision to step down, all three contenders are running to become both the next SNP leader and Scotland's first minister.

Mr Yousaf, currently health secretary, pledged to grow support for independence "to new heights" and said he would challenge Westminster's blocking of gender recognition reforms passed at Holyrood.

Finance Secretary Ms Forbes said it was time for a new generation to lead and that she was ready for the job, stating "more of the same is not a manifesto - it's an acceptance of mediocrity".

Ms Regan said the SNP had to use the ballot box via elections as the "gold standard" to gaining independence and said she would "build the foundations for independence" through a dedicated commission and convention, describing the approach of the other candidates as "wishy washy".

Personal attacks

During an often feisty cross-examination section, Ms Forbes attacked Mr Yousaf's record as a Scottish government minister.

"You were a transport minister and the trains were never on time, when you were justice secretary the police were stretched to breaking point, and now as health minister we've got record high waiting times," she said.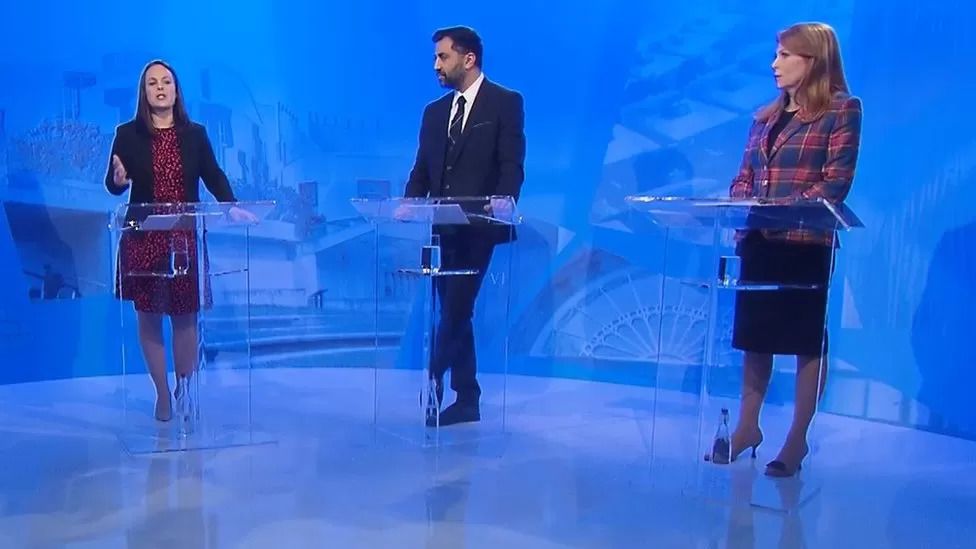 The three candidates had some feisty exchanges during the first live TV debate of the contest

Asked if he was the "continuity candidate" and if that means he is the "no change candidate", Mr Yousaf hit back at Ms Forbes, saying: "If change means lurching to the right, Kate, if it means rolling back on progressive values, that's not the right change".

Mr Yousaf then raised comments made by Ms Forbes, his cabinet colleague, earlier in the campaign when she said she would not have voted for same-sex marriage if she had been an MSP when the legislation passed.

The health secretary claimed "many people, particularly from our LGBTQ community, say they wouldn't vote for independence" as a result of this, adding, "forget persuading No voters, you can't even keep Yes voters."

But Ms Forbes stressed she had made a "solemn and honest pledge when it comes to upholding and defending the right of every Scot".

Each candidate was asked if they would invite their rivals into the newly formed cabinet. Ms Forbes said there was "room for Humza Yousaf" if she won the leadership race but quipped, "maybe not in health".

Areas where all three candidates found common ground included increasing welfare payments for children and hitting out at UK immigration plans.

But they were divided on the Scottish Greens remaining part of the Scottish government.

Ms Regan said she would "review" the power sharing agreement to ensure it was "working for the people of Scotland".

During the debate, Scottish Greens co-leader Patrick Harvie said on Twitter that Ms Regan's claim she had spoken to the leaders of all major pro-independence parties earlier on Tuesday was not true.

Ms Regan later clarified that she left a message and had not had her call returned by the party.

Mr Yousaf described the government deal with Mr Harvie's' party as "vital", while Ms Forbes refused to say categorically the arrangement would remain, adding it would be for the Greens to decide if they were happy with her approach if she won the leadership contest.

Future of the monarchy

Asked if they would keep the monarchy in an independent Scotland, Ms Forbes said there were "bigger issues facing Scotland".

She added: "I am pretty relaxed, I would see us as part of the Commonwealth."

But both Mr Yousaf and Ms Regan declared themselves to be republicans.

Mr Yousaf said he would "keep the monarchy for a period of time" but added "I would hope an independent Scotland would be a republic in the future".

Ms Regan said her preference would be to have an elected head of state for an independent Scotland.

And she said in the "new circumstances" after the death of the Queen last year it might be time for the SNP conference to debate if retaining the monarchy was still the right policy for the party "or whether we should move to a policy of having an elected head of state".

The SNP leadership candidates will take part in an hour-long debate on BBC Scotland next week.

A special edition of the Debate Night programme from Edinburgh will air at 20:00 on Tuesday 14 March on BBC One Scotland.

SNP members can vote for Ms Sturgeon's successor from 13 March.

The winner will be announced on 27 March.