Suella Braverman faced pleas from backbench Conservative MPs to reform the Government's controversial asylum policy
The Government's controversial small boats bill cleared its first hurdle in the House of Commons despite concerns from Tory backbenchers.

A number of Tory MPs, including former Prime Minister Theresa May, called for amendments to the controversial Illegal Migration Bill before the legislation passed its second reading on Monday night. MPs voted 312 to 250, majority 62, to give it a second reading.

Tories raised issues with a provision allowing the Home Office to deport children and the "blanket dismissal of anyone facing persecution" while criticising how swiftly it was introduced after similar legislation last year in a fiery debate in the Commons on Monday evening.

Former Home Secretary and Prime Minister Theresa May said: "Whenever you close a route, the migrants and the people smugglers find another way.

"Anybody who thinks that this bill will deal with the issue of illegal migration once and for all is wrong."

Mrs May said the bill "shouldn't supersede" similar anti-small boat legislation introduced last year, whose impact is "not yet known".

She also raised concerns about the "blanket dismissal of anyone facing persecution" who arrives in the UK on small boats, including human trafficking victims.

Former justice secretary Sir Robert Buckland KC urged the Government to scrap a clause in the legislation which would give the Home Office the right to deport children, and to focus on providing more legal routes for asylum seekers.

"My strong suggestion to them when we come to amendment is to ditch that clause and to look very carefully at the way in which we deal with unaccompanied children, families and women.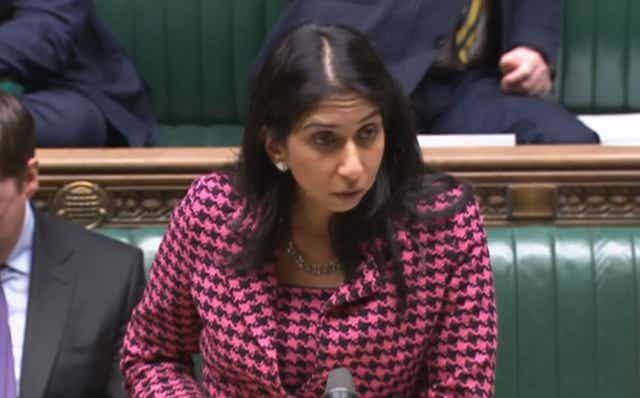 Suella Braverman defended her policy in the Commons

He warned his colleagues that their tone surrounding the bill was "not appropriate" and urged them to "do better".

He added: "We've got to do more on safe and legal routes. In fact doing that would strengthen the government's case. But that must happen in tandem with this legislation."

Before the bill's second reading, Tory MP Chris Skidmore declared he was "not prepared to break international law or the human rights conventions" before confirming he would not not vote for the bill.

Other senior Tories who have previously voiced concerns over the legislation include former Cabinet minister David Davis and Simon Hoare, chairman of the Commons Northern Ireland Committee, who is urging the PM to include legal and safe asylum routes to Britain in the bill so it is "tough and humane".

Simon Hoare, MP for North Dorset, said that he and other Tory MPs would offer their support at the Bill's second reading on Monday evening on the basis that amendments follow.

Mr Hoare told the Commons: "There will be many on this side of the House, me included, who will vote for this Bill this evening, but with the clear understanding that we wish to see amendments to it as it progresses through Parliament, in particular in relation to women who are trafficked and to children."

The Opposition condemned the bill, with Shadow Home Secretary Yvette Cooper claiming it will "lock up children".

"It will lock up children, remove support and safe refuges from women who have been trafficked, and it will deny citizenship for people like Mo Farah," she told the Commons.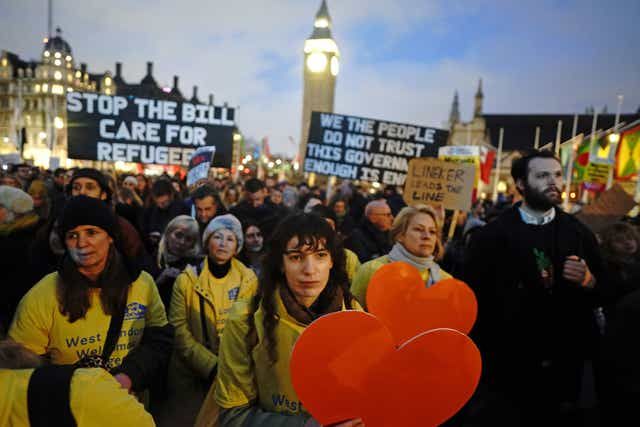 "The last law that they passed on this just nine months ago made everything worse. We saw dangerous crossings go up, delays go up. Now they are seriously expecting us to do all the same things again."

The Home Secretary said the Illegal Migration Bill is needed as people arriving in the UK after crossing the Channel have "overwhelmed our asylum system", before adding there has been "too much" immigration in recent years.

Ms Braverman also told the House of Commons she has been subject to the "most grotesque slurs" for saying "simple truths" about the impact of migration on the country.

She added she will "not be hectored by out-of-touch lefties" who suggest a "person's skin colour should dictate their political views".

The controversial Bill is designed to stop people claiming asylum in the UK if they arrive through on small boats and has been denounced by the UN's refugee agency as an effective "asylum ban".

Powers would be granted to detain migrants for 28 days without recourse for bail or judicial review, and then indefinitely for as long as there is a "reasonable prospect" of removal.

Challenges based on modern slavery laws would be barred, and any other legal attempt to stay would be heard overseas – after they are removed.

While the bill was debated in the House of Commons, large crowds of protesters gathered outside in London's Parliament Square. They held placards reading 'Refugees welcome' while other demonstrations were held in Glasgow and Edinburgh.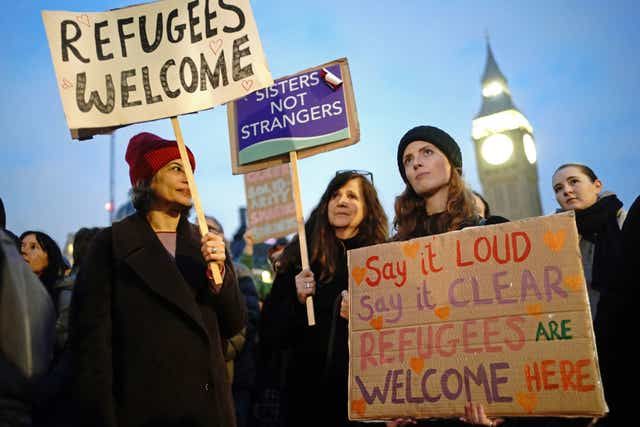 Protest in London's Parliament Square

Labour tabled an amendment which sought to block the Bill but it was defeated by 249 votes to 312, majority 63.

After the votes, Ms Braverman said in a statement: "Tonight's vote proves what we already knew - the Labour Party cannot be trusted to stop the boats and the gangs that profit.

"Labour not only has no plan to stop the boats, they have no desire to either."

Meanwhile Prime Minister Rishi Sunak said he was "pleased" that the dispute between Match of the Day presenter Gary Lineker and the BBC had been "resolved".

Mr Lineker will return to Match Of The Day and the BBC will review its social media guidelines for freelancers following Mr Lineker's tweet comparing the language used around the Illegal Migration Bill to 1930s Germany.

The corporation's sports coverage suffered over the weekend after a host of presenters and pundits pulled out of BBC shows due to Mr Lineker being asked to step away from his programme.

BBC director-general Tim Davie said the presenter will "abide by the editorial guidelines" until a review has taken place.

BBC chairman Richard Sharp is facing pressure to resign as the corporation's policy on impartiality has been called into question.