"Tony Hawk is great, but it makes me feel proud to see girls at the top. It's a big inspiration for me to keep going."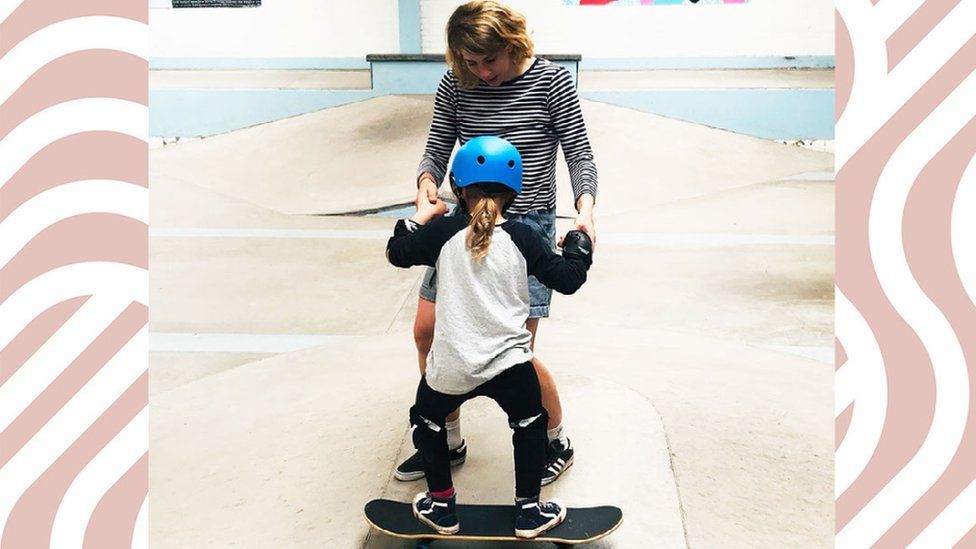 Skateboard GB said there has been a rise in interest for girl's skate lessons since the Olympics
15-year-old Amira from Bristol has only been skateboarding for a few months and said the Olympics has inspired her to push herself in the sport.

According to Skateboard GB an estimated 750,000 people skateboard in the UK and only 15% of those are female.

We spoke to girls in the west of England to see if Sky Brown's bronze medal win in the skateboarding Olympics has given them the motivation to make their presence felt.

'Girls can do it'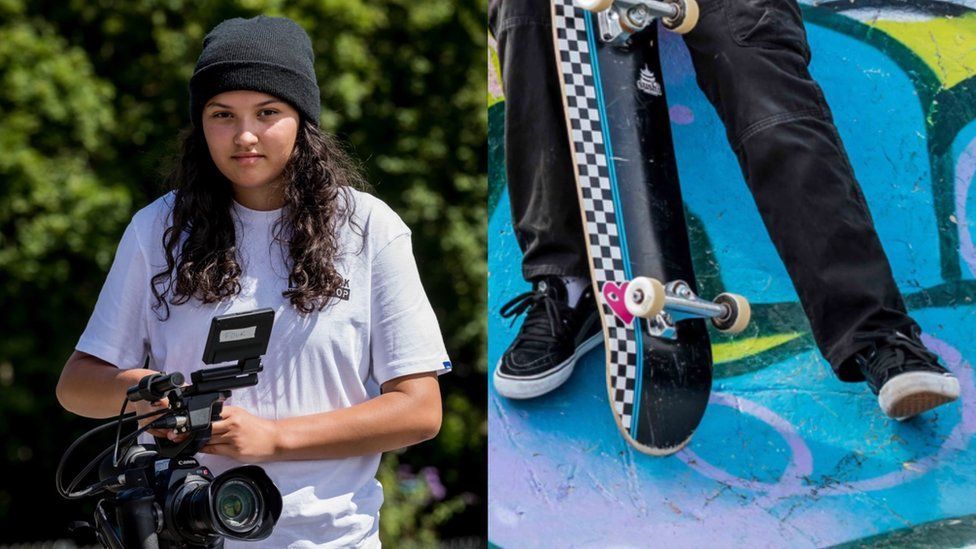 Amira said since watching the Olympics she has been inspired to "take it [skateboarding] to the next level".

"I started skating after watching a film called Betty about a group of girl skaters," she said.

"It's mainly guys down at my skatepark and they're all nice but it's always inspiring to see girls there.

"Seeing the Olympics made me think girls can do it, not just men.

"It's made me want to get out more and skate and it's so good to see girl role models in the sport."

'Sky validates their passion'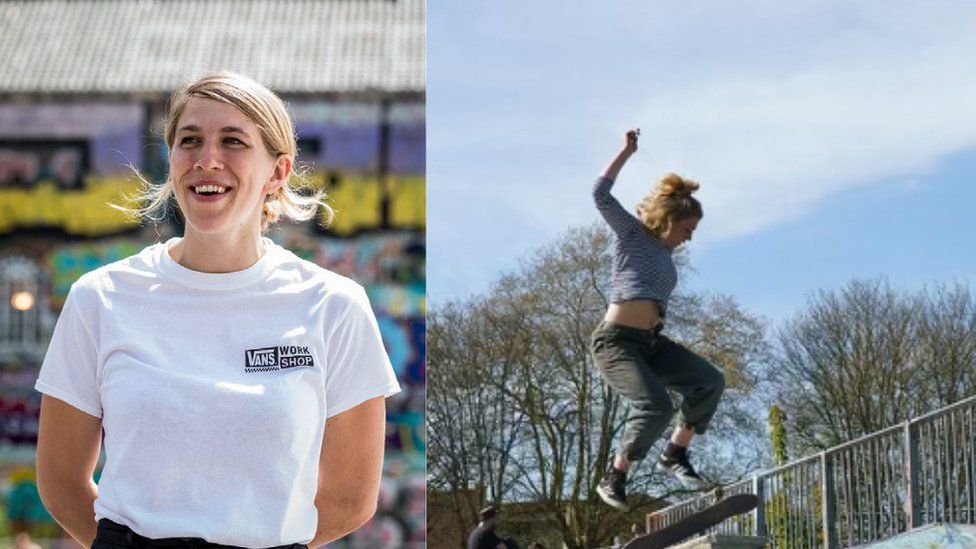 Bristol Campus Skatepark female youth engagement worker Bella Warley said: "We just had a day where we had 10 kids skating with us and Sky Brown was mentioned so many times.

"She is spreading this unbelievable love for skateboarding that is growing at an exponential rate.

"The amount of young girls taking it up here because they relate to her is crazy, she validates their passion."

'We can do anything'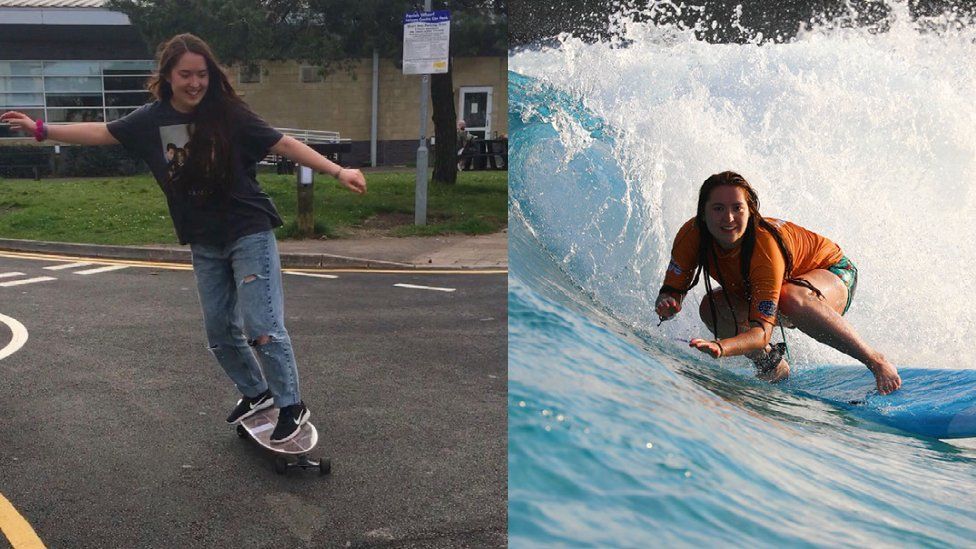 Avid surfer Lara Tang, 18, from Somerset, started skateboarding with a cruiser skateboard, which is bigger than a classic skateboard, in January, which she used as a form of transport, and said she is now "hooked".

"I thought it was a cool way to get around because it feels like you're flying," She said

"Sky Brown is so cool being a girl and getting a medal in a sport that's seen as a male sport. She's really encouraged me to give park skateboarding a go.

"It's important for young girls to see girls and women conquering the sport to show that we can do anything the boys can do."

She has since started up a girls meet-up to meet other girls who skateboard.

'The Olympics inspired me'
Poppy, 16, from Bristol started skateboarding in 2019 as a way to spend more time with her brother.

She said she loves skating with other girls because "they just bring a different energy".

"It's brilliant that girl skaters are getting recognised. The Olympics has inspired me to go out and work even harder for what I love," she said.

"When I'm skating I'm not really thinking about anything else and I feel motivated and when I land a trick its overwhelming, you feel complete in that moment."

Poppy hopes to be sponsored one day.

'Female power statement'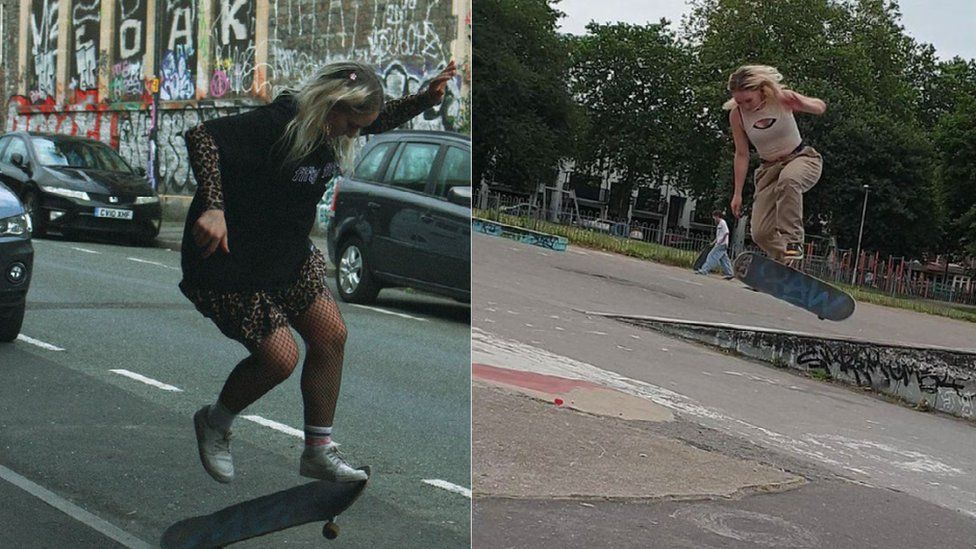 Alex Airey, 26, from Bristol has just taken up skateboarding and said it was "insane" to see a 13 year old winning a medal in the Olympics.

"It shows how quickly it's catching on for girls that young to be that good. It's a great female power statement," she said.

"It's inspired me to try and get to that level, has definitely pushed me and made me want to help create spaces for other girls to feel comfortable to start skating."

Miss Airey started the Bristol Girls Skate page on Instagram to help create a female-safe skate space in her area.

'Females given less'

Skateboard GB communications manager Neil Ellis said the number of active female skateboarders has risen dramatically in the last year.

"When I first started there was only one girl I met in my first year," he said.

"A lot of skate parks in the last two years started to host girls only nights giving spaces where they can feel more comfortable.

"In our national championships we give equal opportunities and prize money but prior to that there were some competitions where females were given less prize money or time to skate."