Sir Andrew Dilnot says he is 'very disappointed' by change that will save government hundreds of millions
The key architect of the government's social care reform has said most older people needing care will lose out from plans to dilute protections against crippling costs in England, as Conservatives blamed Rishi Sunak for forcing the changes.

Sir Andrew Dilnot, an economist who devised reforms to prevent people losing homes to soaring care costs, told MPs on Thursday that he was very disappointed by a change to the way the cap on care costs was expected to work that would leave anyone with assets of less than £186,000 – about 60% of older people needing care – less well-off than expected.

On Wednesday the care minister, Gillian Keegan, announced that state-funded care costs would not go towards the new £86,000 cap – announced by Boris Johnson in September – on the amount anyone in England would pay for social care.

It will save the government hundreds of millions of pounds but leave many poorer homeowners exposed to "catastrophic costs" including the need to sell their homes to cover long-term care, analysts have said.

Whitehall sources confirmed that budget constraints imposed by the Treasury were behind the shift, saying, "cost is absolutely a factor".

One senior former minister said the move was "absolutely Treasury driven", and said Sunak was fixated on "trying to do the finances first and then work out what you need to do to actually solve the problem which – in this case – they haven't addressed yet at all."

Treasury sources insisted Sunak had not dictated the specific design of the cap, however, and it was up to the Department of Health and Social Care to decide how to use the proceeds of the £12bn-a-year health and social care levy.

The alteration to the policy, widely expected to be introduced from 2023, means people on means-tested benefits with lower-value homes would end up paying the same as far wealthier counterparts and many would still face losing their homes. The changes will be put to a vote next week.

Tory sources said when the news broke in Westminster late on Wednesday, a number of red wall MPs privately expressed outrage and frustration about how it would directly impact their voters.

Dilnot told the Treasury select committee the change meant about 60% of older people who end up needing social care would lose out, compared with the plan he proposed. He said it would "hit people in regions of the country with lower house prices, so there is a north-south axis to this".

He said: "The people who are most harshly affected by this change are people with assets of exactly £106,000. But everybody with assets of less than £186,000 would do less well under what the government is proposing than the proposals that we made and the proposals that were legislated for. That was a big change announced yesterday. It finds savings exclusively from the less well-off group."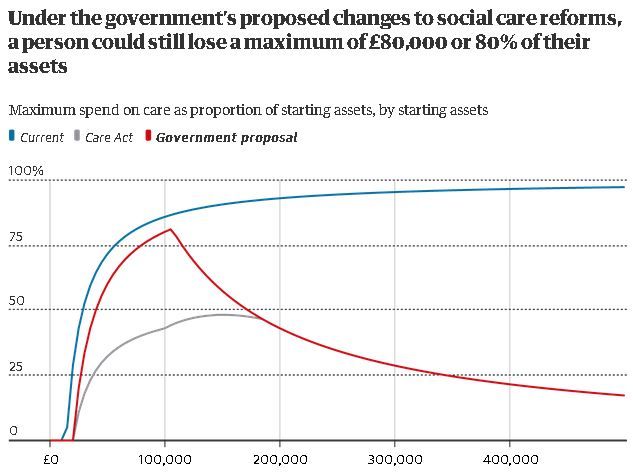 Dilnot, who made social care reform proposals in 2011 and 2015 that the government has largely adopted, said: "I particularly regret the main announcement that was made yesterday which removes a central element of progressivity, which we did think was an important part of the structure."

The former cabinet minister Damian Green, who has authored a report for the Centre for Policy Studies on social care, told the Guardian: "The weakness that is revealed by a cap is that you are much more likely to have to sell your home if you live in an area with lower house prices. This exacerbates that.

"But the underlying problem is there anyway. It would be more sensible to have a flat percentage of assets that you protect."

The reforms include a more than fourfold increase in the asset threshold for means-testing for social care recipients, to £100,000, and an £86,000 ceiling on lifetime care costs (but not bed and board). Dilnot told the committee that overall he felt the reform still "takes us to a much better place" than the current situation.

But the Health Foundation has said that for people with low to moderate wealth, the new system will be barely better than the current system. Now the maximum that anyone with assets under £100,000 will pay is £86,000, which is only £6,000 less than in the current system, which has been labelled "broken".

A spokesperson for the Department of Health and Social Care said: "Charging reforms will mean everyone is better off. Compared to the current system more people will be supported with their social care costs, have greater certainty over what they need to pay and receive higher-quality care."

The charity Age UK said it was "extremely disappointed" with Wednesday's announcement. Caroline Abrahams, the charity's director, said it "waters down Sir Andrew Dilnot's original proposal to save the government some money", adding: "This feels like completely the wrong policy choice."

Dennis Reed, the director of Silver Voices, a UK-wide membership organisation that campaigns for the over-60s, urged the government to go back to the drawing board, labelling its plan "regressive in its impact on poorer households".