An offer has been made for the UK arm of Silicon Valley Bank (SVB) after it collapsed into administration, putting customer deposits at risk.
A consortium of investors led by The Bank of London, a UK clearing bank, has submitted a formal bid to the Treasury.

The government has been working "at pace" on a plan to support UK tech firms affected by the collapse of SVB.

There have been warnings some could struggle to pay their staff from Monday without intervention.

Earlier, Chancellor Jeremy Hunt told the BBC there was no risk to the UK's financial system as a whole from the collapse of SVB, but "there is a serious risk to some of our most promising companies in technology and life sciences".

Mr Hunt said he had been working with the prime minister and Bank of England governor "through the weekend to come up with a solution", and the government would bring forward a plan in the "next few days".

However, Rachel Reeves, Labour's shadow chancellor, urged the government to do more, warning UK start-ups needed to pay staff and maintain investor confidence.

"We need, tomorrow morning, to hear from the government, how they are going to protect firms," she said.

SVB, which focuses on lending to technology companies, was shut down by US regulators on Friday in what was the largest failure of a US bank since 2008.

The bank's UK subsidiary will be put into insolvency from Sunday evening. This will allow individual depositors to be paid up to £85,000 from the UK's deposit insurance scheme - however many have far more money than this saved with the bank.

The government is looking for a buyer for the UK arm, with other lenders including Barclays and Oaknorth said to be mulling bids.

As a clearing bank, the Bank of London does not lend and holds all of its deposits with the Bank of England. Its boss Anthony Watson said: "Silicon Valley Bank cannot be allowed to fail given the vital community it serves.

"This is a unique opportunity to ensure the UK has a more diversified banking sector, whilst allowing continuity of service to SVB's UK client base."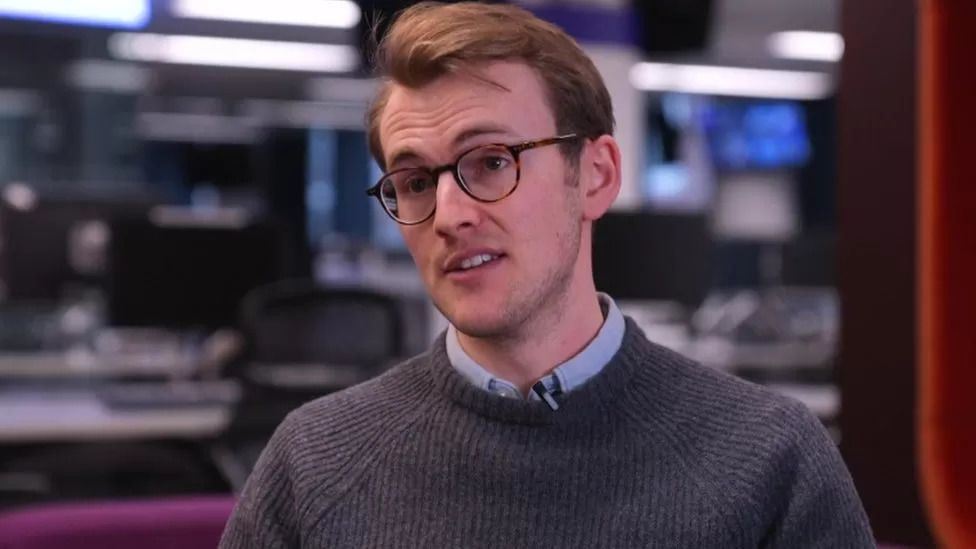 Toby Mather, founder of Lingumi, says his firm is highly exposed

More than 200 bosses of UK tech companies signed a letter addressed to Mr Hunt on Saturday calling for government intervention.

The letter, from Fintech Founders, said many financial technology firms did all of their banking with SVB "and will therefore go into receivership imminently unless preventative action is taken".

"The firms affected by the collapse of SVB serve millions of people in the UK along with businesses that are critical to our economy," the letter said.

"The cost of inaction here means that these firms could fail in the short-term and your technology growth ambitions will fail in the long-term."

Toby Mather, chief executive and co-founder of Lingumi, an education technology start-up, told the BBC his business was very exposed.

"85% of our cash is held in Silicon Valley Bank.. [So this] is a really existential threat to us because I've got to pay my employees and they've got kids and mortgages and so on."

One source in a tech firm told the BBC the situation could be "pretty terminal" for many UK start-ups.

"This Monday, at least 200 firms employing tens of thousands of people will find they can't pay their staff or suppliers because the bank they had an account with has gone bust," the source said.

Between 30% and 40% or UK start-ups employing up to 50,000 people could be affected by the collapse, the source added.

Michael Moore, director general of the British Private Equity and Venture Capital Association, said this was an "urgent matter" and that "help is needed by tomorrow [Monday]" for tech firms and entrepreneurs.

SVB collapsed in the US after failing to raise $2.25bn (£1.9bn) to plug a loss from the sale of assets, mainly US government bonds, that were affected by higher interest rates.

Its troubles prompted a run on the bank in the US and sparked investor fears about the general state of the banking sector.

US Treasury Secretary Janet Yellen said on Sunday she was working closely with regulators to protect US depositors, but she was not considering a bailout.

What went wrong at Silicon Valley Bank?

Silicon Valley Bank specialised in lending to early-stage businesses, and the company served nearly half of US venture-backed technology and healthcare companies that listed on stock markets last year.

The firm, which started as a California bank in 1983, expanded rapidly over the last decade. It employs more than 8,500 people globally, with most of its operations in the US.

But it has been under pressure as higher rates make it harder for start-ups to raise money through private fundraising or share sales. More clients were withdrawing deposits in a trend that snowballed last week.

Silicon Valley Bank UK, which has stopped making payments or accepting deposits, is officially expected to go into insolvency on Sunday evening.