You may well wonder why the prime minister forgetting to put his seatbelt on for a few minutes as he recorded a quick video for social media matters at all.
We are, after all, meant to be living in a serious country - not an episode of TV satire The Thick of It.

Gaffes are fun for political nerds, attract clicks on the internet and occasionally get that elusive quality of "cut through" when the wider public really notices something a politician does.

Remember Boris Johnson having his coffee cup swiped off him because the official edict was never to be spotted with disposable cups for environmental reasons?

The prime minister has accepted he made a mistake but this mess-up is likely to stick with him.

First, if you are responsible for making the law, it goes without saying that it's far from ideal to be caught breaking it. His old boss Mr Johnson made history by becoming the first sitting prime minister to have broken the law while in office by flouting lockdown rules.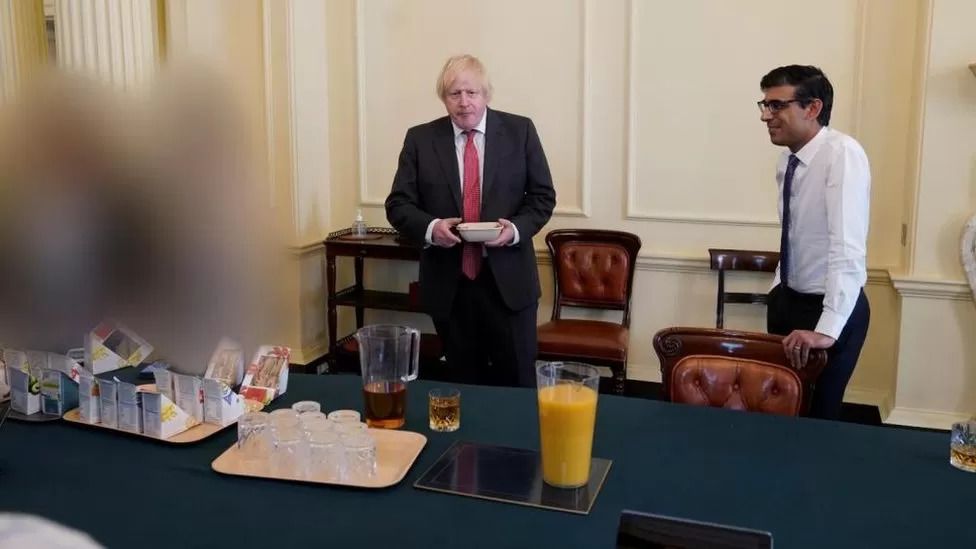 Rishi Sunak received his first fixed-penalty notice for breaking lockdown rules for attending a gathering in the Cabinet Room at No 10 to mark Boris Johnson's birthday
Mr Sunak received one of those fines too and now has a second. Whether you think it was really worth Lancashire Police's time and effort to investigate the offence, how would it go down with many people (450 by Humberside Police alone last year) who were fined for similar offences if he had not faced any consequences?
That said, the fine is highly unlikely to be treated as seriously as
Boris Johnson
's for breaching lockdown rules during the pandemic.
That penalty was part of a long-running fiasco in Downing Street that hit hard because of the public's own agony over lockdown and Mr
Johnson
's unusual relationship with the truth.
Mr Sunak ended up in No 10 because of how much his personal style contrasted with Mr
Johnson
's. He is not the kind of leader to bluster through and promise everything would be "world-beating", but wants to under-promise and overdeliver.
A self-inflicted mistake like this directly contradicts his carefully curated personal brand. And at the very least, dealing with it takes up time, political energy and effort.
And, for a party seriously behind in the polls, it ruined a chance to drive the conversation and provided another beautifully wrapped gift for the opposition.
Let's also not forget that following the scrappiness of
Boris Johnson
's time in No 10 Mr Sunak promised his government would stick to the highest standards of accountability and integrity - breaking the law doesn't exactly fit with that lofty aim.
Is it the end of the world? Plainly not, and you may well think it's a fuss over nothing. But it is worth noting the government has been considering increasing the penalties for not wearing seatbelts.
One Conservative MP suggests this latest episode symbolises exactly the kind of artificial outrage and conversation that's making life increasingly hard for politicians - who exist in a world where every indiscretion or minor mistake provides content for social media and easy barbs for their opponents.
But this may be a moment the public notices and remembers about this relatively new prime minister. It also comes at a time when Mr Sunak is having to manage difficult questions about two men in his top team - Conservative Party chairman Nadhim Zahawi's tax affairs and bullying allegations against
Dominic Raab
, which the justice secretary denies.
There is an ongoing debate about the standards to which we hold our politicians and what is important in our national conversation. Some may argue that this kind of thing - not wearing a seatbelt - doesn't matter, but it is the kind of own goal Rishi Sunak can't afford to concede right now.
WATCH: Prime Minister Rishi Sunak was filmed without a seatbelt in a moving car
WATCH: Nadhim Zahawi's clear he's paid all his tax due in UK - Deputy PM Raab