Government faces legal battle as critics say migrant scheme is breach of international law
Ministers were heading for a Supreme Court showdown over the Government's flagship new immigration law which was today branded "unworkable, nasty and costly".

Legal experts warned that charities, campaign groups or individuals would inevitably bring legal challenges against the plan being unveiled by Suella Braverman.

The Home Secretary said the Government "had pushed the boundaries of international law" to try to solve the crisis of thousands of people risking their lives by seeking to cross the Channel in overcrowded, often unseaworthy small boats to reach Britain and claim asylum.

But Stephanie Harrison KC, a barrister specialising in asylum and immigration law, said: "It's bound to end up in the courts because it is not stretching international law, it's breaching international law."

Ms Braverman published details of the Illegal Migration Bill at lunchtime today which aims to allow adults who arrive by small boat to be detained, denied asylum, sent to their home country, or to a third "safe" nation such as Rwanda, and banned for life from returning to Britain.

They will not be able to use modern slavery laws if they come to the UK illegally.

The Government is pledging to open up more safe and legal routes to claim asylum in Britain but will cap the number of successful applicants. Unaccompanied children will not be removed from Britain under the crackdown until they are at least 18.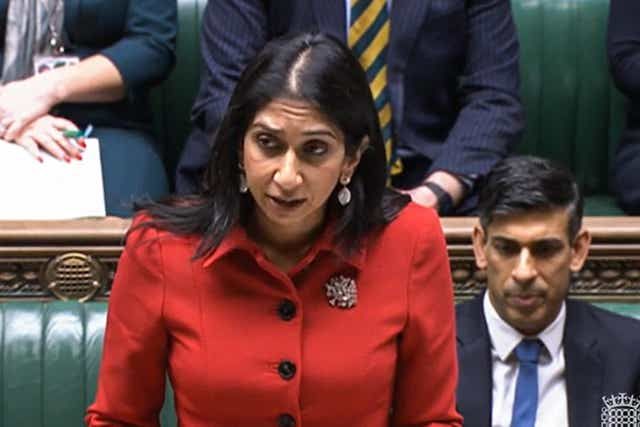 Suella Braverman unveils her plan to Parliament

Ms Braverman said the asylum system was being "overwhelmed" with more than 45,000 people having made the "unsafe, unnecessary and illegal journey across the Channel" last year, and almost £7 million a day being spent on hotels to house people while their claims are processed.

She told MPs: "The British people rightly expect us to solve this crisis and that's what myself and the Prime Minister fully intend to do. We must stop the boats. It is completely unfair that people who travel through a string of safe countries then come to the UK illegally and abuse our asylum laws to avoid removal."

The bill makes provision about "the inadmissibility of certain protection and certain human rights claims relating to immigration" and will almost certainly be challenged in the courts.

Ms Harrison, of Garden Court Chambers in London, said: "The Refugee Convention provides a protection for illegal travel and presence because it recognises that those who are seeking asylum are almost inevitably going to have to use unorthodox or unauthorised means to travel and escape from persecution.

"The convention also recognises that there is some element of choice and people do not have to seek asylum in the first safe country."

She added: "In practice, this [new law] will also result in large numbers of people spending long periods of time in detention, probably unlawfully because there is a lack of arrangements to return people to European countries since Brexit."

Enver Solomon, chief executive of the Refugee Council, said: "This is an unworkable, costly and nasty piece of legislation. It treats refugees like criminals and suspected terrorists and puts the UK alongside the likes of Russia and Belarus as countries who show no respect for international law."

Sonya Sceats, chief executive of the charity Freedom from Torture, said: "If passed, this ban would be one of the most draconian anti-refugee laws on the planet that would drive a coach and horses through international law and is highly unlikely to withstand the inevitable legal challenges."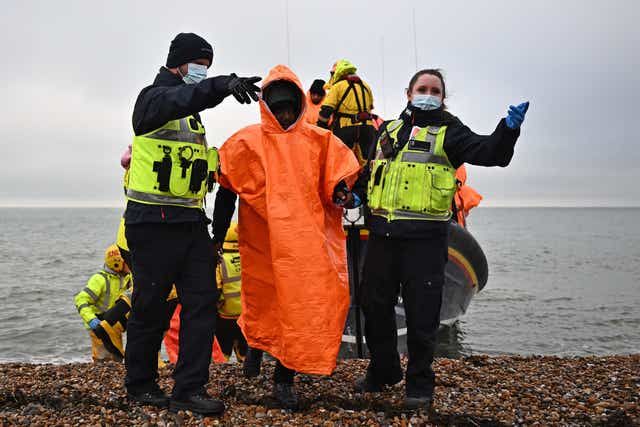 British Immigration Enforcement officers escort migrants, picked up at sea by an Royal National Lifeboat Institution (RNLI) lifeboat on December 09, 2022

Government sources stressed that the High Court ruled in December that the controversial Rwanda deportation policy was lawful, and the case had gone to the Appeal Court. The Home Office has also been accused of failing to swiftly deal with asylum claims, with a backlog having hit around 160,000.

Thousands of people from Albania, and some other safe countries, have come to Britain by small boats organised by crime gangs. But so have many people fleeing Iran, Afghanistan and other countries with brutal regimes.

While the new policy is backed by many Tory MPs, some senior Conservatives such as David Davis have spoken out against it. He warned that the legislation needed to differentiate between economic migrants and genuine asylum seekers.

The Immigration Services Union, which represents border staff, said the plans were "quite confusing" and did not seem "possible" without the Rwanda policy functioning.

Rishi Sunak spoke to Rwanda's president, Paul Kagame, before unveiling his plans, and pledged to continue working with him to ensure their stalled project works.

The Government has paid more than £140 million to Rwanda but no flights forcibly carrying migrants to the capital, Kigali, have taken off because of legal challenges.

The Prime Minister will meet French president Emmanuel Macron on Friday to discuss further co-operation to reduce boat crossings.

Shadow home secretary Yvette Cooper said: "The Conservatives clearly have no credible plan to tackle the smuggler gangs or deal with the backlog."