The AA has joined campaigners in calling for all existing smart motorways to be scrapped.
It comes after the government cancelled the building of all new smart motorways over cost and safety concerns.

Smart motorways are a stretch of road where technology is used to regulate traffic flow and ease congestion.

They also use the hard shoulder as an extra lane of traffic, which critics claim has led to road deaths.

Some 14 planned schemes, including 11 already on pause and three set for construction, will be scrapped due to finances and low public confidence.

Edmund King, president of the AA, told the BBC he welcome the government's move but that it needed to go further and restore a permanent hard shoulder to 375 miles of existing smart motorways.

"Basically drivers don't trust them, the technology is not fool proof, and 37% of breakdowns on smart motorways happen in live lanes. And basically those drivers are sitting ducks."

The RAC meanwhile said existing smart motorways - which make up about 10% of England's motorway network - now had to be made "as safe as possible".

"The possibility of converting all lane running stretches to the 'dynamic hard shoulder' configuration, where the hard shoulder is open and closed depending on the levels of traffic, could be one option the government considers," said RAC road safety spokesman Simon Williams.

Under the government's plan, existing smart motorways will remain and undergo a previously announced safety refit to create 150 more emergency stopping places and improved technology.

Conservative Party Chairman Greg Hands told the BBC's Laura Kuenssberg programme: "We will not approve any new smart motorways, clearly as a result of public concern and safety concern. And we're going to keep a close eye on the situation with the existing smart motorways."

Prime Minister Rishi Sunak - who pledged to ban smart motorways during his leadership campaign - said "all drivers deserve to have confidence in the roads they use to get around the country".

The Department for Transport said the new schemes would have cost more than £1bn, and cancelling them would allow time to track public trust in smart motorways over a longer period.

What is a smart motorway?

There are three main types:

* controlled, which have a permanent hard shoulder, but use technology such as variable speed limits to adjust traffic flows

* dynamic, where the hard shoulder can be opened up at peak times and used as an extra lane; when this happens, the speed limit is reduced to 60mph

* all-lane running, where the hard shoulder has been permanently removed to provide an extra lane; emergency refuge areas are provided at regular intervals for cars that get into trouble

All three models use overhead gantries to direct drivers. Variable speed limits are introduced to control traffic flow when there is congestion, or if there is a hazard ahead. These limits are controlled by speed cameras.

Seven of the 14 projects that have been cancelled were going to involve converting stretches of motorway into "all-lane running" roads where the hard shoulder is permanently removed.

They will now remain as "dynamic" smart motorways where the hard shoulder can be opened as an extra lane during busy times.

The construction of two stretches of smart motorway from junctions six to eight on the M56, and from 21a to 26 on the M6, will continue as they are already more than three quarters complete.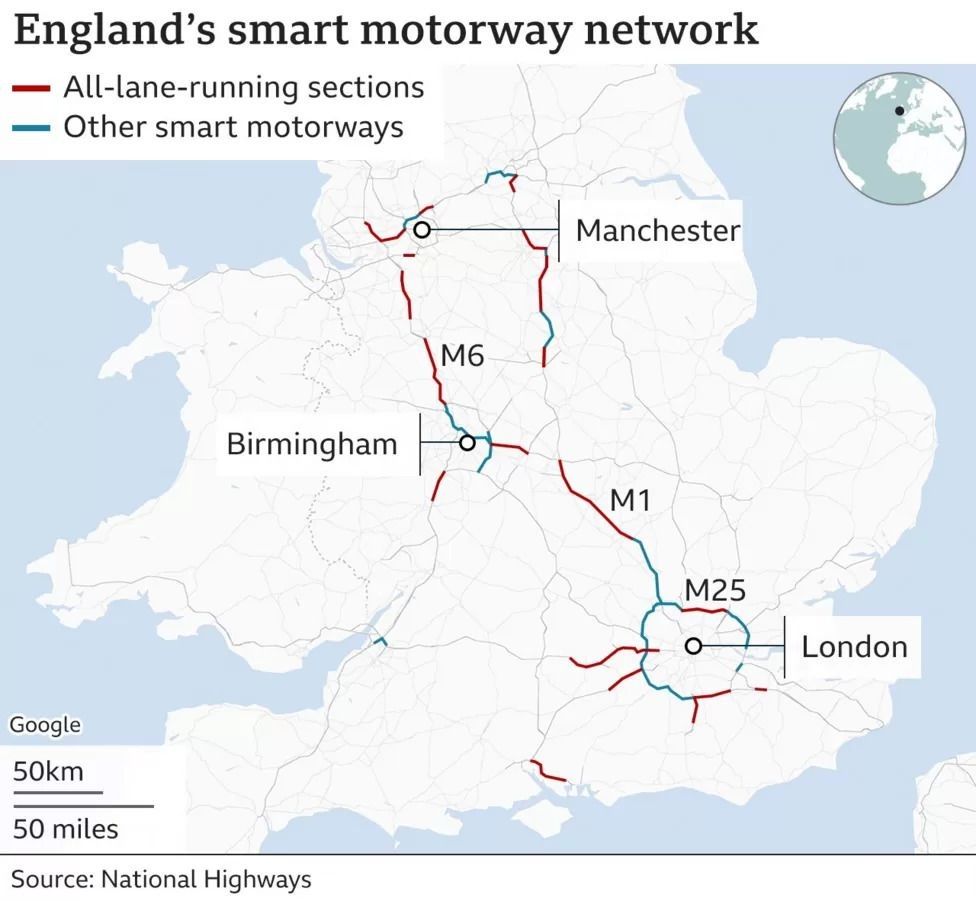 Smart motorways were developed to create more capacity and cut congestion on roads, without spending money and causing disruption building news ones.

However, they have been criticised by MPs and road safety bodies, including the AA and RAC.

Claire Mercer, whose husband died on a smart motorway in South Yorkshire in 2019, welcomed the move but pledged to continue campaigning for the hard shoulder to return on every road.

Mrs Mercer said: "I'm particularly happy that it's been confirmed that the routes that are in planning, in progress, have also been cancelled. I didn't think they'd do that.

"So it's good news, but obviously it's the existing ones that are killing us. And I'm not settling for more emergency refuge areas."

A spokesperson for the Liberal Democrats said the scrapping of further smart motorways was "long overdue".

Louise Haigh MP, Labour's transport secretary, said: "We know smart motorways, coupled with inadequate safety systems, are not fit for purpose and are putting lives at risk", adding that ministers should "reinstate hard shoulders on existing smart motorways".

These motorway sections will no longer become new all-lane-running smart motorways:

* M3 junction 9-14
* M40/M42 interchange
* M62 junction 20-25
* M25 junction 10-16

The following stretches were due to be converted to all-lane-running, but will remain dynamic smart motorways:

* M1 junction 10-13
* M4-M5 interchange (M4 junction 19-20 and M5 junction 15-17)
* M6 junction 4-5
* M6 junction 5-8
* M6 junction 8-10a
* M42 junction 3a-7
* M62 junction 25-30

Schemes for the following motorways were in the pipeline, but have been cancelled:

* M1 North Leicestershire
* M1 junctions 35A-39 Sheffield to Wakefield
* M6 junctions 19- 21A Knutsford to Croft

Meera Naran, whose eight-year-old son was killed on a smart motorway in 2018 when the stationary car he was in was hit by a lorry, said the government's announcement was a "huge achievement" but she would continue campaigning.

She said smart motorways and regular motorways "carry very different benefits and risks" and suggested merging both models.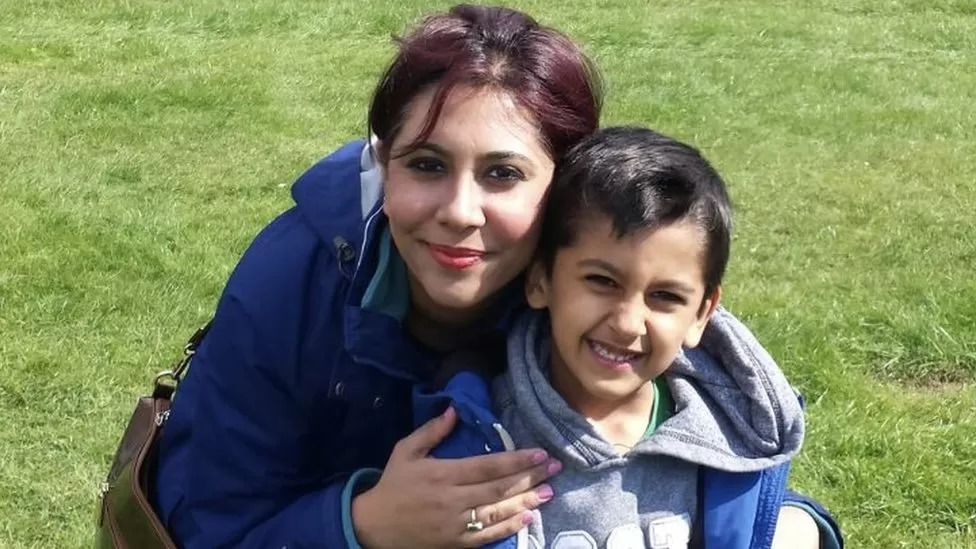 Dev died when his grandfather had to stop their car on the M6 at a time when the hard shoulder was being used for moving traffic

Speaking on BBC One's Breakfast programme, Ms Naran said she would campaign for what she called "controlled motorways" which use the technology of smart motorways with the benefits of a hard shoulder.

In 2020, a BBC Panorama investigation found 38 people had died in the previous five years on smart motorways.