Scottish Conservative leader Douglas Ross has withdrawn his call for Boris Johnson to resign as prime minister.
Mr Ross had written to the party's 1922 committee in a bid to trigger a leadership contest amid the row over Downing Street parties during lockdown.

However he said this should now be "put on pause while there is war in Europe".

Mr Ross - who is both an MP and MSP - has withdrawn his letter, saying it was essential to fully support the UK government's efforts over Ukraine.

It was confirmed earlier on Thursday that Mr Johnson will attend the Scottish Conservative conference, which is being held in Aberdeen on 18 and 19 March.

The party said it would welcome the prime minister in person to give a speech about the war in Ukraine.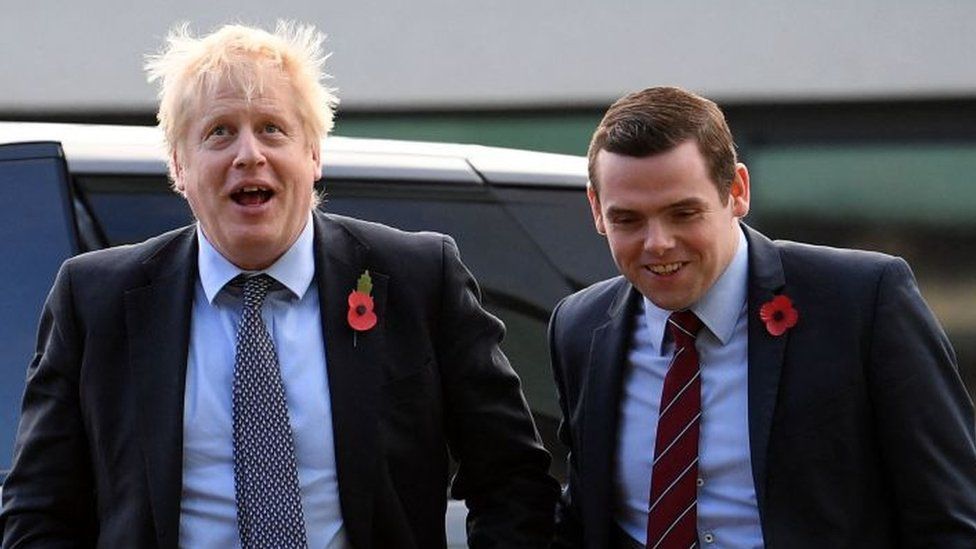 Mr Ross called for the prime minister's resignation in January, saying Mr Johnson's position was "no longer tenable" after he admitted attending a Downing Street party during the Covid-19 lockdown.,

He was later dismissed as being "quite a lightweight figure" by Jacob Rees-Mogg, the leader of the House of Commons.

Mr Johnson had said he thought the May 2020 gathering was "technically within the rules", and that he had "believed implicitly that it was a work event".

However he is under investigation by the Metropolitan Police, and submitted a questionnaire about his involvement to officers - which has the same status as information given as an interview under caution.

Mr Ross was backed in his position by almost all of the party's MSPs, and doubled down later in January by saying he would not be changing his mind.

However he has now said that "the middle of an international crisis is not the time to be discussing resignations".

He added: "There will be a time and place to debate partygate but, as even Keir Starmer said at the weekend, we should put that on pause while there is war in Europe.

"It's essential that we all fully support what the UK Government is doing. In light of Russia's appalling actions, the government and Prime Minister need our backing, and they have mine and the whole Scottish Conservative party."

Other parties were critical of the move, with Labour leader Anas Sarwar saying Mr Ross "should not be using the Ukraine crisis to go back on his principles" and Lib Dem MSP Willie Rennie saying the Tory leader had "the backbone of a jellyfish".

And SNP Westminster leader Ian Blackford - who had earlier denied rumours he was thinking of quitting his own post - said it was "an utterly humiliating u-turn for Douglas Ross".

He said Mr Ross had "ended up catastrophically undermining his own position" and was "no doubt on borrowed time".

It was earlier confirmed that Mr Johnson will attend the Scottish Tory conference later in March.

There is another Conservative conference in Blackpool on the same dates, which meant it was thought Mr Johnson would appear in Aberdeen via a video link or in a pre-recorded message.

However the party said it would be welcoming him "in person to speak about the war in Ukraine".