Scotland's controversial deposit return scheme will now not launch until March of next year, the country's first minister has announced.
The scheme, which is aimed at increasing the number of single-use drinks bottle and cans that are recycled, was due to start in August.

But it has faced fierce opposition from many small breweries and distillers.

Humza Yousaf announced the delay as he set out his priorities for his government over the next three years.

Mr Yousaf also confirmed that proposals to restrict alcohol advertising will be sent "back to the drawing board" as part of his efforts to "reset" the government's relationship with business.

And a six-month trial will see peak rail fares scrapped across the ScotRail network from October.

His statement was largely overshadowed by the arrest of the SNP's treasurer, Colin Beattie, on Tuesday morning by police officers who are investigating the party's finances.

The deposit return scheme will see 20p added to the price of a single-use drinks container, which will be refunded to people who return the container to retailer or hospitality premises that offer single-use products.

Some retailers will accept returns over the counter while larger stores, shopping centres and community hubs will operate automated receiving points known as reverse vending machines (RVMs).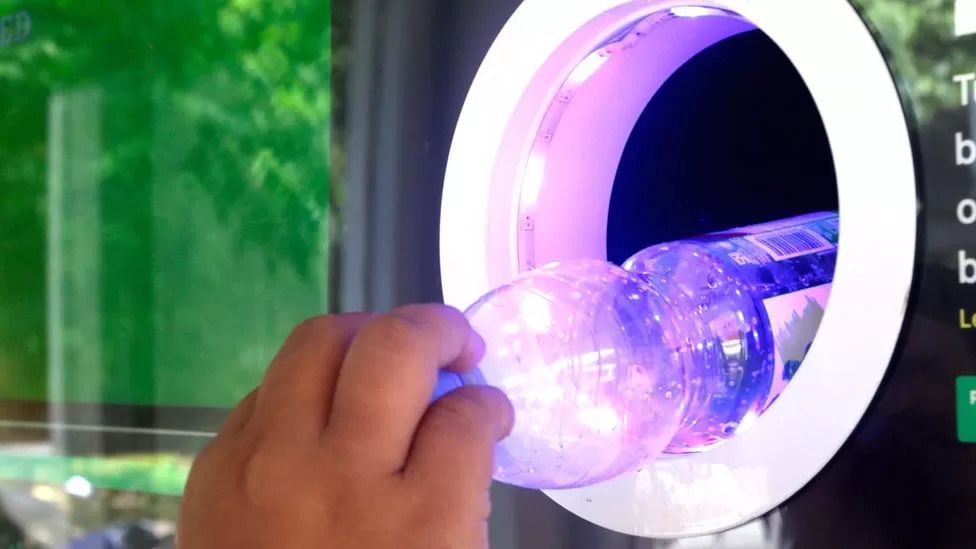 Bottles and cans could be returned over the counter or through reverse vending machines

Many small businesses fear it will place extra costs and other burdens on them at a time when they are already struggling.

And there have been concerns that thousands of firms could end up being forced out of the Scottish market, and that many products will disappear from the shelves.

The scheme will also require Westminster to grant an exemption to the UK-wide Internal Market Act given possible implications elsewhere in the UK

Mr Yousaf said he remained committed to the deposit return scheme "as a way to increase recycling, reduce litter and help achieve our net zero ambitions".

He added: "We recognise the uncertainty that continues to be created as a result of the UK government delaying the decision to exclude the scheme from the Internal Market Act. We had hoped for that decision this week - but it has not come."

The first minister also said that he and Circular Economy Minister Lorna Slater - the Scottish Green co-leader who has been driving the introduction of the scheme - had heard the concerns of business over its readiness for launch in August.

He said: "As a result, we will now delay the launch of the scheme to the 1st of March 2024. This provides 10 months for businesses to get ready.

"We will use that additional time to work with businesses, and Circularity Scotland, to address concerns with the scheme and ensure a successful launch next year."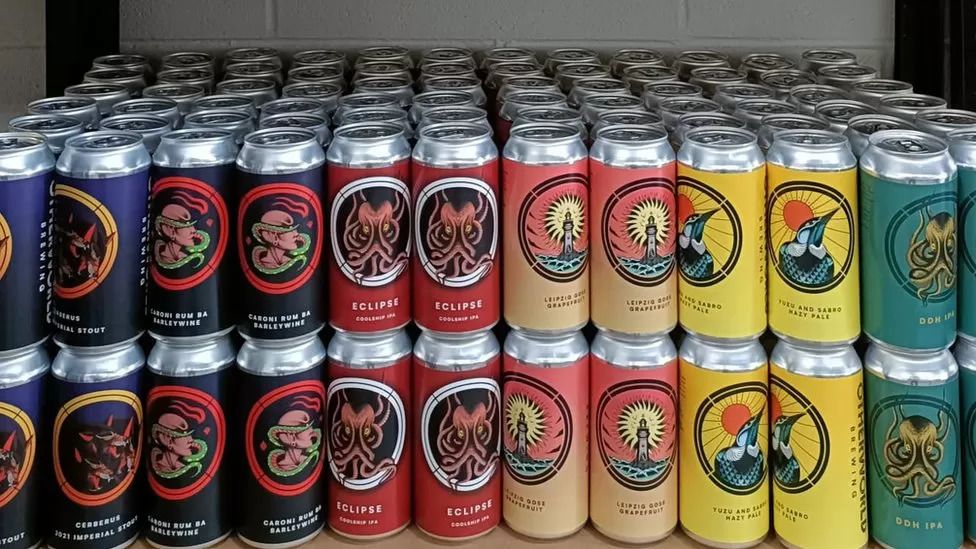 A package of measures, Mr Yousaf said, would also be put in place to "simplify and de-risk" the scheme.

Ms Slater will give further details on the new package and timetable for the scheme later this week.

The announcement came just minutes after former SNP minister Fergus Ewing described the scheme as a "Green poll tax".

The Scotch Whisky Association welcomed the delay but stressed that it supported the principles of the deposit return scheme.

But it said the plan in its current form would "hamper the efforts of businesses across the country to reduce waste and bring about a more circular economy".

The Night Time Industries Association said the scheme continued to be "fundamentally flawed and completely unworkable for large parts of our sector" and that a total redesign was needed.

The Federation of Small Businesses in Scotland welcomed the decision but called for the government to engage in "meaning conversation" to address business concerns.

Scottish Secretary Alister Jack also welcomed the pause and said the two governments now had "an opportunity to continue working together on solutions".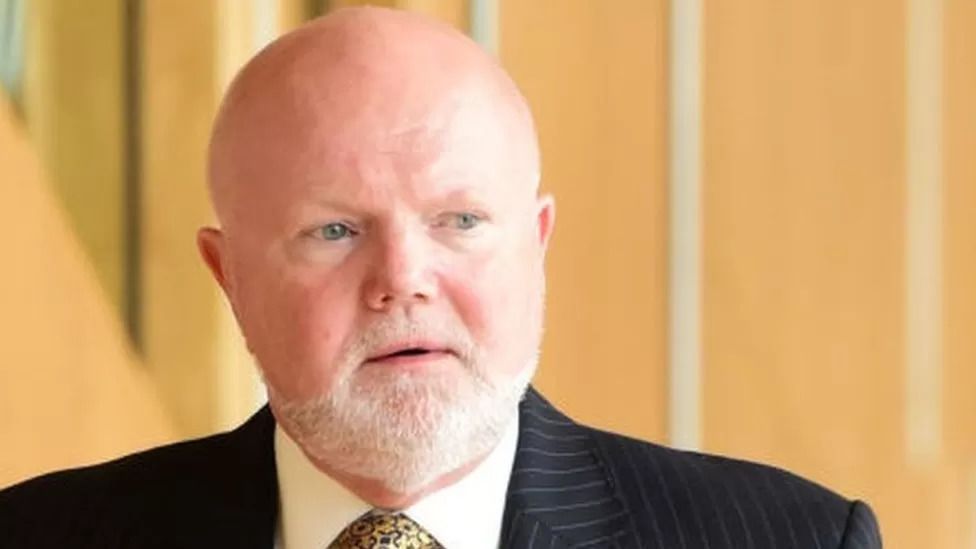 SNP treasurer Colin Beattie was arrested by police hours before Mr Yousaf unveiled his plan for a "fresh start" for the government

Mr Yousaf also acknowledged that proposals to restrict alcohol advertising, including a ban on sponsorships for sport and live events and ending the sale of products with drinks firms' logos on, had caused "real concern" to the industry.

He said: "I have therefore instructed my officials to take these ideas back to the drawing board, and to work with the industry, and with public health stakeholders, to agree a new set of proposals.

"I believe that all of us want to reduce the harm caused by alcohol, particularly to young people - but without undermining Scotland's world-class drinks industry or tourism sector."

The first minister said he hoped that a way forward could be found "which achieves both of those aims".

Mr Yousaf had hoped his speech would allow him to set out what he was billing as a "fresh start for Scotland" after a tumultuous three weeks since he succeeded Nicola Sturgeon as first minister and SNP leader.

He pledged his government would be "centred on the principles of equality, opportunity and community" and suggested tax increases could be on the way for higher earners, as he spoke of the need to be "bolder on taxation".

Scottish Conservative MSP Maurice Golden responded to the delay, saying it would come as a "huge relief" to businesses and consumers.

He added: "Ministers urgently need to get back to the drawing board and come up with something that is radically better than what has been proposed so far.

"Their first port of call should be inviting Scottish business leaders to advise how best to move forward."

Mr Yousaf admitted to journalists earlier on Tuesday that Mr Beattie's arrest was a "very serious matter indeed" and that the timing was "not ideal" in terms of his statement to parliament.

Mr Beattie's arrest came two weeks after former SNP chief executive Peter Murrell - who is married to Nicola Sturgeon - was also arrested before later being released without charge pending further investigation.

Officers spent two days searching Mr Murrell and Ms Sturgeon's home in Glasgow, and also searched the SNP's headquarters in Edinburgh.

Police Scotland launched its Operation Branchform investigation into the SNP's finances in July 2021 after receiving complaints about how more than £660,000 of donations for a second independence referendum campaign were used.
AI Disclaimer
: An advanced artificial intelligence (AI) system generated the content of this page on its own. This innovative technology conducts extensive research from a variety of reliable sources, performs rigorous fact-checking and verification, cleans up and balances biased or manipulated content, and presents a minimal factual summary that is just enough yet essential for you to function as an informed and educated citizen. Please keep in mind, however, that this system is an evolving technology, and as a result, the article may contain accidental inaccuracies or errors. We urge you to help us improve our site by reporting any inaccuracies you find using the "
Contact Us
" link at the bottom of this page. Your helpful feedback helps us improve our system and deliver more precise content. When you find an article of interest here, please look for the full and extensive coverage of this topic in traditional news sources, as they are written by professional journalists that we try to support, not replace. We appreciate your understanding and assistance.