A number of schools in Northern Ireland have decided to offer more pupils free meals in response to rises in the cost of living.
Some schools are now offering free breakfasts to all pupils and some are offering hot dinners to more pupils.

Prices are rising faster than they have done for 40 years with inflation above 10%.

Energy bills especially have risen substantially putting increased pressure on many families.

In Wales, the government has begun rolling out a programme to offer free school meals to all primary school children by 2024.

Around 100,000 children in Northern Ireland are entitled to free school meals, that is around 30% of the total school population.

But some principals who spoke to BBC News NI said that an increasing number of families who were not entitled to the benefit were also facing rising pressures.


Complimentary meals

Among the schools to offer complimentary meals to an increased number of pupils since the start of the new term are Belfast Boys' Model and Belfast Girls' Model.

Both are large non-selective post-primary schools in north Belfast with more than 1,000 pupils each.

Belfast Girls' Model is to provide all of its new pupils in Year 8 with a complimentary school meal until Christmas and will give all of its pupils a complimentary Christmas dinner.

The school also said it hoped to offer a free meal to every student during the winter months.

At Belfast Boys' Model, meanwhile, all pupils are being offered a free breakfast.

The school canteen will provide a cooked breakfast, cereal, fruit or bread to any of the school's 1,000 pupils who want it until Christmas.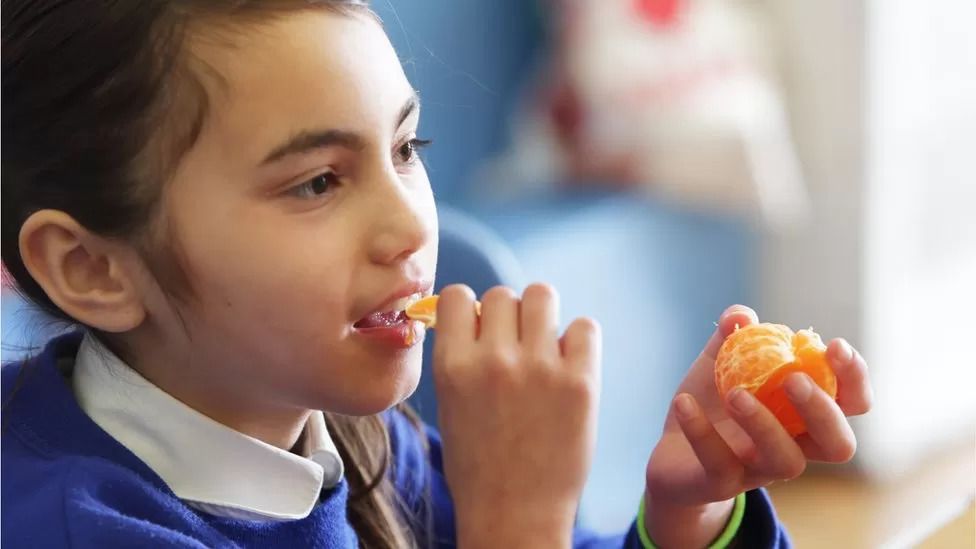 The school's principal Mary Montgomery said that in the first week of term alone around 200 boys a day had been turning up to get breakfast.

"We opted for breakfast as it's the meal to start the day," she told BBC News NI.

"Getting good nutrition helps with concentration and a good mindset for the rest of the day.

"We are also conscious of the pressures on the families of our pupils, and we wanted to take some of the pressure off."

The school governors also decided to provide every pupil with a free school coat or bodywarmer ahead of the new school year.

Ms Montgomery said the school had also provided free meals to all pupils in June, and hoped to offer free dinners over the winter but that would depend on finding funding.


Christmas pressures

At the nearby Hazelwood Integrated College, meanwhile, any of the school's 1,000 pupils can also get a free breakfast if they want it.

The school has also been providing free hot dinners to any pupil who wants one for the last two Decembers, and plan to do the same again this year.

The vice-principal Aine Leslie told BBC News NI that parents had really appreciated the move.

"It took a huge pressure off at Christmas when the cost of living - in any year - would always be higher in December," she said.

"It's not just for students on free school meal entitlement, it's for all of the students.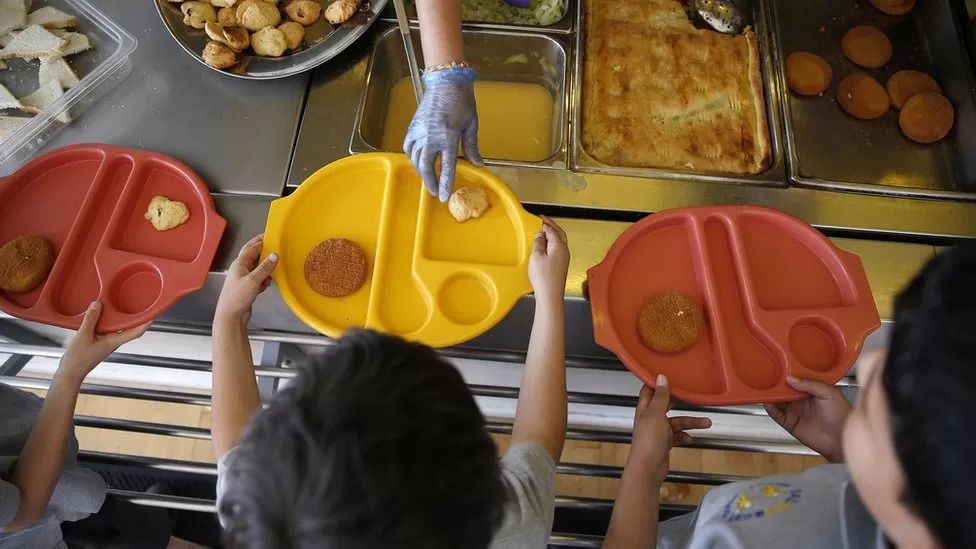 Some schools running free breakfast clubs and similar schemes say there has been a recent increase in demand

"Our parents are telling us that it helps them the most in December, it takes pressure off them having to pay for school meals coming up to Christmas."

At the same time in 2020, the school decided that its breakfast club should be open to all students to get a free hot breakfast if they wanted it.

"Our school nurse was very much involved in that," said Ms Leslie.

"When we introduced it the school nurse reported that the number of children coming to her in periods one and two had significantly decreased.

"She would have had a lot of children coming to her with sore tummies who were coming from families experiencing poverty that didn't have breakfast.

"The school nurse more or less begged us could we keep this as a long-term initiative because she had really seen an improvement in some of the most vulnerable children."

While the school has provided breakfast and December meals since 2020, Ms Leslie said that demand had increased, as had that for a school uniform swap shop which ran over the summer.

"We would pride ourselves as a school with a low-cost uniform, it's not an expensive uniform," she said.

"Even the parents that get the uniform grant we know it doesn't cover an entire uniform, even a low-cost uniform."

The school's breakfast club has been so successful that they have won a UK award from the Kellogg's company, which they are due to collect at Westminster later in September.


'Sustained' approach needed

Ms Leslie said that Hazelwood used some funding they received to target social need to provide pupils with food but had also raised money themselves to pay for the service.

"We're continuously always out there looking for sources, there isn't a regular income," she said.

"We'd like to see a more sustained approach so we could keep on doing this without having to continuously go out to look for external sources of funding.

"We need our children to be healthy and happy and when they're healthy and happy they will learn much better.

"It's a no-brainer for us, we're going to keep doing it."

Some other schools across Northern Ireland have made similar decisions.

Primate Dixon Primary in Coalisland, for example, offers free fruit and free toast to its 500 pupils and free musical instrument tuition.

In 2021, pupils at the nearby St Joseph's College in the County Tyrone were also provided with free meals throughout December.