Rather than give in to the abuse and death threats hurled at him by the anti-ULEZ brigade, Mayor Sadiq Khan tells Alexandra Jones why he's more determined than ever to clean up London's air
The day before it's due to take place, I get a phone call from one of Sadiq Khan's aides saying that his security detail has approved Caffè Tropea as the location for our interview. I head to the buzzy Italian eatery in Russell Square the following lunchtime and can see why: the building is glazed on all sides, which presumably makes it easier for them to spot potential threats. Khan's had round-the-clock police protection since 2019 after receiving a barrage of abuse and death threats so vile that the staff dealing with his communications had to be offered counselling.

'It's still that bad, then?' I ask the aide when I arrive. They have to take recent threats seriously, he says. 'Especially since the anti-ULEZ protests.' The potential extension of London's ultra-low emissions zone (due to happen in August) — on the surface a fairly straightforward 'save the planet, save lives' kind of policy — has sparked a bitter culture war that has led to renewed threats on the Mayor. At the end of March anti-ULEZ protesters carrying a makeshift coffin and a placard showing a swastika and a picture of Khan turned up at a People's Question Time event in Ealing that he was speaking at. The Mayor then faced a significant backlash when he pointed out that protesters with legitimate concerns over the ULEZ expansion risked aligning themselves with the 'far-Right… Covid deniers… vaccine deniers'.

'We are not the far-Right — normal people are not the far-Right,' audience members heckled back.

When he arrives for our interview, elegantly dressed, flanked by security and walking at pace, Khan seems unmoved by the idea that some hate him — more than hate, want to do him actual harm — for trying to cut air pollution in the capital. 'Look, you can either listen to a hostile but vocal minority or be brave and bold. I want to be part of a generation of politicians who take action.'

Khan is a captivating orator with what is clearly a vast knowledge of climate issues, and particularly the human cost of air pollution. Since winning his first term as Mayor in 2016, the one-time Labour MP for Tooting has staked his political career on a green agenda; as well as the flagship ULEZ policy, he's led a programme of rewilding our nature-depleted city ('We've brought beavers back — Justin Beaver and Sigourney Beaver... Sigourney had an accident but there are many more coming'), has planted about 340,000 trees ('More in six years than the previous administration did in eight'), has overseen a fivefold increase in cycle lanes and cleaned up our public transport network. 'London now has more electric buses than any other Western European city,' he says, proudly. He has also recently written a book, Breathe: Tackling the Climate Emergency, a part memoir, part seven-step guide to 'winning support for tough action on climate change', which is out in May. 'There's a lot of doom and gloom around this area — climate change, air quality, biodiversity — and I wanted to bring some hope and optimism by talking about what can be done.'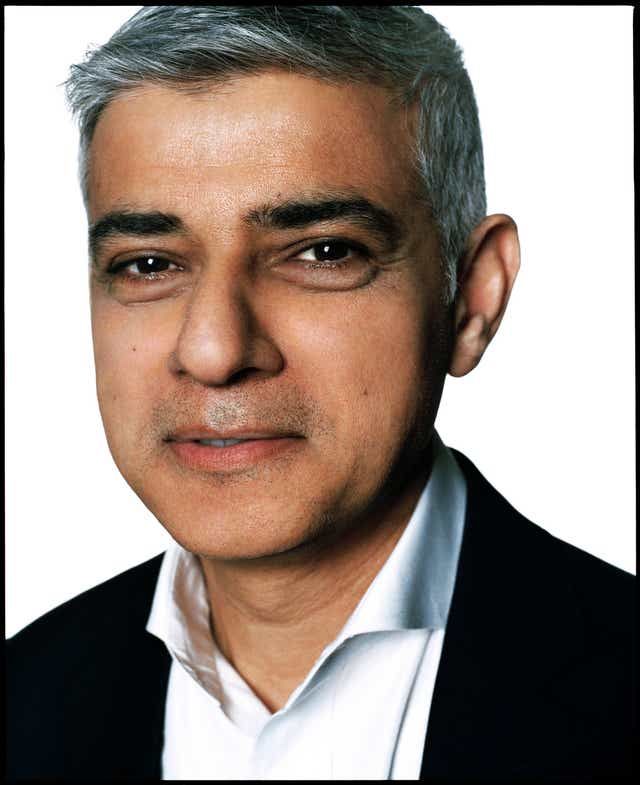 Sadiq Khan photographed by David Bailey

It can be hard to keep up with Khan when he's in full flow. He talks so incredibly quickly that at times you feel like you're listening to a climate podcast on double speed. And he clearly has an impressive memory: later, as we arrive at David Bailey's studio for the photo shoot ('Have you met Bailey before?' he asks me, 'great man, real geezer'), Khan calls out a jovial 'hello' to the photographer. 'I need to get you some new records, David, this was on the last time I was here,' he jokes. The last time he was shot by Bailey was in 2016. 'He remembers the album that was playing seven years ago?' I ask one of his advisors. She nods gravely: 'He remembers everything.' (Khan doesn't think he has a photographic memory, 'although I've never had it tested'.)

But it is perhaps unsurprising that he keeps a dizzying array of climate statistics at the forefront of his mind: critics have been vicious, arguing that the ULEZ expansion disproportionately penalises particular working classes who have no choice but to move around the city in their cars and vans.

If the next expansion goes ahead, it will mean that an extra five million people — all of Greater London — would face a charge of £12.50 per day for driving a non-compliant vehicle. 'If' being the operative word; just a few hours after we meet, a judge permits four outer London borough councils to mount a legal challenge against the expansion, which could potentially see it deemed unlawful when it comes up at the High Court later in the year. It would be a huge blow, and is an indication that it isn't just a 'vocal minority' (as Khan claims) that is against ULEZ expansion.

A few days after our interview, anti-ULEZ protesters will gather in Trafalgar Square, holding placards emblazoned with the words 'Get Khan Out'. 'Of course it's disappointing,' he says of this opposition. 'But I think the few people who oppose it are giving others [around them] anxiety because of misinformation. There are people with legitimate concerns, but I think their [anxieties] are being exploited by the extreme far-Right, Covid deniers, conspiracy theorists and anti vaxxers… as well as some Tories who are latching on to those groups to further their own agenda. That's the choice they've made.'

Khan has faced opposition at every stage of the scheme, from when it was first announced in 2017 to the last expansion in 2021. 'We were told no electricians, plumbers or builders would come to central London when it came into force. We were told that if we expand it to the North Circular and South Circular, it would mean Armageddon for businesses… it didn't happen, the skies didn't fall in.

'And ultimately, the question is: what is the cost of a life? Five-hundred thousand people in our city have got respiratory issues and two thirds of those live in outer London boroughs. The 10 bor - oughs with the largest number of deaths are in outer London; your life expectancy is less because you live in an outer London borough. Right now, we're 50 metres from Great Ormond Street — you can visit the hospital on a daily basis and see the consequences of inaction. Children on machines permanently because they can't breathe because of asthma, children whose respiratory diseases mean that their life expectancy is shorter, children who've got stunted lungs for - ever. What is the cost of their lives?'

When he became Mayor, a victory of 1.3 million votes that won him the largest personal mandate of any UK politician in history, he pledged to 'put aside party-political differences'. In the intervening years, though, as a Labour mayor he has, time and again, found himself hamstrung by a central government that disagrees with his politics.

Does he get on better with Rishi Sunak than he did with Johnson? 'Neither is my best mate,' he says. 'Look, I've had five prime ministers in my tenure — five! — and it's been chaos. All five of them have been chaotic but I've tried to build bridges with all of them.' The fact is, he needs the support of the Government if he wants many of his policies funded. So how easy is it for him to get in touch with Sunak? 'Well we can reach out, but the question is: is the Government just interested in playing party politics?' Could he just drop Sunak a Whatsapp to get something done quickly? 'I don't do Whatsapp, I text,' he says, wryly. 'But yes, I've reached out to Sunak — although we haven't met yet. I'm not knocking him, I understand how busy his diary is, but it's really important for the British Prime Minister and the Mayor of the capital city to work closely together.' He wants 'more support from the Government, which means more [devolved] powers and more resources. We've got the most anti-London government in the history of our city. Just look at the limitation of our powers; you know, other parts of the country are getting more powers and resources and I've welcomed it, but we need that, too.'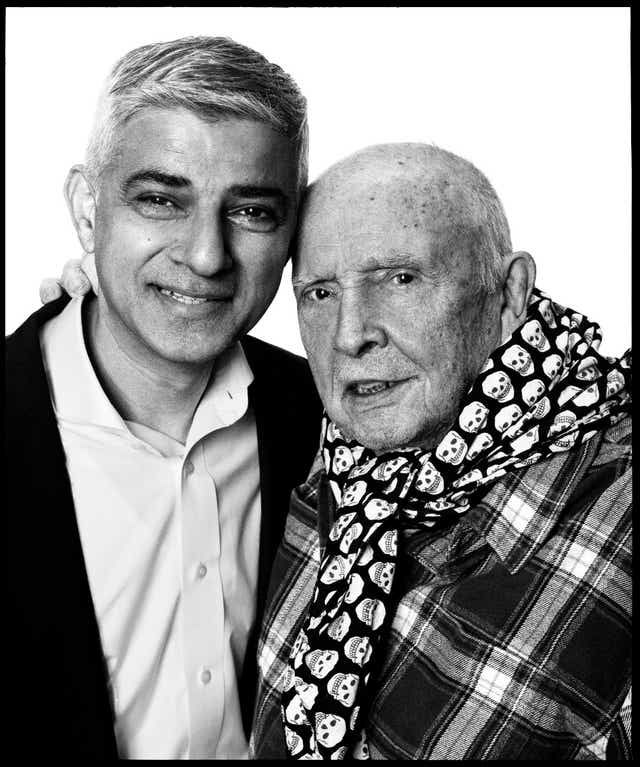 Mayor of London Sadiq Khan with photographer David Bailey

The last member of the Cabinet whom he texted was the Transport Secretary, 'Mark Harper, who is a lot better than the previous [transport] secretary — he's not playing party politics'. And also Michael Gove, 'about some council housing issues. Michael Gove has also been very good in relation to [green issues]. He gets the importance of [building] new homes which are green.'

Khan blames 'party politics' for many of the issues he has faced as Mayor — though he doesn't have an answer for how we might move past that, other than a change of government. He will be standing for a historic third term in May next year, 'and the reason I'm so excited about it is that for the first time I'll have a government on the side of London and on the side of the green agenda — it's so important and it's so exciting.'

The day before we meet, Labour put out its 'Do you think adults convicted of sexually assaulting children should go to prison? Rishi Sunak doesn't' advert. Saying Sunak goes easy on paedophiles seems… quite the blow, I venture. 'You're talking to a Muslim mayor,' he says. 'The audacity of me being asked about this campaign that Labour is embarking on… I speak as somebody with Pakistani heritage, this Conservative Home Secretary, appointed by Rishi Sunak, said people from my country of origin are groomers — that's not even the evidence!' Indeed earlier this month, in a TV interview, Suella Braverman drew censure from many when she said that grooming gangs had a 'predominance' of 'British Pakistani males, who hold cultural values totally at odds with British values'.


"The Prime Minister and I have not met yet. But we need to work closely together"

Khan continues: 'The evidence from the independent inquiry in 2021 is that the vast majority of those groups involved in child sexual abuse were white men. Where is the outrage at the Home Secretary? Where is the outrage at Rishi Sunak, the Prime Minister who appointed her?' He argues that 'the job Keir Starmer is doing is about being effective in opposition'. But does it lose Labour the moral high ground? 'The Labour Party still is, very much, the party with the high moral ground,' he says. 'But I tell you this, we were also the party with the high moral ground in 2010, 2015, 2017 and 2019, and it didn't win us the election, did it?'

It is perhaps understandable that Khan feels irked by these questions — his mayoral win in 2016 came after his opponent at the time, Zac Goldsmith, ran what many from across the political spectrum decried as a racialised campaign, which sought to paint Khan as an extremist sympathiser (based on the people he defended during his time as a human rights lawyer). 'Just look at how that campaign against me was run in 2016,' he says. 'Where was this moral outrage then? I'm glad people are waking up to it but I hope they wake up to some of the Tory stuff as well.'

Khan has, of course, shepherded London through some of the most turbulent times in living memory, from the political polarisation ushered in by Brexit and the horror of the Grenfell fire, to the devastation caused by the outbreak of Covid-19. He is staunchly proud of the city, he says, as it has moved into the post-pandemic period, but he wants to capitalise on the progress through his third term. 'Think of what we've achieved with one hand tied behind my back by an anti-London government — if you speak to people outside of the country, to climate-change experts, WHO, United Nations, they're so impressed. I just think about what we could do with a government that's on our side, with more powers and more resources.' But first he will have to face the 'far-Right Covid-deniers, anti-vaxxers' (as well as those legitimately concerned) in court over the next ULEZ expansion. His team says that he is ready, they tell me that plans won't be stalled by the legal challenge. As he gets up to leave, I wonder whether Khan isn't tired by all of this yet.

'Not at all,' he says, with a smile. 'I'm so passionate, I'm going to run for that third term, I'm going to win — and I'm going to improve our city even more. This is the best city in the world, with the best values, so it breaks my heart when I'm walking around it, this city that I love, breathing in poison. So that small minority, that vocal minority, might make a big noise… but that's fine, we're going to plough on.'