As he launches a bold new green policy, The Mayor of London talks cars, violent crime and the tragic death of Sir David Amess
"It is difficult to explain how hard it is," says Sadiq Khan, with a note of hesitation in his voice. We are discussing the safety of politicians and those close to them in the aftermath of the killing of MPSir David Amess at his constituency surgery on Friday. It is something that the Mayor of London has previously been reticent to talk about, for fear of putting people off jobs in public service, or seeming ungrateful. When we meet at a cafe near City Hall it is clear that Khan thrives on meeting the people he has represented since 2016. But at the same time, he says, "you can't pretend it is not hard". "I am threatened because of my job but also the colour of my skin and my religion. I don't want to inadvertently be gaslighting the world about what's going on."

He pours milk into his Americano and continues: "My wife and children can't open the door because they never know who is going to be behind it. I can't spontaneously decide to go see my mum, I've got to let the police know. I want to go back to normality; I miss it. I miss just being able to go out to the corner shop without police protection. I certainly hope I won't need protection for the rest of my life."

Khan knew Sir David — they met when Khan was a lawyer and the MP helped him with a client who was his constituent. "It can appear a bit trite or clichéd but he genuinely was a thoroughly nice man," says Khan. "None of us can comprehend what his family must be going through. You sort of expect it with police officers, firefighters, they are literally in harm's way. Not a politician. But over the course of five years, David Amess has been murdered, a close friend of mine, Jo Cox, has been murdered, another friend Stephen Timms was brutally stabbed. I've spoken to at least a dozen MPs and their staff and they are all frightened. The staff of MPs take a risk every day they go to work."

When Khan was MP for Tooting, from 2005 until 2016, "one of the joys of the job was that my door was always open. My office was on the high street and anyone could come in without an appointment". When he met ministers from other countries they didn't understand this direct link with democracy that the UK has and Khan says "to lose it would be a backward step — yet something needs to be done and I welcome a safety review".


"My wife and children can't open the door because they never know if the person behind it will be dangerous"

He declined security when he became Mayor. "It is incredibly intrusive… But the game-changer was the terror attack in March 2017 and conversations I had with the police about how the people who work for me and my family could become that horrible phrase, collateral damage."

At the weekend, Khan spoke to the Home Secretary about making sure copycat attacks are avoided and also avoiding hate against the Muslim community based on the man suspected of killing Amess being a Muslim. There have been nine terrorist incidents in London while Khan has been Mayor and he is firm about "being careful not to inadvertently do what terrorists want, for us to become divided and to cower and change our way of life".

While Khan wants to talk about the consequences of his job, he is naturally "an optimist", "proud, and I say this with humility, that I received a record number of votes in 2016 and 2021". He talks about how he has changed the perception of his religion as our first Muslim mayor. But, he adds with a grin, most of the credit for that deserves to go to sportspeople, like Liverpool's Mo Salah, "who has done more to educate people about Islamophobia than any politician". Khan is a Liverpool supporter and was thrilled to meet the forward on Sunday night at the Earthshot Prize ceremony at Alexandra Palace. He shows us a selfie of him with Salah, saying his daughter pointed out that he looks short next to the footballer ("I said I look short next to most people") and serenades us with a Salah chant. Khan seems invigorated by his night out with the prize's founder Prince William — they discussed green ways of getting to Cop26 in Glasgow next month and Khan admired William's upcycled green jacket, "though I was annoyed that he got us all to wear black tie then rocked up in a polo neck under the jacket".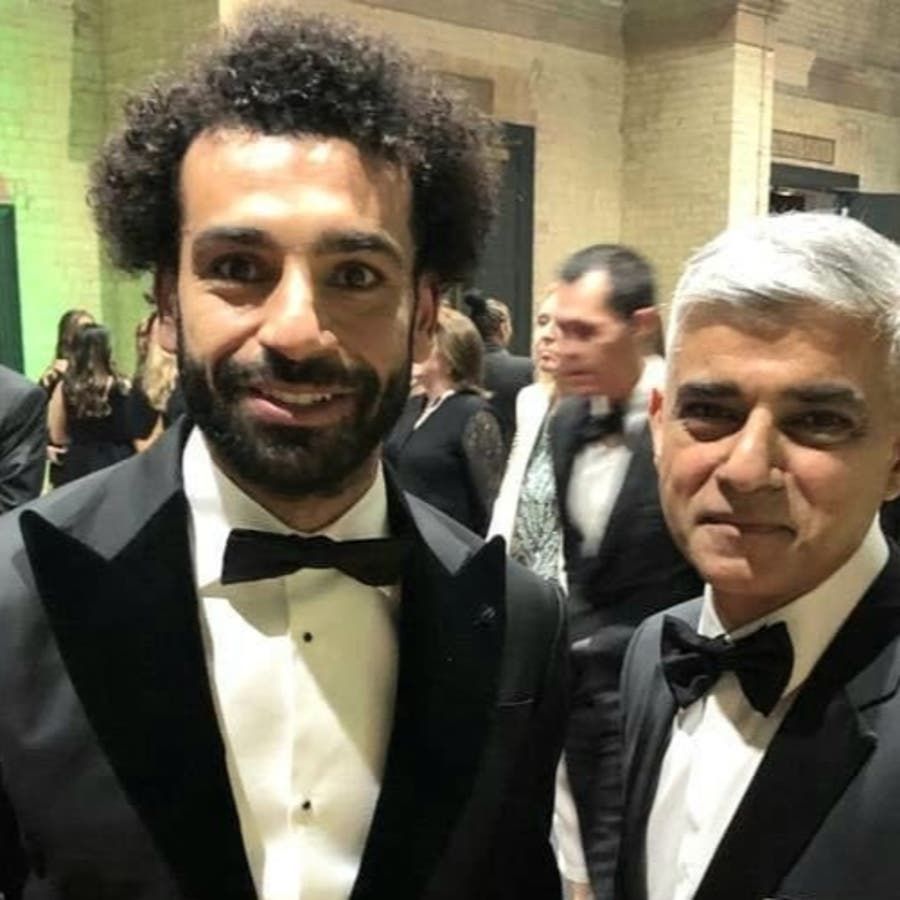 Liverpool player Mo Salah and Mayor Sadiq Khan at the Earthshot Prize

Today, Khan cuts a slim figure in a white shirt, a chunky Garmin fitness watch on his wrist. He apologises that he's not in his signature gilet, joking, "some say Kendall from Succession copied my gilet, I was wearing a gilet and a baseball cap before him. But still I am Team Kendall, I can't wait to watch the new series."

We have met to discuss the extension of the Ultra Low Emission Zone (Ulez) to the North and South Circular. It's part of Khan's "ambition to make 80 per cent of journeys walking, cycling or public transport" by 2041. At the moment it is about 65 per cent.

He will be joined at the launch of the extension by Rosamund Kissi-Debrah, whose daughter Ella died aged nine in 2013 after an asthma attack exacerbated by excessive air pollution and Khan says that "nothing is off the table" in his mission to prevent this happening again. "No other city in the world has tried anything like the Ulez and it has been a success so we are expanding it. I am more than happy to replicate plans from other cities though." He is friends with Paris's Mayor Anne Hidalgo, who is also implementing bold green policies - and now the Socialist party's presidential candidate, saying that both their mothers were seamstresses.


"One knife crime incident is one too many. But we cannot tackle it without funding from the Government"

Khan has a silver Ulez-compliant Volkswagen Golf but says he can count on his hand the number of times he has driven it in the past six years. He is acutely aware that it is impossible to please everyone when it comes to how we get around. A consultation on the congestion charge closed this month and Khan says that London is divided. "On the one hand, people are criticising me because they want to make it more expensive and 24 hours a day, on the other people realise the night-time economy needs people to be able to drive. I've chosen a third way, to consult on going back to pre-Covid hours but to keep the £15 price it was during the pandemic. It is a genuine consultation, I want to hear from Londoners."

His use of the term "third way" is inspired by his current "obsession", the BBC's Blair and Brown documentary which he quotes animatedly. "Douglas Alexander said that Gordon and Tony were the Lennon and McCartney of New Labour, but then Alan Johnson said the difference is that the Beatles break-up was less traumatic… Third ways, economic social justice, bring it on."

As well as cleaning up London's air, another of Khan's manifesto promises was to do everything in his power to bring crime down. London is on track for its worst year for teenage homicides. Khan nods when we ask about this. "We cannot be complacent. One knife crime incident is one too many. But look at the direction of travel in the last five years, knife crime is going down. We have to talk about the ferocity of these attacks, they are fewer but more teenagers are dying. That's why we are talking about a public health approach; we are investing in more than 300 projects. But we cannot do it without government support. That's why in the spending review coming up we are asking the Government for support in relation to dealing with the causes of violent crime — deprivation, inequality, a lack of opportunities but also investing in the police. We need 6,000 more officers."

Can we trust the police though, after what has emerged about behaviour in the force since serving police officer Wayne Couzens was sentenced for the murder of Sarah Everard? "Confidence in police has been shattered since the Everard case," says Khan. He is working with Dame Louise Casey to lead a review of police culture. "I've spoken to the Home Secretary on many occasions about looking at what went wrong with Couzens and the WhatsApp groups in the Met. Stella Creasy, the MP for Walthamstow, has educated me in how misogyny is a hate crime and harassment in public places for women should be a criminal offence. Only three per cent of rape complaints lead to a conviction. It's no wonder you have under-reporting. We've got to tackle it head-on."

He tells me that 118 women have been killed in the UK at the hands of violent men since last International Women's Day. For some time I've been talking about the need to prevent men being violent in the first place rather than to tell women to behave differently and that's got to be a whole society approach."

Khan seems on friendlier terms with the government – he is off to a dinner with the Chancellor after our interview, to encourage green investment in business. But they have previously clashed, notably over Khan calling for stricter Covid measures and mask wearing on the Tube . Now he wants to encourage everyone to get the booster jab – he is trying hard not to pester his mum's GP about when she will get hers, "I don't want to be that son". "We were one of the first countries to have the vaccine rolled out which means now the antigens are wearing out, which is why the booster is important. The second thing is that Germany and France, who have lower rates than us, have lots of mask wearing. I am really frustrated that the government is not supporting us in relation to continuing compulsory mask wearing on public transport. But the good news is that hospital numbers are still way below what they were at the peak. I don't envisage and would not support another lockdown, that's why I am encouraging the government to support more mask wearing and boosters." What about vaccine passports? "My concern is the hokey cokey – they say one thing then another. It is hard for businesses to follow what the government says and we have to avoid at all costs a recession caused by businesses going bust."

This brings him to a caveat to the government's levelling-up policy. "Don't bash London. We can't have a national recovery without a London recovery. I can't think of anything more patriotic than talking up our capital." We continue our conversation as he heads back to City Hall, but what should be a five-minute walk takes twice as long because he stops to talk to everyone who recognises him. "It's so great that you are here," he tells some tourists from New York. "Go spend lots of money! And enjoy this brilliant city."