Five adults and four children have been rescued after their boat hit a submerged object and started taking on water off the County Antrim coast.
Lifeboat crew from Red Bay RNLI in Cushendall were called on Sunday at about 12:50 BST to the scene near Fair Head.

The lifeboat crew found the vessel and got the people onto the lifeboat.

The group was taken to Ballycastle Harbour where they were helped by coastguards.

Two volunteer lifeboat crew then went to retrieve the boat.

They were transferred onto the craft with a salvage pump to stop the water coming in.

'Serious situation'

Once the vessel was safe it was towed to safety to avoid it causing an obstruction at sea.

Red Bay RNLI Coxswain, Paddy McLaughlin described it as a "serious situation for the group".

"Conditions were good for the callout, and we are relieved it was a good outcome for all involved," he added.

Mr McLaughlin said they had hit something below the water but could not say what it was.

"They had taken all the safety precautions and were very, very well equipped," he said.

He said it was unclear as to what they had hit.

"It did a lot of damage to the engine on the boat," he said, adding that the rescued people were now all safe and well.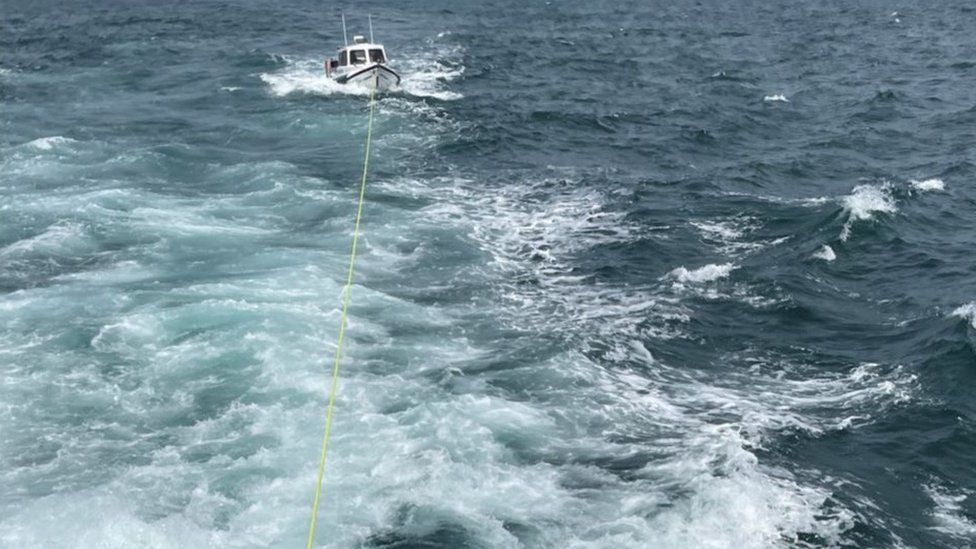 The vessel was towed to safety by Red Bay RNLI volunteers

He said that with the sunny weather set to continue people should be careful.

"In this beautiful weather, it is very, very important that people bring some means of communication - a VHF radio or a mobile phone. Some way of contacting the coast guard who can launch the emergency services," Mr McLaughlin added.

Emergency services across Northern Ireland have been urging the public to be careful while enjoying the good weather.

The UK is currently in the middle of a heatwave with red warnings for parts of England on Monday and Tuesday.

There is not an extreme heat warning for Northern Ireland but temperatures are still high.

There are been warnings from the RNLI to be careful and highlight the need for constant care around the coast to encourage safety alongside enjoyment as the temperatures rise.

The Northern Ireland Ambulance Service (NIAS) has said it is expecting an increase in the number of less urgent calls to 999.

A spokesman said the public must only call in the case of an emergency to "help protect the most vulnerable".