Flooding along the River Severn is slowly subsiding in some areas as water levels peak elsewhere.
There is still a danger to life warning in Bewdley in Worcestershire and Ironbridge in Shropshire where water levels have already peaked.

The River Severn is starting to peak in Worcester but is "increasingly drawn out", the Environment Agency said.

The situation was "going to get worse before it gets better", said Worcestershire County Council.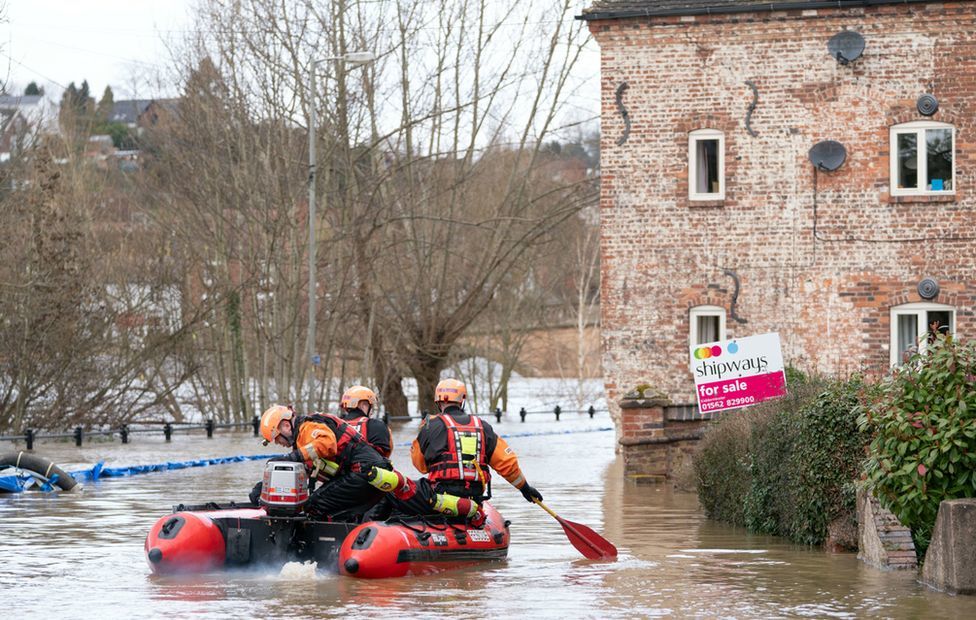 A fire and rescue team negotiated flood water in Bewdley

The River Severn's peak reached Worcester at around 17:00 GMT, Ian Jones from the Environment Agency tweeted.

While levels were falling and the situation was "gradually improving", he said the flood water would remain high for a number of days.

In Bewdley, where there is a threat to life warning, the Severn overtopped defences at Beales Corner during Tuesday afternoon.

Dan Bond, from the Environment Agency, said: "We are still facing a significant flooding risk, and we are urging people to remain vigilant and take extreme care.

"Last weekend's heavy rainfall on already wet areas continues to cause river flooding along the River Severn and is likely to continue over the next few days."

His colleague, Nick Green, said the flooding had been "incredibly frightening" for the Bewdley community - search and rescue crews have been checking properties after dozens were evacuated.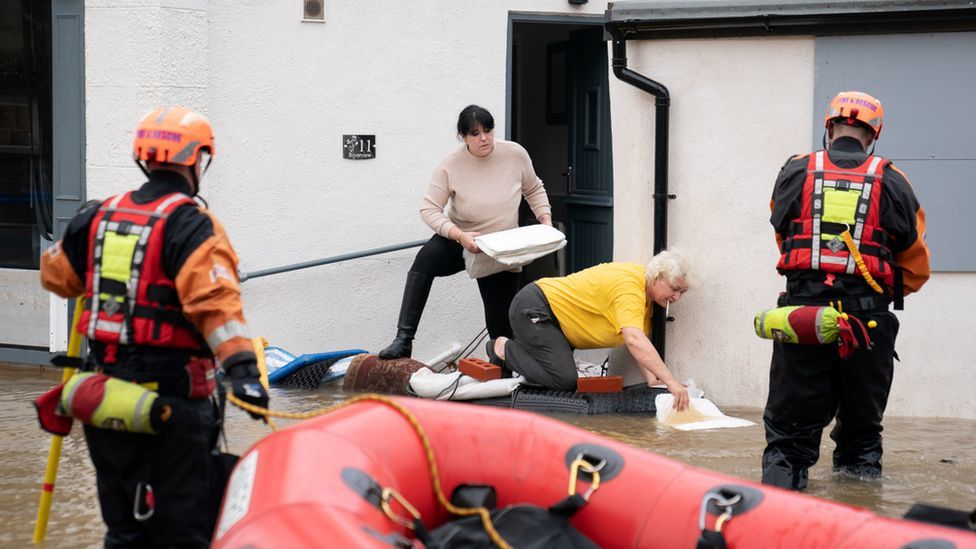 Fire and rescue workers have been helping those flooded in Bewdley

Some residents have criticised the government's response, including Maxine Preece in Bewdley who said it was "very disappointing" that she did not see any rescue workers on her side of the river.

"I think they have just decided we were going to flood, it feels that way, and just told us to prepare ourselves and left," she added.

The temporary barriers at Beales Corner were also breached in 2021 and while the Environment Agency intends to submit a planning proposal for permanent defences later this year, they are unlikely to be operational until at least 2024.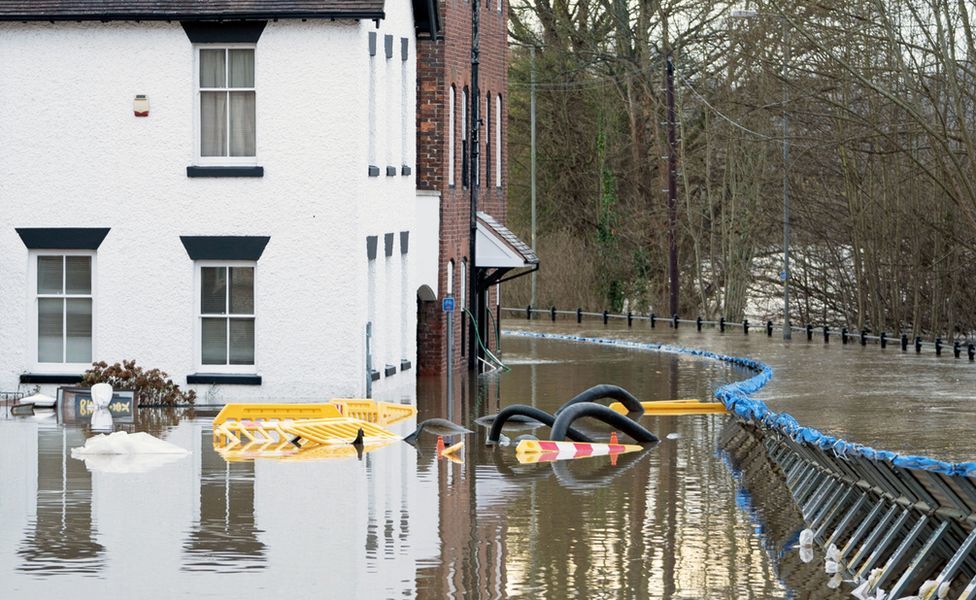 In Bewdley, the River Severn breached the flood defences on Tuesday

In Shrewsbury too, where large parts of the town were underwater after the Severn peaked there on Monday, residents have expressed disdain.

Paul Fairhurst and Sarah Jackaman have been flooded about 15 times but said flooding over the past three years had been the most significant.

"This is the third year we've seen these unprecedented levels of water," Ms Jackaman said.

"We were promised millions of pounds for this region and the Severn catchment to come up with solutions for flooding and we've yet to see any of the benefits."

Responding to the criticism, the Environment Agency said: "We prioritise our resources, and will assist householders if we have the resources to do so once public maintained assets are operational.

"Where defences are outflanked we undertake pumping were possible and safe, as well as usual providing warning, informing, and in cases such as Bewdley, supporting other responders in evacuation."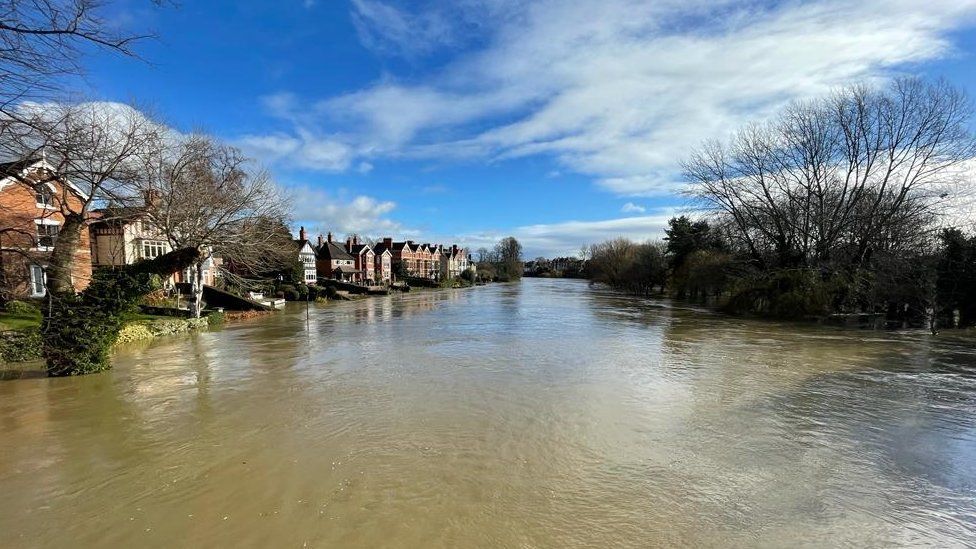 The River Severn as seen from Castlefields foot bridge, Shrewsbury, on Tuesday morning

Data from Environment Agency monitoring stations near Bewdley suggest river levels exceeded the normal range at about 13:30 GMT on Saturday.

Officials say levels are forecast to remain high for a long period due to further rainfall this week, though current estimates suggest it won't reach a historic high of about 5.5m.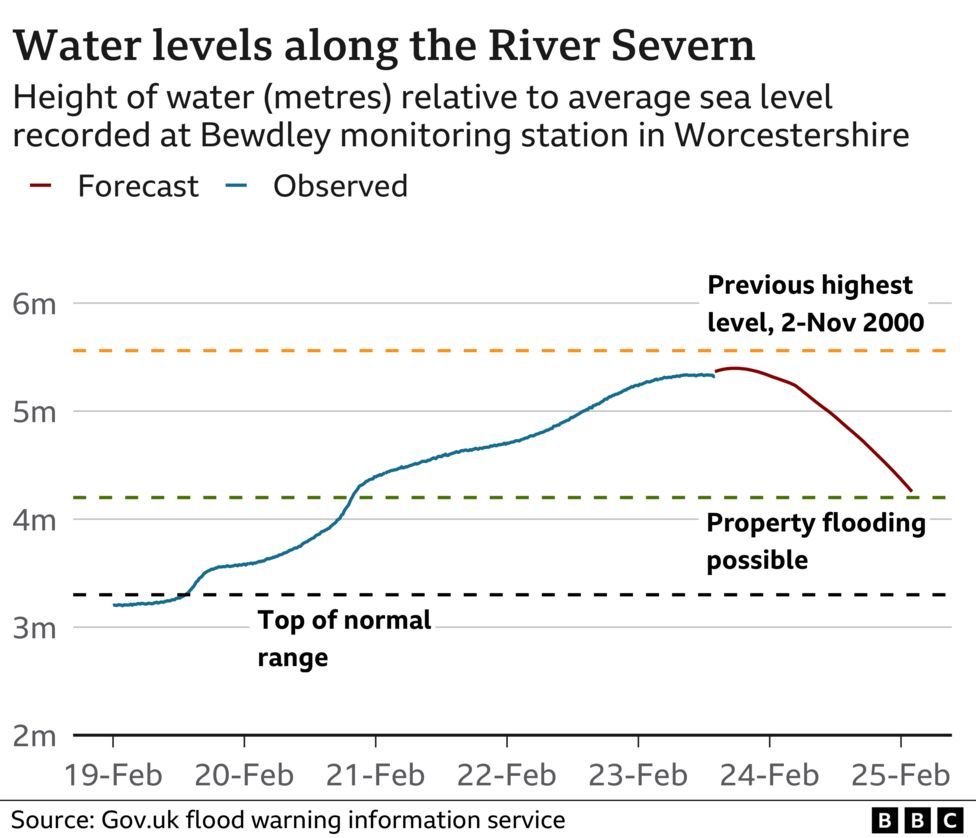 Some properties in Worcester have already flooded, particularly in the Diglis area.

Sam McCarthy from Worcester Business Improvement District (BID) said flood warnings had impacted footfall in the city.

"Businesses have been through a really difficult period over the last 18 months, so this is something they really could do without at this point in time," she said.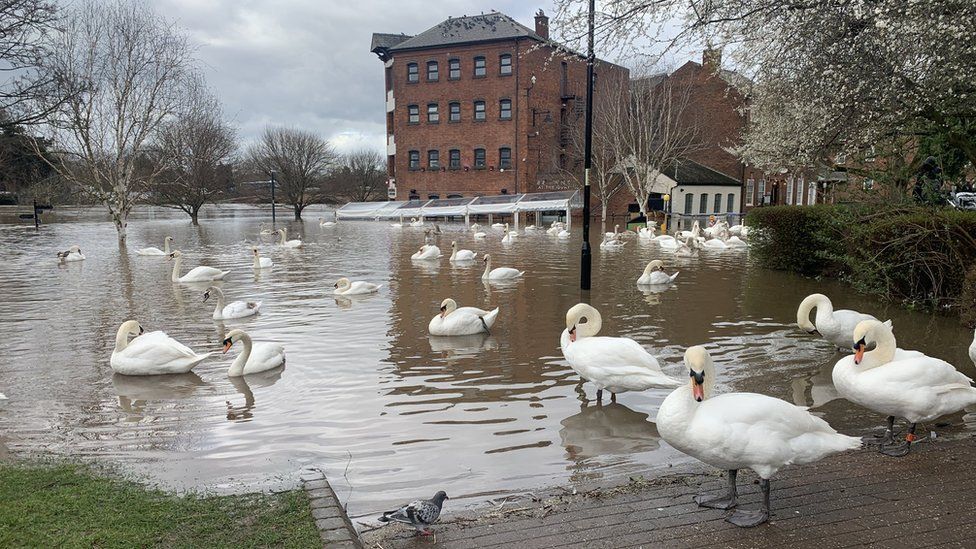 River levels continue to rise in Worcester

In Ironbridge, water levels were still high against barriers, so the Wharfage remained closed to vehicles and pedestrians, Telford & Wrekin Council said.

Levels peaked during the night at 21.65ft (6.6m), but were "now slowly retreating", it said.

The Ironbridge Gorge Museum Trust said the Museum of The Gorge and Coalport China Museum were both flooded.

As a result of the flooding in Ironbridge, it had also had to close the Tollhouse and the Jackfield Tile Museum.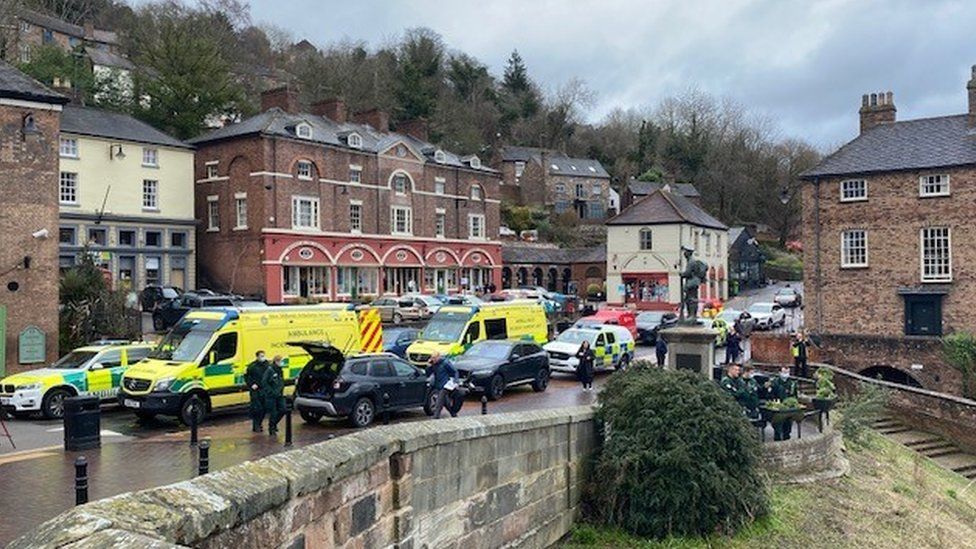 About 60 properties were evacuated in Ironbridge on Tuesday

Karen Davies, from the trust, said: "We have just redecorated Coalport after the floods of 2020, we were just starting renovation work, significant renovation work, on the Museum of the Gorge, and it will take team spirit to get in there and get the museums open."

The river has also burst its banks at Bridgnorth, where a flood reception centre has opened to help those affected.

Levels peaked in the town at about 06:00 GMT when the water reached heights of 5.12m.

Villagers in Melverley near the Welsh border had been out in a boat collecting "vital medication for neighbours and feed for animals", Shropshire Council said.

It said residents told them that it was "the worst flooding for at least 20 years".

Nick Green, from the Environment Agency, said although some areas had peaked, river levels would not go down for some time.

"Any rain that now falls on the Welsh mountains, because the ground's so soggy, there's no ability for it to soak up," he said.

"So it just goes straight into the river system and then it has to work its way down through Shropshire, Worcestershire, Gloucestershire and out into the sea."

The River Wye has peaked in Herefordshire and flood water has been slowly falling.
River Severn flooding in Shropshire seen from the air
Shrewsbury home owners show the effects of flooding