Regular pay is falling at the fastest rate in more than a decade when taking into account rising prices, the Office for National Statistics has said.
Between February and April, pay excluding bonuses was down 2.2% from a year earlier when adjusted for inflation, the ONS said.

UK household budgets are being squeezed by record fuel and energy costs.

However, pay including bonuses is outpacing price rises, rising by 0.4% when taking inflation into account.

Sam Beckett, head of economic statistics at the ONS, said a "high level of bonuses" was continuing to "cushion the effects of rising prices on total earnings for some workers".

"But if you exclude bonuses, pay in real terms is falling at its fastest rate in over a decade," she added.

Chancellor Rishi Sunak said the latest figures showed the UK's jobs market "remains robust" with redundancies at an all-time low.

"Helping people into work is the best way to support families in the long term, and we are continuing to support people into new and better jobs," he added.

But Labour's Jonathan Ashworth said "millions in work are in poverty" and accused ministers of showing "utter complacency about the huge levels of economic inactivity".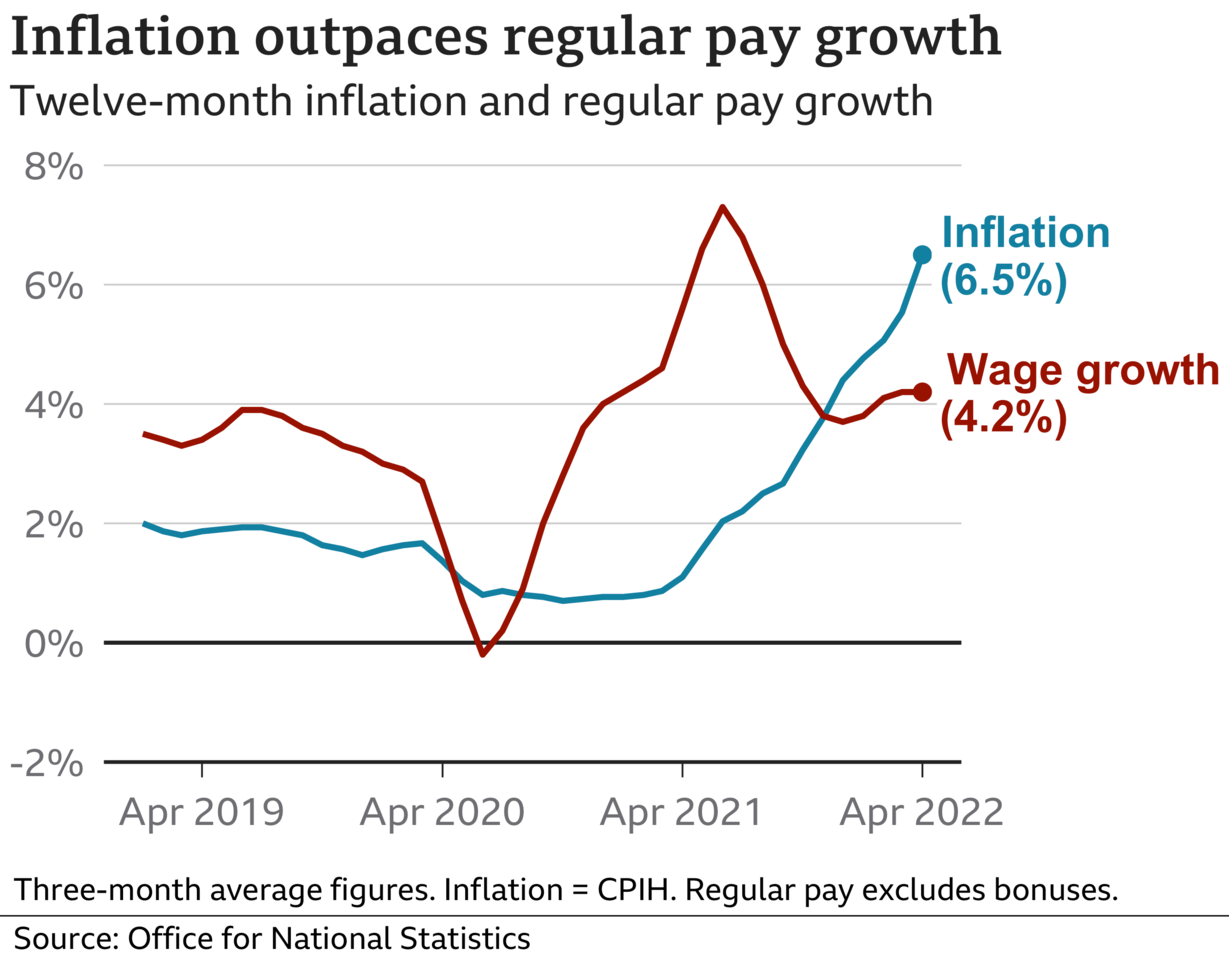 When adjusted for inflation, regular pay has fallen roughly by 1.6% for private sector workers and 4.5% for those in the public sector.

The ONS noted that the latest wage figures are compared with the same period in 2021 when Covid restrictions were in place and some workers were furloughed.

The number of job vacancies in the UK rose to a new record of 1.3 million from March to May, the ONS said.

The unemployment rate stood at 3.8% in the February to April period, up slightly from last month, while the employment rate was 75.6%, which is still lower than before the pandemic.
Neil Carberry, chief executive of the Recruitment and Employment Confederation, said that with record numbers of roles available, "pay is growing strongly as companies seek to attract people to work for them".

But he warned if "we don't address the fact that there are not enough people looking for work, this could put another dampener on the UK's economic growth".

Josh Goodall, the co-managing director of building company Elite Building Maintenance in West Yorkshire, told the BBC that trying to recruit experienced tradespeople such as builders, joiners and plasterers was "an absolute nightmare" in the current climate.

"We have got a couple of young lads working for us and they are currently getting trained up at the moment, but you can only train so many people and you need experienced workers," he said.

The latest statistics on job vacancies showed hospitality and healthcare were among the sectors with the highest number of jobs available, with construction and manufacturing also having high vacancy numbers.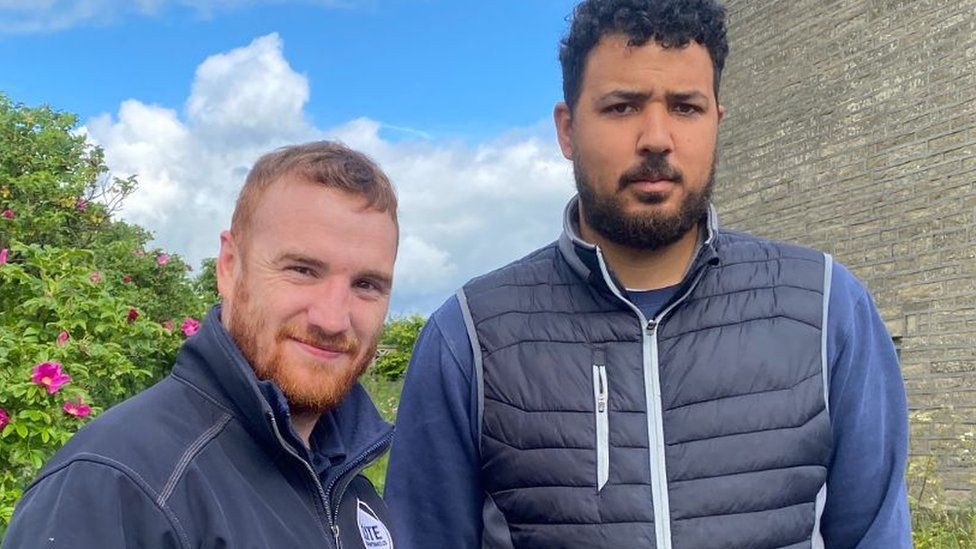 Jamie Keegan (L) and Joshua Goodall (R) are struggling to recruit experienced tradespeople for their building firm

Mr Goodall said that as a result of the tight labour market, he was having to raise wages, with an experienced builder now asking for about £250 per day, compared with about £150 before the pandemic.

This, along with the soaring costs of materials such as timber and cement, has led to the company charging more.

"We are almost apologising [to customers] saying materials have gone up, fuel has gone up, waste costs have gone up," said Mr Goodall.

"We feel like it's an expensive price but the amount we are making is less than it was before."


The jobs numbers remain a welcome relief from the stagflation seen elsewhere in the UK figures, but the strength here appears to be peaking.

Unemployment remains very low and there was an overall rise in employment over the past three months, though not yet recovering all the lost jobs since before the pandemic.

Still there were some signs of a turning point under the hood of these numbers. Unemployment actually edged up a little. And looking at the single month figures for April, when energy bills spiked and taxes went up, unemployment was up to 4.2% and employment notably down.

For those with jobs, ordinary pay fell in real terms at the fastest rate for a decade. In the private sector, bonuses are cushioning this for some workers reflecting one-off payments and recruitment into new jobs.

Vacancies remain at record levels too, with a worker shortage starting to have visible consequences at airports and in the NHS. But the defining economic question still to be answered is how much wages can compensate for the surge in the rate of price rises. The answer so far is not much, especially in the public sector.

The ONS added the the number of "economically inactive" people - those without a job and not seeking to work - had fallen slightly in the past three months, but was still higher than before Covid struck.

Tony Wilson, director of the Institute of Employment Studies, tweeted that the "incredibly tight" labour market reflected a smaller workforce than before the pandemic, with up to one million workers now "missing".

Ms Beckett from the ONS said that at the start of the pandemic many young people leaving education had "disengaged" from looking for work due to most businesses and work places being shut during lockdowns.

But she told the BBC's Today programme that the "story had changed" more recently with more people over the age of 50 becoming economically inactive by "retiring early, or just not needing to work, or indeed suffering ill health".

A member of the "missing million" is Kevin Butler, who retired from his 17-year career in recruitment to make music.

The 54-year-old said the pandemic changed his perspective on work when he was furloughed.

"I'm lucky in that I've worked for a long time and been sensible with money in the past and paid off my mortgage, and those little things that make a difference on an everyday basis," he added.