Rishi Sunak is to become the UK's third prime minister in two months after becoming Conservative leader at the second time of asking.
The former Chancellor had relatively little to say during a very short leadership contest, but spent the whole summer interviewing for the same job - so we know a reasonable amount about his outlook.

He is opposed to an independence referendum and wants to lead "the most active UK-wide government for a decades".

What else has he had to say about Scotland, and how might his plans affect people north of the border?

During the last Tory leadership contest - only a few months ago - Liz Truss pledged to "ignore" Nicola Sturgeon, calling the first minister an "attention seeker".

In the end it was one of the few policies she followed through on, with the two only ever meeting in passing during events to mark the death of the Queen. There was no official sit-down or even a phone call.

Succeeding his former rival in Downing Street, Mr Sunak is unlikely to follow the same path - for all that his words about the SNP leader have not been any warmer.

Asked whether he would ignore Ms Sturgeon, he said that would be "dangerously complacent", adding that her party posed "an existential threat to our cherished union".

He said his approach to the first minister would be to "take her on and beat her", and has pledged to provide the Scottish Conservatives with extra campaigning support to do that.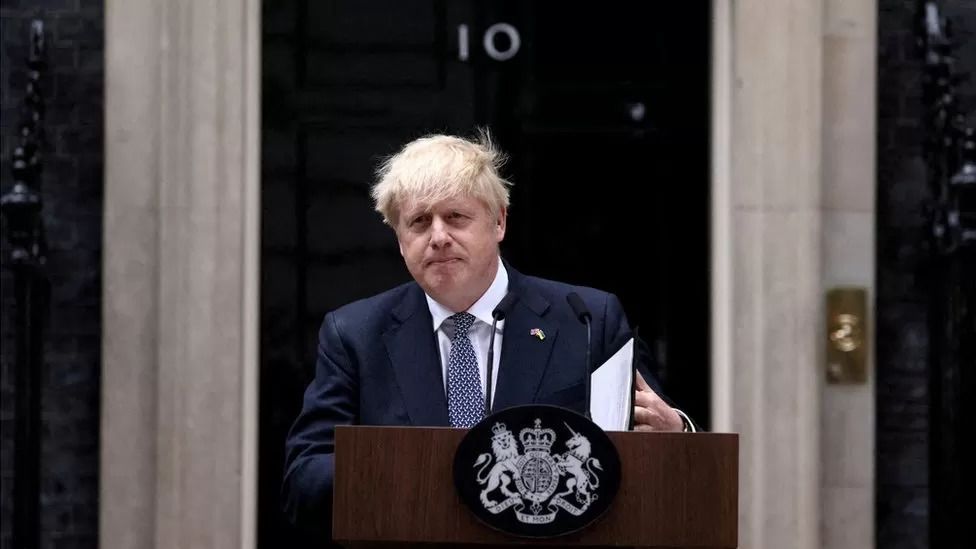 Scottish Conservatives had been worried about a Boris Johnson comeback

Most Scottish Tory MSPs are delighted to have Mr Sunak in the job - particularly given the scare they had over the weekend with the prospect of a Boris Johnson comeback.

Many in the Scottish party saw Mr Johnson as a liability to their own fortunes and that of the union, and leader Douglas Ross was already in an awkward position having performed a double U-turn on the question of his future over the summer.

Holyrood's other parties, meanwhile, would have quite enjoyed a Johnson revival.

The SNP used an image of his face on most of their leaflets, even for Holyrood and local council elections, while Labour saw him as an asset in their bid to regain some ground and relevance in Scotland.

It does not seem likely, however, that Mr Sunak will accept their calls for a general election - or indeed the Scottish government's bid for an independence referendum next October.

Mr Sunak has set himself firmly against an independence referendum any time soon, calling it a "quite frankly barmy" idea which he could not see himself supporting in any circumstances.

He did concede at a hustings in Perth that the union is a voluntary one, held together by the consent of the four nations. However, he said now was not the time for "an unnecessary, divisive constitutional referendum".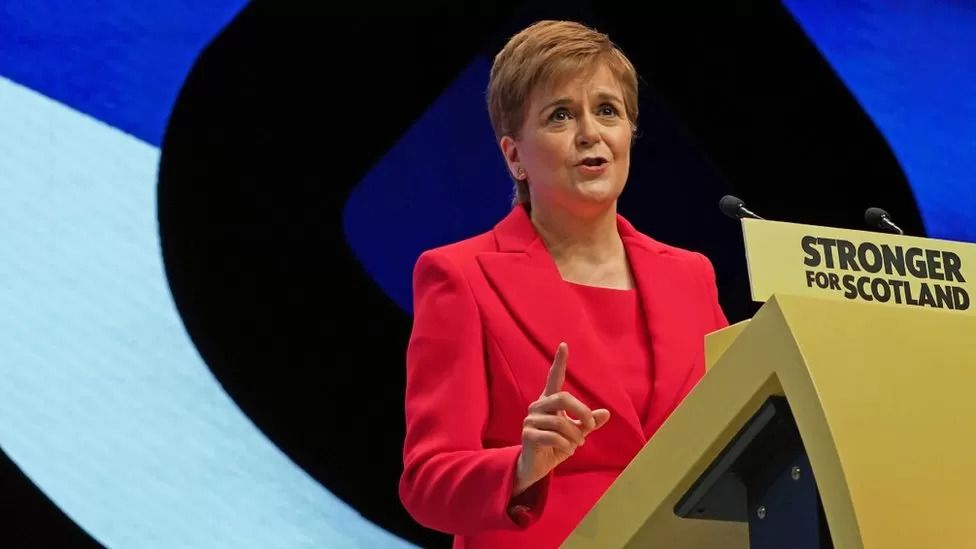 Rishi Sunak has said he would "take on" Nicola Sturgeon

There is a practical angle to this. The new prime minister is going to have plenty on his plate wrestling the economy back under control and calming a restless parliament.

He will have a stiff enough task trying to make the Tories ready for the next general election without also taking on a career-defining constitutional contest.

He now leads the Conservative and Unionist Party, and will need to bring it together rather than take on fresh fights.

In the summer, Mr Sunak said there was "nothing more Conservative than our precious union".

He said his government would "do anything and everything to protect, sustain and strengthen it".

In terms of policies, Mr Sunak said he wanted to abandon the Westminster "devolve and forget" mentality and lead "the most active UK-wide government in decades".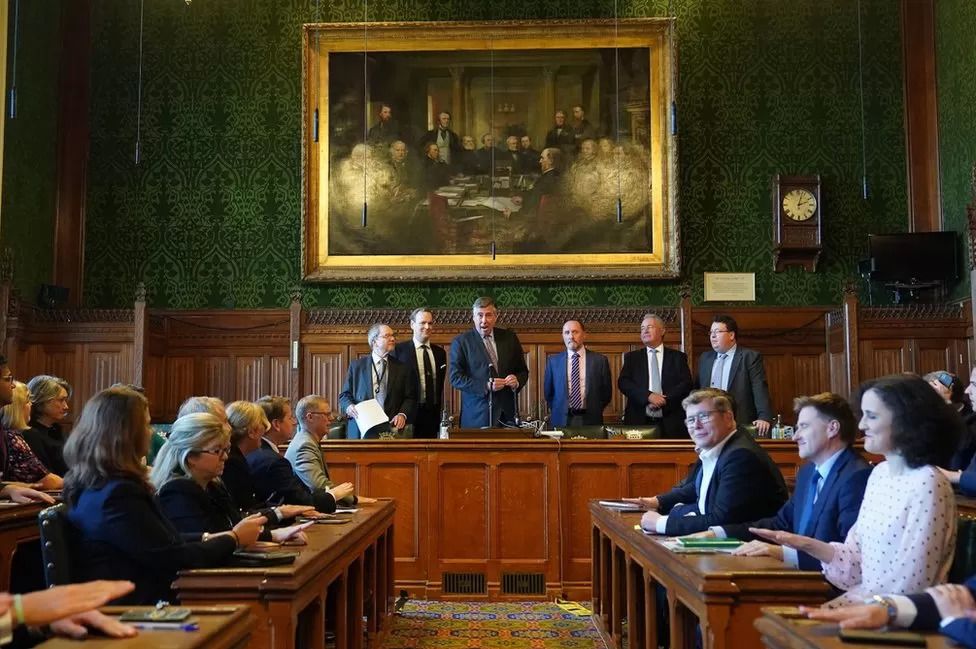 Sir Graham Brady, chairman of the 1922 Committee, announces the outcome of the leadership contest

That means UK ministers taking more interest in areas which were devolved to Holyrood in 1999, in a bid to remind Scots that they have two governments working for them.

He actually started this approach as Chancellor, rolling out "levelling up funds" across the UK - spending money directly on local projects in Scotland.

Cash-strapped councils are not known to turn their nose up at funding, and even some run by the SNP lined up to apply for a share.

But Scottish ministers hate the idea of Holyrood being cut out of the loop, and characterise any move which could cut across devolved areas as a Westminster power grab.

Mr Sunak wants to re-establish the Downing Street "union unit", a group bringing together officials from departments across Whitehall to make sure their policies chime on a UK-wide level.

He has also pledged to send UK ministers north of the border more frequently, and suggested that his government would "hold the SNP to account for its failings" in devolved areas.

This would involve the Scottish government's top civil servant attending annual committee hearings at Westminster, in the same way top UK officials have to.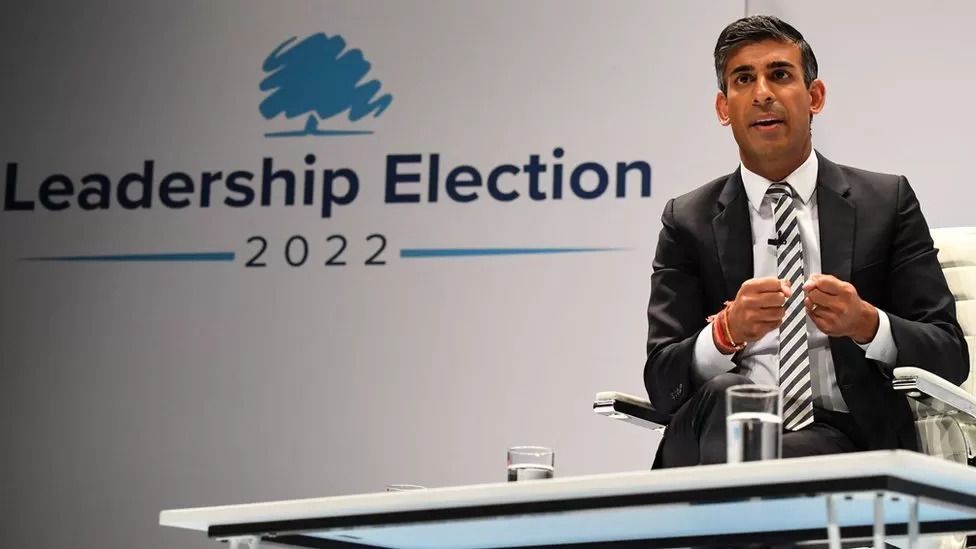 Rishi Sunak took part in a leadership hustings in Perth in August

He also wants to have governments across the UK publish data about the performance of public services in a standardised format, so they can be easily compared.

His team suggested this would prevent the Scottish government from spinning stats in a "selective or inconsistent way".

This may seem like a wonkish technical tweak, but it would apply to core devolved fields like education and health - and as such would go down extremely badly with Scottish ministers.

Some of Mr Sunak's UK-wide policies could have a direct impact on Scottish politics too.

As Chancellor, he had drawn up plans for the basic rate of income tax to be cut to 19p in the pound next spring - plans which were brought forward and then binned entirely by Liz Truss.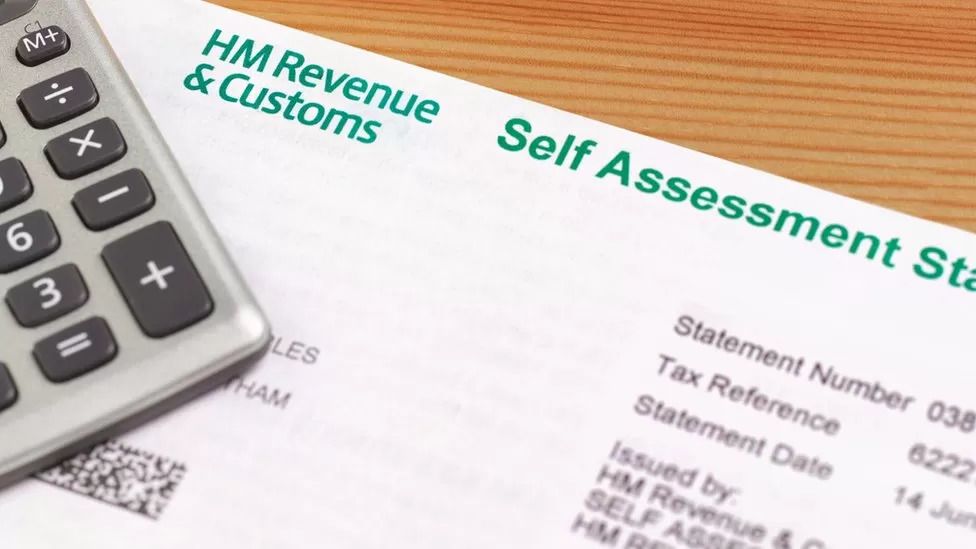 More information about his fiscal plans is expected by the end of the month, but Mr Sunak has long harboured ambitions to cut tax.

During the summer contest he said he wanted the basic rate to fall to 16p in the pound by the end of the decade.

This would not apply in Scotland, because income tax is devolved.

But it would provide an immediate boost to Holyrood's finances - the Scottish share of a giveaway to taxpayers south of the border - and pose a question to ministers about whether to pass it on to the public, or plough it into public services.

However, if departmental spending is slashed to pay for tax cuts - or indeed measures to deal with household costs, inflation and interest rates - that could also have an impact on devolved finances.

It also remains to be seen whether he will push ahead with Ms Truss's plans for investment zones around the country, or to open up a new round of North Sea oil and gas extraction.

So expect Scottish ministers to be keeping a keen eye on Mr Sunak and his Chancellor ahead of Holyrood's budget being set out in December.