Rishi Sunak has insisted he still has a "shot" at Downing Street despite polls suggesting Liz Truss has a strong lead in the Conservative leadership contest.
He told ITV's This Morning he "definitely" had a chance of victory, while warning his rival's tax-cutting plans risked fuelling inflation.

The former chancellor said his economic approach was "honest" and deliverable.

The latest poll of Tory members pointed to 66% backing Ms Truss and 34% supporting Mr Sunak.

The YouGov survey of 1,089 people for Sky News was conducted from 12-17 August. The percentages were calculated by excluding undecided members and non-voters.

The next UK prime minister will be announced on 5 September. The postal ballot closes on 2 September, but thousands of party members are thought to have already voted.

But Mr Sunak said: "I'm really excited to keep going, I think my ideas are the right ones."

Asked about Labour's proposal to freeze energy bills, partly by backdating the windfall tax on oil and gas companies' profits, he argued this would be a "very blunt instrument", providing "a lot of support for people who don't need it".

Inflation rate

In an apparent attack on Ms Truss's campaign pledges, he warned that increasing borrowing during a time of high inflation would be "really risky".

"It's like putting fuel on the fire and that's the mistake we made in the 70s, I don't want to repeat that mistake," he said.

On Wednesday, it emerged the inflation rate in July had soared to 10.1%, a 40-year high.

Ms Truss has argued that taxes are too high and risk "choking off growth". She says businesses are less likely to invest, and people are less likely to set up businesses or get jobs.

Reducing taxation, the foreign secretary has said, is the best way of staving off a recession.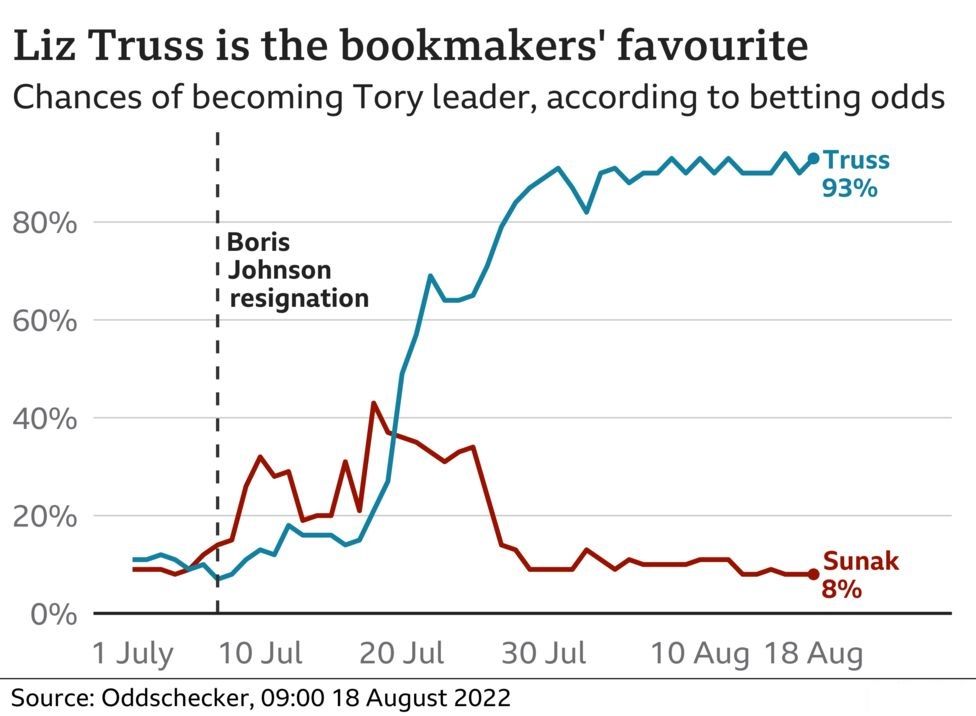 Mr Sunak said restoring trust in government and politics was about "under-promising and over-delivering".

"That's why in this leadership race I've not been making lots of easy promises that I think are false, I'd rather lose than say things I don't think can be delivered, I'd rather be honest with people."

Elsewhere in his ITV interview, Mr Sunak described Boris Johnson's battle to cling to power in July as "a bit odd".

Not speaking to PM

His own resignation as chancellor helped to prompt more than 50 other members of the government to follow suit.

Asked if the prime minister still talks to him, Mr Sunak said: "No, no. I've reached out to him but understandably he's not replied.

"That's fair but it wasn't just me, at the end of the day, 60 other members of the government all resigned as well."

Ms Truss has continued to praise Mr Johnson's record as prime minister.

She has now agreed to be interviewed by the BBC's Nick Robinson. The interview will be broadcast live on BBC1 on 30 August.

Mr Robinson questioned her rival earlier in the month.

Mr Sunak was quizzed about his fast food favourites

In his ITV interview, the former chancellor was also asked about a photograph he recently posted on Instagram of himself paying at a McDonald's self-service machine.

Wraps off the menu

After his spring statement in March, he was filmed struggling to use his bank card to buy petrol.

Pressed on what he ordered at McDonald's, Mr Sunak said he bought breakfast.

"I get bacon roll with ketchup and the pancakes.

"If I'm with my daughters then we get the wrap. My eldest daughter, we get the wraps.

"If I'm with her they're wrapped with a hash brown and everything in it."

On social media, some people have pointed out that the fast food chain has not served breakfast wraps since March 2020, when it reduced its menu in response to the Covid pandemic.

A source on Mr Sunak's campaign later said: "Rishi has barely seen his kids in the last two-and-a-half years since he became chancellor so there has been almost no opportunity to share a McDonald's with them.

"He's hoping they might consider bringing the breakfast wrap back on the menu."