Rishi Sunak's flagship immigration policy was engulfed in a growing storm on Monday with warnings it would fail and a Cabinet minister unable to explain how individuals genuinely fleeing persecution could legally claim asylum in Britain.

Senior Tories, immigration experts, union bosses and Opposition MPs highlighted a series of practical and legal problems with the Prime Minister's new blueprint to stop tens of thousands of people risking their lives by crossing the Channel in small boats. Mr Sunak has made dealing with the crisis one of his five key pledges on which the public should judge him at the next election, expected in 2024.

The Government is due to unveil its latest plans tomorrow, which are expected to make asylum claims from those who arrive in "small boats" inadmissible, with the migrants removed to a third country and banned from returning or claiming citizenship. But former Cabinet minister David Davis believes it will be "nip and tuck" whether a single person is deported under the new system before the next election. He said the British public "differentiates" between economic migrants and genuine asylum seekers and were "very compassionate about people with a real need".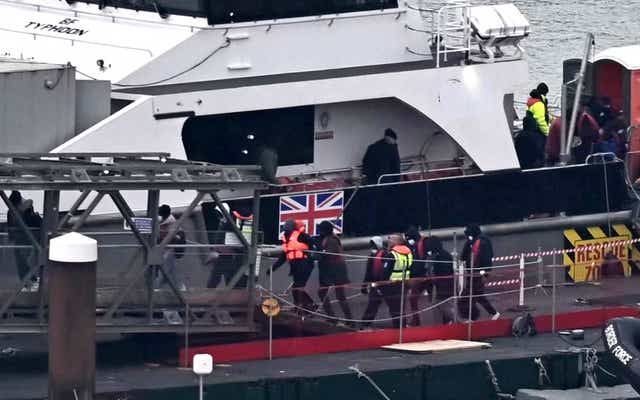 Migrants are escorted ashore from the UK Border Force vessel 'BF Typhoon' in Dover earlier today

Mr Davis told Talk TV: "Any law that does not actually differentiate is going to fail on legal, practical — all sorts of grounds. On the basis of the headlines" this morning, this one is not going to work."

Sir David Normington, former head of the Home Office, said Mr Sunak's policy faced "very great" practical problems about where to detain migrants arriving by small boats for up to 28 days, and the lack of agreements with "safe" third countries to which to deport them.

He told BBC Radio 4's Today programme: "At the heart of the policy is a gamble that if you say it is illegal to come in a small boat, people will stop coming. That is highly doubtful.

"These are people, many of whom are desperate, they have fled from persecution, and being told that there's been a change in legislation in the British Parliament, I don't think is going to make a big difference to them." John Vine, former UK independent chief inspector of borders and immigration, emphasised that the policy was "quite remarkable" given that "for the first time people will be deemed inadmissable for an asylum claim depending on the way that they have arrived in Britain". He also believes there may be "real practical problems" to the blueprint including on where migrants will be housed and which countries to which they could be sent.

Last year 45,756 people were detected arriving in the UK in small boats. Some 90 per cent of those who crossed the Channel claimed asylum in Britain, but by the end of the year just 340 had received a decision. Of those who did receive a decision, 62 per cent (210 people) were granted refugee status or leave to remain, according to figures from the Refugee Council.

Nearly 3,000 migrants have already crossed the Channel this year, according to the latest Home office figures, and tens of thousands more are expected to embark on what can be a treacherous crossing.

Mr Sunak was expected to speak to French president Emmanuel Macron today before an Anglo-French summit in Paris on Friday, which was set to boost co-operation on tackling the Channel crossings.

Science Secretary Michelle Donelan insisted that the Government was "getting a grip" on illegal migration and the proposals have won support from many Tory MPs. She told BBC Breakfast: "This week we will be bringing forward additional legislation, which is based on the principle that if people travel here via illegal routes they shouldn't be allowed to stay, which I think is common sense and right and the correct approach."

She argued that many people crossing the Channel had previously "travelled through a number of safe countries" or do not need to claim asylum".

She insisted that many of the people in small boats were economic migrants not genuine asylum seekers. The Government "will be opening up more safe routes" for asylum seekers, she added, on top of those for people fleeing Ukraine, Afghanistan and Hong Kong.

But she failed to name any when pressed repeatedly and could not explain how an Iranian citizen fearing persecution under the Tehran regime could legally claim asylum in the UK.

Lucy Moreton, of the Immigration Services Union, believes the upcoming legislation appeared unworkable. "We can't move anyone to Rwanda right now — it's subject to legal challenge," she said."We can't remove anyone back to Europe because there are no return agreements and we lost access to the database that allows us to prove that individuals have claimed asylum in Europe — Eurodac — when we left with Brexit."

Labour leader Sir Keir Starmer said the focus should be on boosting funding for the National Crime Agency to "break" the people-smuggling gangs.

"This is not a workable plan... I don't think that putting forward unworkable proposals is going to get us very far," he told LBC Radio.

Mr Sunak vowed yesterday to put an end to the "immoral" situation of so many people risking their lives in unseaworthy boats to reach Britain, while Home Secretary Suella Braverman said "enough is enough".

He told the Mail on Sunday: "Make no mistake, if you come here illegally, you will not be able to stay." The proposed legislation would see a duty placed on the Home Secretary to remove "as soon as reasonably practicable" anyone who arrives on a small boat, either to Rwanda or a "safe third country".

Arrivals will also be prevented from claiming asylum while in the UK, with plans also to ban them from returning once removed. But the policy will face a series of legal challenges, including whether it breaches the European Convention on Human Rights. Ms Braverman has made her personal view that the UK should leave the convention well known, while Justice Secretary Dominic Raab refused to commit to the UK remaining a party to it "forever and a day".