The chancellor has reiterated the £20 uplift to universal credit will be scrapped as it "was always intended to be a temporary measure".
Campaigners say the payments, worth around £1,000 a year, have stopped some from falling into poverty.

Labour's leader Sir Keir Starmer said taking the payments away was "simply wrong in principle".

The decision has also been criticised by prominent Conservatives.

Universal credit is claimed by more than 5.5 million households in the UK.

It was introduced to replace six benefits and merge them into one benefit payment for working-age people.

The £20 top up was extended by six months in March and Labour has called for it to continue beyond the autumn.

Speaking on BBC Breakfast, Mr Sunak said the uplift was part of "things we put in place to deal with the crisis" of the pandemic, adding "those things will come to an end, much like the furlough scheme".

He said the uplift had only been "one part of our overall package of support" for people, adding that the government's plan of getting people back into work "is working".

"Those on the lowest incomes have seen the most support from the government, but going forward, my view and the government's point of view is the best way to help people is to help them into work and make sure those jobs are well paid", he said.

But former Conservative work and pensions secretary, Iain Duncan-Smith, said the "government needs to think again".

"This uplift simply restores what was in initially intended for universal credit", he said.

He told BBC News the benefit "isn't just an unemployment benefit...it's a back to work benefit," adding "it's a bit short sighted to say we're just going to withdraw it."

Sir Iain is one of six former Conservative work and pensions secretaries who wrote to Rishi Sunak this week to urge the government to continue with the extra £20 a week payments.

On Wednesday, the Work and Pensions Secretary, Therese Coffey, told MPs that the payment boost, introduced during the pandemic, would face an "adjustment".

Ms Coffey said the change had been a "collective decision" by ministers.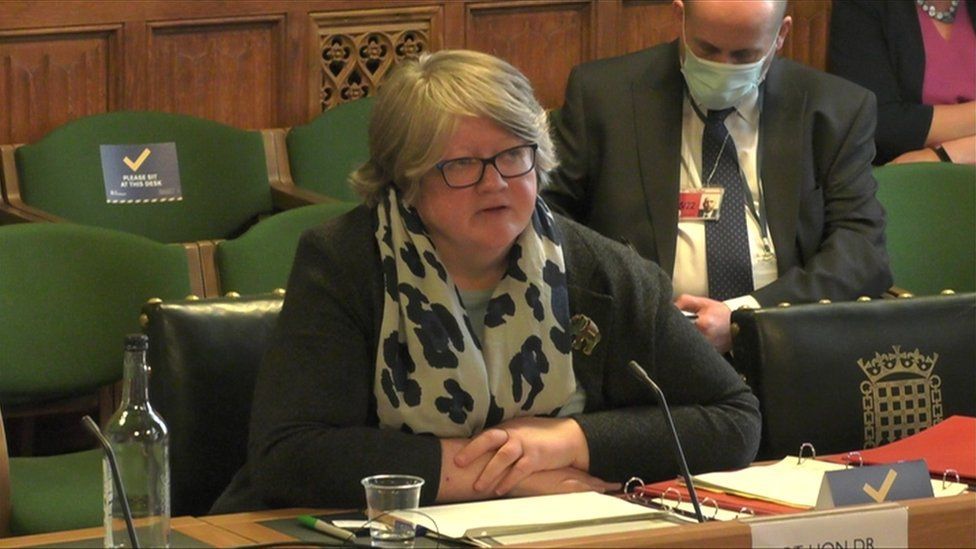 Speaking to the Work and Pensions Committee, she said: "Ahead of October we will start communicating with the current claimants... to make them aware that will be being phased out and they will start to see an adjustment in their payments".

Labour leader Sir Keir Starmer claimed the proposal would hit six million families.

He said the cut "amounts to around £1,000 a year for them, and is the difference between paying the bills and not being able to pay them."

He admitted that keeping the extra payments "would have tax implications," saying "tax raises may well be part of the answer to this."

He said Labour was working on their policies for "social security reform - a fully costed offer to the British people."

Paul Johnson from the Institute for Fiscal Studies said up to a quarter of the working age population are entitled to some universal credit.

"It will be a big shock for people who've got used to what has been a really significant increase in their benefit levels.

"Particularly for those who are childless, this is a very large fraction of their total income, if you're out of work and childless, you're probably only getting around £80 a week," he told BBC Politics Live.

Triple lock changes

The chancellor has hinted that the government could end the triple-lock on state pensions, as he faces pressure to rule out a predicted 8% rise next year.

Mr Sunak admitted there were "concerns" over the government's pension triple lock - which increases state pensions in line with the rising cost of living seen in the Consumer Prices Index (CPI) measure of inflation, increasing average wages, or 2.5%, whichever of those three is highest.

Official forecasts suggest that the link with earnings growth could mean the bumper rise in the amount paid from April 2022, and could cost the government £3bn than previously expected.

He said a decision on pensions would be "based on fairness for pensioners and for taxpayers".

The government spends around £100bn on the state pension every year, just over 10% of all government spending.

Sir Keir Starmer he said there was an "anomaly this year" causing an 8% rise, but this shouldn't be used by the government to "break their commitment to the triple lock".


If official forecasts are correct, the UK state pension could rise by 8% in April next year.

The triple lock policy means the amount paid to pensioners rises in line with the highest of inflation, 2.5%, or average earnings.

It is the last of these three which is predicted see a big jump owing, in part, to furlough's effect on calculations.

Hence, Chancellor Rishi Sunak is being pressed on whether the manifesto promise to pensioners will stay.

His answer? The decision will be "based on fairness for pensioners, but also for taxpayers".

But fairness is difficult to quantify.

The UK state pension is one of the least generous in Europe. Many women have had less opportunity than men to build up other pension income. Life expectancy is so low in some areas that people living there may see little of retirement.

That is why some are calling for an overhaul of the entire system of pensioner benefits, not a short-term reaction to an unusual set of circumstances.