Rail unions were urged on Tuesday to let London "get back to work" by calling off a wave of strikes crippling the transport network.

Hundreds of thousands of people across the country were having to work from home after the Christmas break as so few trains were running. Former Cabinet minister Theresa Villiers, MP for Chipping Barnet, told the Standard: "These strikes are unjustified and deeply irresponsible. The unions should call off their industrial action right now so that our capital city can get back to work."

Members of the Rail, Maritime and Transport union at Network Rail and 14 train operators were staging two 48-hour walkouts from Tuesday and Friday, while drivers in the Aslef union will strike on Thursday.

At Euston station this morning, William Tulley, 58, said: "I'm not anti-strike but the country cannot continue like this. It's certainly a bleak start to the new year."

Student Aisha Bhati, 26, added: "I need to get to college. I'm training to work in the NHS so that I can do something worthwhile and these (rail) strikes are making life more difficult."

But Mayor of London Sadiq Khan turned the spotlight firmly onto the Government, with Britain also being hit by walkouts by nurses, postal workers, civil servants and other public sector workers.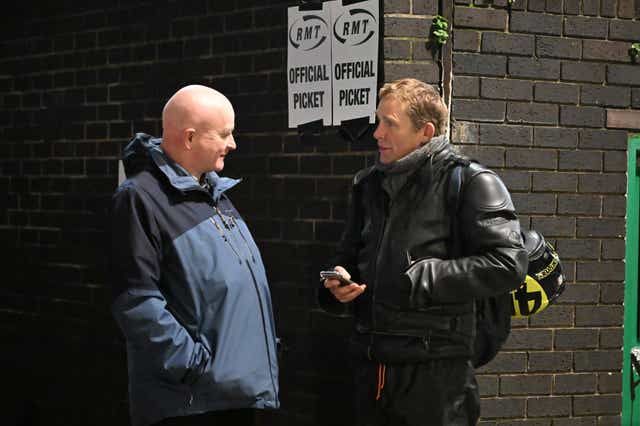 RMT chief Mick Lynch (left) with the Standard's John Dunne
On the rail strike, he stated: "Strikes are always a sign of failure and the Government has let this dispute run on for far too long. Workers deserve fair pay and conditions, and it's about time ministers began being competent and negotiated to put an end to this disruption for the good of our city and country."
Amid the commuting misery, there was a glimmer of hope after Tim Shoveller, Network Rail's chief negotiator, said a deal to stop the strikes was in "touching distance".
He argued that the last time the RMT consulted its members on the walkouts it was "rushed" and that some of them wanted clarification of the deal on offer.
He told BBC Radio 4's Today programme: "We want to make sure that we can work with the RMT now to make clarifications where there's been misunderstanding and put the deal out again. We only need 2,000 people who voted No last time to change their vote and the deal will pass. So, we think that's within touching distance."
Members of the Rail, Maritime and Transport union at Network Rail and 14 train operators were staging two 48-hour walkouts from Tuesday

But RMT general secretary Mick Lynch and Transport Secretary Mark Harper were giving no signs that a breakthrough was imminent, despite talks set to restart next week.

In an ongoing war of words, Mr Harper said the rail unions should get "off the picket line and round the negotiating table" to end the train chaos.

"There is a very fair pay offer on the table which has been accepted by two of the trade unions on Network Rail," he added, referring to the proposal of four per cent one year and five the next, with extra payments for lower-paid staff. He refused to say that train companies could improve their pay offer without the approval of Government, but stressed: "There is not a bottomless pit of taxpayers' money here." However, Mr Lynch said the union was available and eager to negotiate throughout the Christmas period but the other side has been "enjoying the holidays" instead of engaging in talks.

"I'll come and meet the Transport Secretary whenever he wishes to — I could meet him in 20 minutes," he said, speaking outside Euston station, though ministers insist the detailed talks should be between rail bosses and unions. He suggested ministers had "torpedoed" an agreement in December. Mr Lynch also threatened that strikes could go for many more months. "We've got a mandate that runs through to May this year, and if we have to go further, that's what we'll need to do. We don't want that, though," he said.

There were widespread closures across the rail network on Tuesday, including no Elizabeth line trains between Paddington and Heathrow and between Liverpool Street and Shenfield. The London Overground suffered part-closures after services started late. Last trains were due to depart by 6.30pm.

Network Rail advised passengers to only travel if absolutely necessary for the rest of the week. On RMT strike days, around half of the network will shut down, with only about 20 per cent of normal services running.