The government has promised to tackle sharp rises in the cost of living by boosting the economy, as it set out its plans in the Queen's Speech.
But Boris Johnson warned that the government could not "shield everyone" from the effect of global inflation.

Labour has called for an emergency budget to address the cost of living and a windfall tax on energy companies to fund more support for households.

This year's Queen's Speech contained 38 bills and draft bills.

In the speech, delivered by Prince Charles in the Queen's absence, the government set out the new laws it plans to bring in over the coming year.

Priorities included energy security, carbon emissions and post-Brexit economic arrangements - but the opposition parties, and some Tories said it should have contained more on the cost of living.

The Bank of England is warning that inflation could hit around 10% later this year.

The three main opposition parties are all demanding an emergency Budget, with tax cuts and benefit boosts to help struggling households.

Labour leader Sir Keir Starmer said Boris Johnson's legislative agenda - set out in the Queen's Speech - was "bereft of ideas" and "without a guiding principle or a road map for delivery".

Lib Dem leader Sir Ed Davey said millions of households would be "bitterly disappointed" with the government plans. The SNP Westminster leader Ian Blackford accused ministers of a "deafening silence" over potential rises in poverty.

In response, Mr Johnson argued wider economic reforms would help households, telling MPs: "However great our compassion and commitment, we cannot simply spend our way out of problems.

"We need to grow our economy out of these problems by creating hundreds of thousands of high-waged, high-skilled jobs across the country."

He also hinted at an announcement on the cost of living in the coming days, although Downing Street said the PM was referring to the wider work being done in departments to address the pressures households face.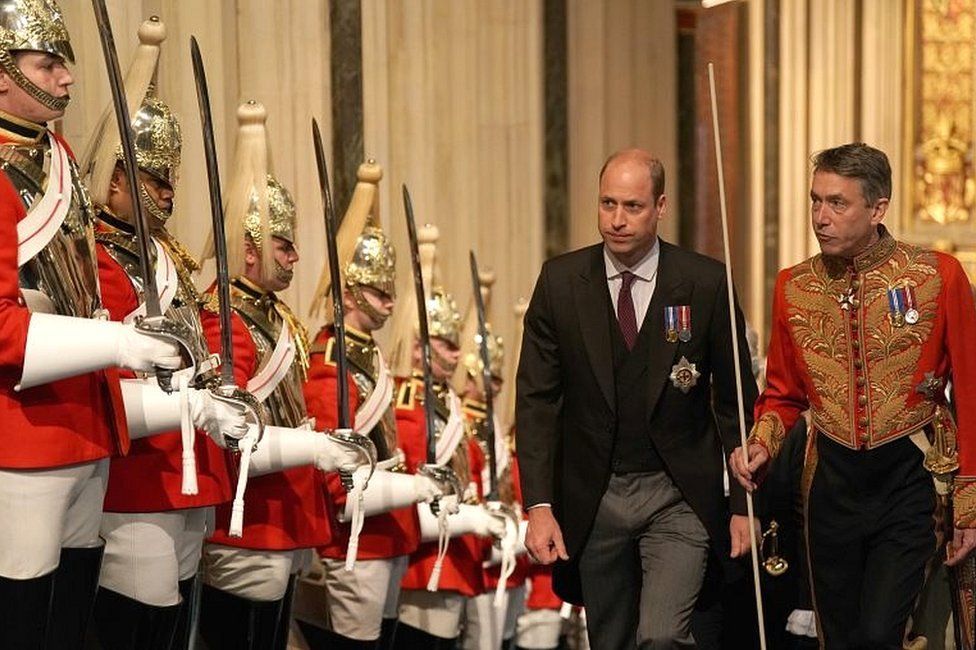 Prince William was among the senior royals at the Palace of Westminster

The political parties will spend several days debating the contents of the Queen's Speech.

Ministers say it includes seven bills to help deliver the benefits of Brexit, while a Levelling Up and Regeneration Bill is expected to change planning rules in England.

The government added its Energy Security Bill would "accelerate our transition to more secure, more affordable and cleaner homegrown energy supplies".

A Public Order Bill would create a criminal offence, with a maximum sentence of 12 months, of "interfering with key national infrastructure" such as airports, railways and printing presses. This would also make it illegal to obstruct major transport works such as HS2.

The Liberal Democrats called the proposed changes "dangerous and draconian", but Home Secretary Priti Patel argued they were needed to deal with a "self-indulgent minority who seem to revel in causing mayhem and misery".

The speech also pledged support for Ukraine and to reduce regional inequality, but trade unions complained about the lack of an Employment Bill aimed at improving workers' rights.
Queen's speech: Five traditions that changed