It was the Queen's visit to Ireland in 2011 that changed the game for Jackie Ryan-O'Brien's father.
He came to London from County Kerry, in the Republic of Ireland, about 60 years ago.

Not long after he met Jackie's mother, who was raised in Northern Ireland, in Kilkeel, County Down.

They had both arrived in London just a few decades after Ireland had gained its independence from Britain, a time when the wounds of the War of Independence between Ireland and Britain, and the subsequent Irish Civil War, still stung.

The pair are now in their 70s, still living in north London, not far from their daughter in Watford.

For a man born in Ireland in that era, it would be normal to be indifferent, at best, towards the monarchy, even through decades of living in England.

But the Queen's historic state visit to Ireland 11 years ago brought a change.

"When the Queen spoke those words of Irish to President Mary McAleese - that made my dad's day," says Jackie.

"And somebody commented not very long ago about the Queen, when she was still alive, and my dad said: 'Oh no. I'm good with her now. From when she went to Ireland and she spoke in Gaelic (Irish), I'm good with the Queen.'"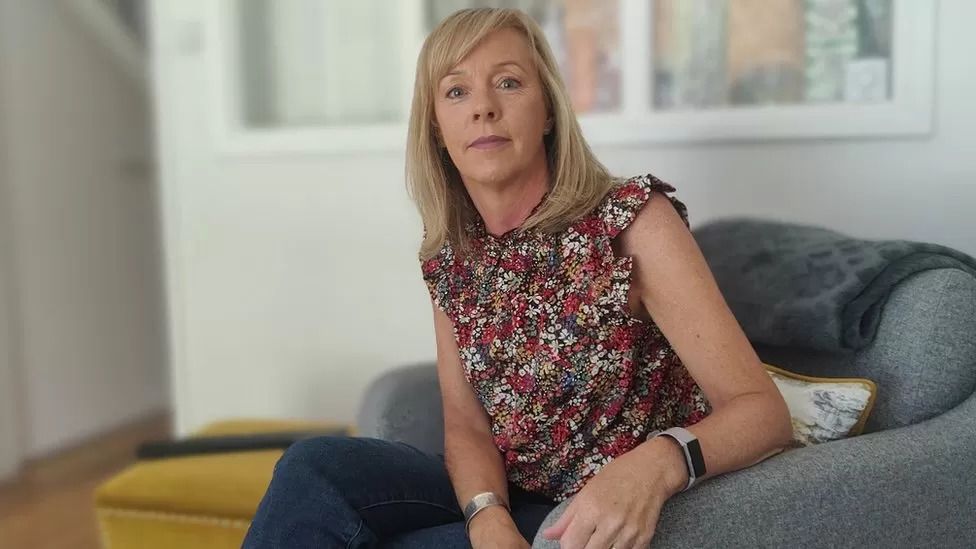 "People grew up being Irish - there was never a question of not being Irish" - Jackie Ryan-O'Brien

Jackie was born in London and raised with her two sisters to be Irish.

They were introduced at a young age to Gaelic football - the family regularly visit Ireland to watch Kerry go for All-Ireland glory - and Irish dancing, which became Jackie's lifelong passion. She's been a teacher for 28 years now.

For Jackie, being Irish wasn't a conscious choice - it was simply how she and her siblings felt growing up among the tight-knit Irish communities of north London.

But even in those communities, the Queen and the monarchy were a background presence.

Not hidden, she says, just not a major factor in their lives. It made her father's shift even more notable.

"When I went to visit, they had all the Queen coverage on. He said him and mum sat down for a few minutes and ended up glued to it.

"I don't think they expected to feel the way they feel about it."

'Kind and respectful'

The Queen's funeral on Monday represents a chance for Irish and Northern Irish people in Great Britain to reflect on how relations have shifted between the islands in the last decade.

David Cumins, a lawyer living in London for the past seven years, is no stranger to the royals, having grown up just outside Royal Hillsborough, County Down, the Royal Family's home in Northern Ireland.

"I was at Hillsborough Primary School and a member of Hillsborough Scouts, so we were always front and centre when they came to visit," he says.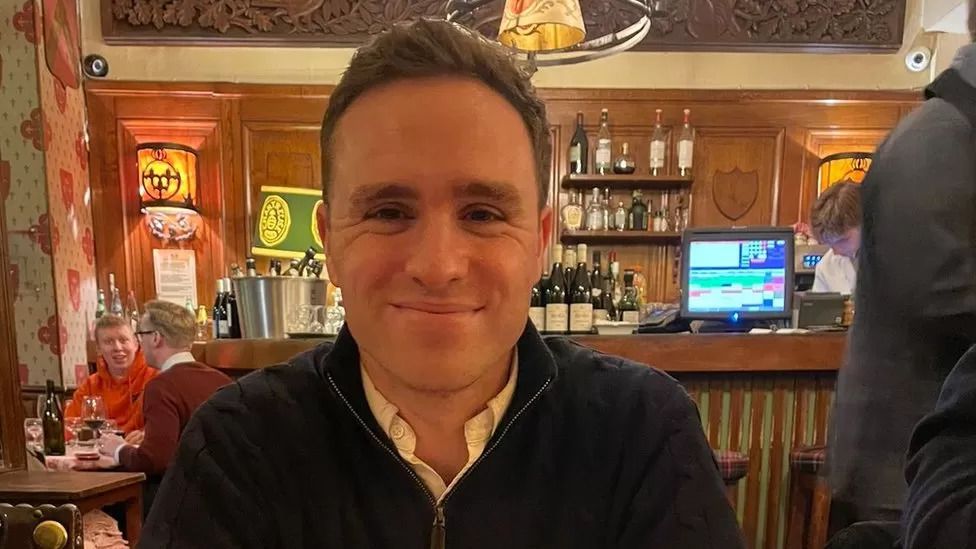 'Everyone I've spoke to have been sad, respectful and understanding - but it's not for everyone'

Some of his friends queued to see the Queen lying-in-state, others are preparing to go to the funeral, others are less bothered.

He's noticed similarly different views among Irish friends, although all have been "kind and respectful".

It's a point reiterated by Brian Dalton, chief executive of the Irish in Britain Network, who describes the condolences from the Irish community as "a sign of the community's pride and how much more secure it is in its identity".

Like Jackie, he sees the Queen's state visit to Ireland as a watershed moment and one that built on the successes of the Good Friday Agreement - the deal that helped to secure an end to the Troubles in Northern Ireland in 1998.

Brian moved to England in 1987 from County Waterford. His organisation helps co-ordinate the hundreds of Irish community groups across Great Britain. Part of its mission is to help tell the stories of the community.

Statistics from the Office for National Statistics estimates there are more than 400,000 people living in the UK who were born in the Republic of Ireland. That does not include those who were born in Great Britain and consider themselves Irish.

'Brought everyone together'

Martin Prendergast was born and raised in London but is Irish - his father came from County Kilkenny, while his mother was born in London to Irish parents.

At the time of speaking, he has things on his mind other than the Queen.

As the chairperson of the Republic of Ireland Supporters Club in London, he's preparing for the organisation's AGM taking place on Friday night in Hendon's Claddagh Ring pub.

There's two matches coming up later this month, with tickets to be distributed and travel to be sorted.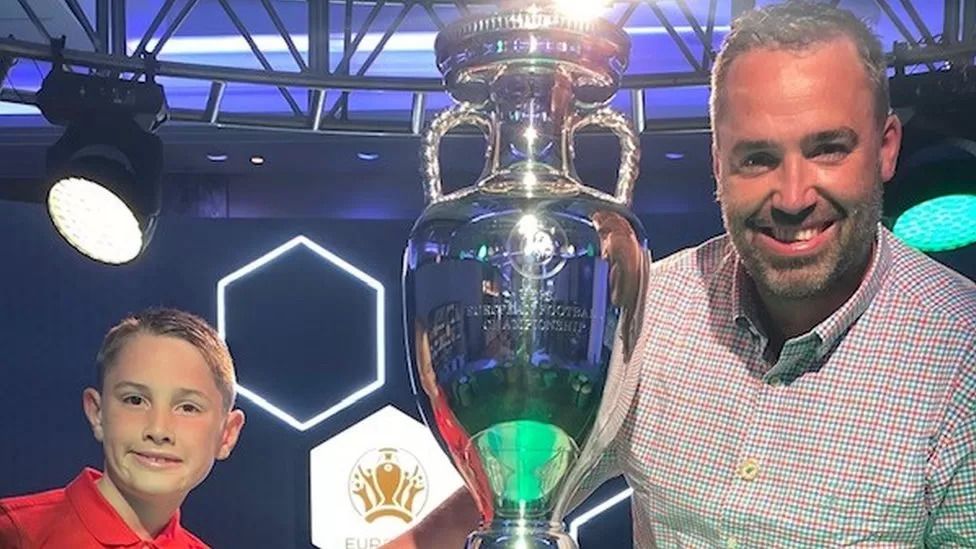 Martin Prendergast and his son Cian attend Republic of Ireland matches

He grew up not too far from Hendon, in Colindale, where his parents ran a pub in what he says was a rough housing estate, a place where lots of people were "very patriotic, very much royalists".

But he remembers friendly games of football between the Irish and English kids at school; bragging rights for him and his Irish mates when Ireland qualified for the 1994 World Cup and England didn't; and the reverse when England hosted Euro '96.

And how Princess Diana's death in 1997 particularly affected his mum.

"My mum loved Diana so dad drove us down to Buckingham Palace after she died, actually parked up around the corner from the palace and turned his hazards on - you couldn't do that these days - and we just got out and walked around. I'll never forget it."

For him, the Queen was "incredible as a statesperson, in that she brought everyone together".

And, like many Irish people, he enjoys horse racing, like the Queen.

"I think the Queen will be a massive loss to horse racing as I'm not sure there's anyone coming behind her with the same level of interest."

'Generational split'

At the London Irish Centre, just north of Camden, things are less busy the Saturday before the Queen's funeral than during a weekday - but there's still plenty going on.

Earlier in the afternoon, it hosted a special Irish language event for toddlers.

One young Dubliner working behind the bar, who didn't want BBC News NI to use his name, says he moved to London in January, because "there's nothing for people my age in Dublin".

He mentions the housing crisis, an issue described by Irish President Michael D Higgins as a "great, great failure".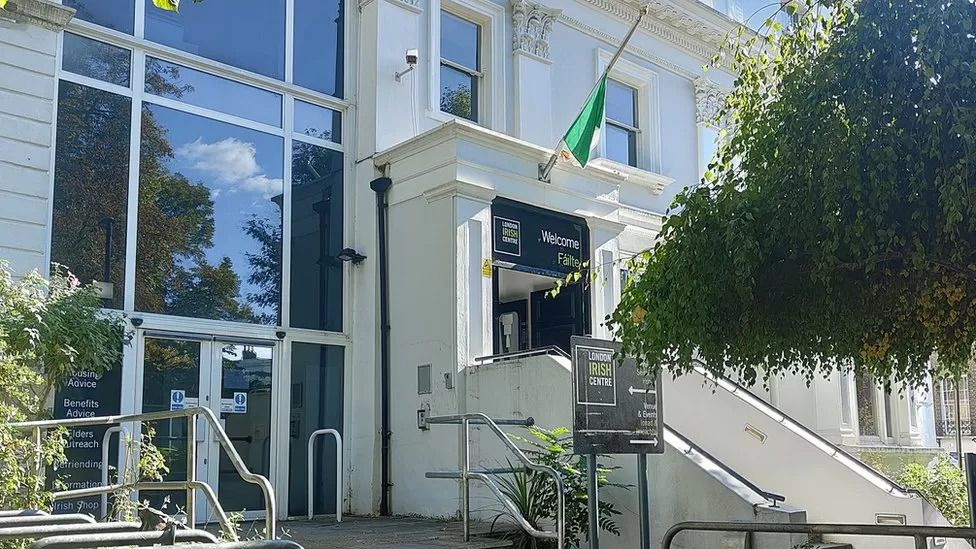 The London Irish Centre, with the Irish flag at half-mast, the Saturday before the Queen's funeral
He's loving life in London, but he's ambivalent towards events around the Queen's funeral - a view that's no surprise to Séamus MacCormaic, the centre's chief executive.

In terms of attitudes towards the Queen, he says there's a generational split.

"For the older generation, they would see a mother and a grandmother, someone who held the values of their generation. The younger generation seem somewhat indifferent. I would notice that in some of our younger staff members - the younger English staff members too."

There's also, he adds, "a significant minority who would have seen the Queen through the prism of Britain being a colonial power", but that view is "somewhat muted".

"You get the sense that those who hold that view don't want to speak, so as not to speak ill of the dead, but if they did speak, it would be a negative view."

Overall, though, he'd say that in the Irish community there would be a "universal recognition" of the Queen's visit in 2011 being a sea change.

"With the work we do, we get a lot of support from the Irish government. We liaise a lot with the Irish embassy and we recognise the contribution the Queen made towards a golden decade of good relations between Ireland and Britain."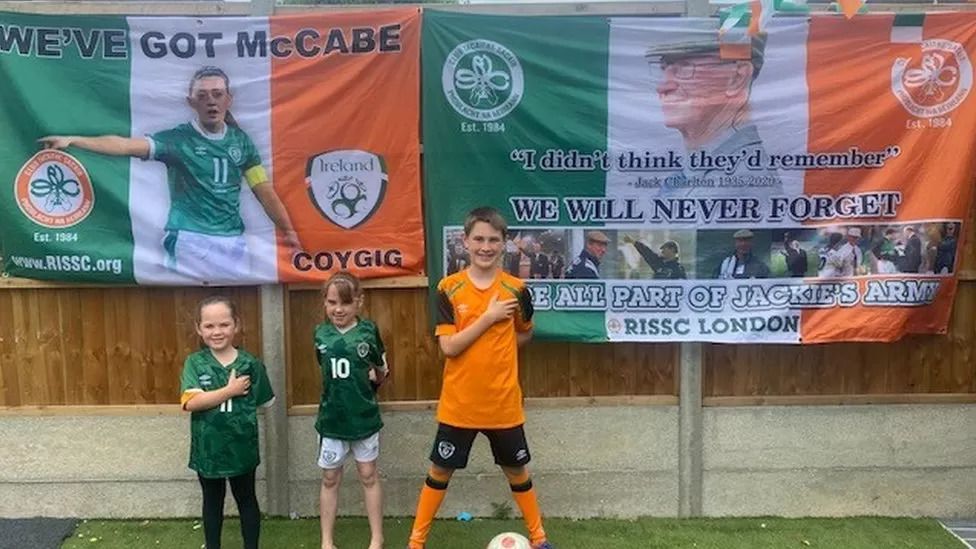 Martin Prendergast's children Erin, Grace and Cian

He acknowledges those relations took a hit after the Brexit referendum - with the UK at odds with Ireland, via its membership of the EU and the ongoing row over how to apply Brexit in Northern Ireland.

But he's optimistic that the Queen's legacy of strengthening British-Irish relations will continue through King Charles III, who has "always taken an interest in Ireland".

For Jackie and Martin, the story of being born in London and growing up Irish is one being carried on by their kids, now two generations removed from the country of their grandparents' birth.

Martin's son Cian accompanies him to Republic of Ireland matches; Jackie says her children, Jacinta, Aidan and Liam, who are now adults, describe themselves as Irish.

But that doesn't mean they won't be watching the Queen's funeral on Monday - as Martin says, it's history.

"We'll definitely be watching, whether we'll all be together or perhaps we'll go over to my mum and dad's," says Jackie.

"But you know, I don't think there'll be anyone not watching it."