Vladimir Putin's war in Ukraine can "now be stopped" after his troops were forced into a humiliating retreat from Kherson, president Volodymyr Zelensky told world leaders on Tuesday.
He stressed that Ukrainian forces would seek to press on with seizing back more territory after the major victory in the south of the country.

"We will not allow Russia to wait out and build up its forces," he told the G20 summit in Bali, Indonesia, by video link.

"I am convinced that now is the time when Russia's war must and can be stopped."

He urged world leaders to step up their efforts to force Mr Putin to withdraw his army from Ukraine around nine months after he launched his invasion.

He called on the G20 leaders at their summit, including US President Joe Biden and Chinese President Xi Jinping, to adopt a 10-point peace formula and end the war "justly and on the basis of the UN Charter and international law".

It was not immediately known if Russian Foreign Minister Sergei Lavrov, who headed the Russian delegation to the summit, remained in the room while Mr Zelensky was speaking.

The Ukrainian president, who referred to the G20 as the G19, apparently because he does not consider Russia to be part of it, called for an international conference to "cement key element of the postwar security architecture in the Euro-Atlantic space" and to prevent a recurrence of "Russian aggression".

He added: "Please, choose your path for leadership - and together we will surely implement the peace formula."

Britain's Prime Minister Rishi Sunak said "countries should not invade their neighbours" as he condemned Russia's invasion of Ukraine which is estimated to have left 200,000 soldiers dead or wounded, and to have killed 40,000 civilians.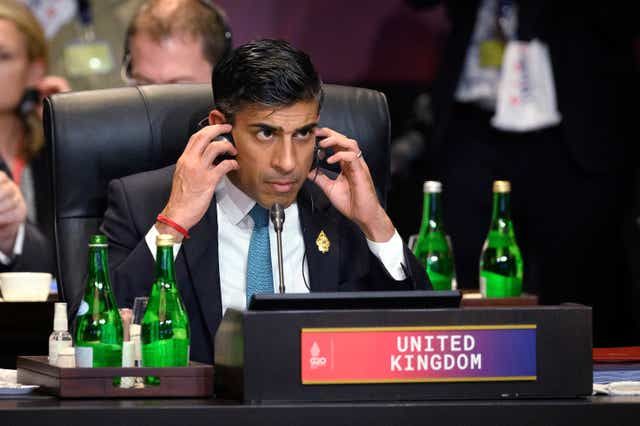 Facing Mr Lavrov in the plenary hall, Mr Sunak called on Moscow to "get out of Ukraine and end this barbaric war" as he blamed the conflict for worsening global economic challenges and fuelling food shortages.
He criticised Mr Putin for shunning the meeting, saying: "Maybe if he had, we could get on with sorting things out."
The two-day gathering of leaders of the world's major economies was opened by Indonesian President Joko Widodo, who said the world would struggle to move forward "if the war does not end".
The annual summit comes as G20 nations are deeply divided over Russia's actions in Ukraine, which have pushed up food and energy prices around the world.
In his remarks, Mr Sunak said the the context for this G20 "is stark".
According to a Downing Street transcript of his speech to the closed session, the Prime Minister said: "Russia's illegal invasion of Ukraine has profound implications for us all, because it has undermined the fundamental principles of sovereignty and territorial integrity.
"We all depend on these principles. They are the foundations of the international order. They must be upheld.
"It is very simple - countries should not invade their neighbours, they should not attack civilian infrastructure and civilian populations and they should not threaten nuclear escalation."
He said the economic issues "we should be focusing on today are made much, much worse" by Moscow's actions.
"The weaponisation of energy and food is totally unacceptable," he said, adding that Russia is "harming the most vulnerable people around the world" by destroying grain stores and blocking shipments.
Mr Sunak urged fellow leaders to support the renewal of a deal allowing grain exports from Ukraine's Black Sea ports to ease the global food crisis.
He continued: "One man has the power to change all of this.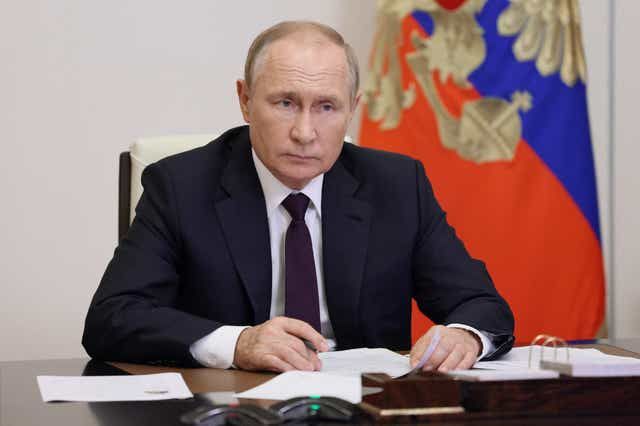 "It is notable that Putin didn't feel able to join us here. Maybe if he had, we could get on with sorting things out.

"Because the single biggest difference that anyone could make is for Russia to get out of Ukraine and end this barbaric war."

The Prime Minister stressed that Britain would "back Ukraine for as long as it takes".

He also praised Mr Zelensky's "incredible fortitude".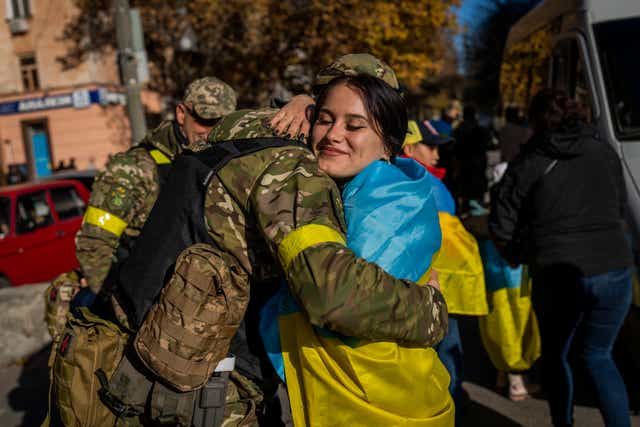 Reiterating that Russia must withdraw all its troops from the territory of Ukraine and that there cannot be any territorial concessions on Kyiv's part, Mr Zelensky called for all Ukrainian prisoners to be released.

He also stressed the need to restore "radiation safety" with regard to the Zaporizhzhia nuclear power plant where fighting has been taking place, introducing price restrictions on Russian energy resources, and expanding a grain export initiative.

"If Russia opposes our peace formula, you will see that it only wants war," Mr Zelensky said.

The United States expects the G20 to condemn Russia's war in Ukraine and its impact on the global economy at the conclusion of the meeting in Bali, a senior US official said earlier.