US has joined Germany in promising battle tanks which Kyiv hailed as 'an important step on the path to victory' against Russia
Vladimir Putin has been put on the "back foot" by the US, Germany and other allies following Britain's lead in supplying battle tanks to Ukraine, Downing Street said.

No10 also stressed that the "decisive, collective action would be a catalyst for other countries to follow."

It issued a statement on Wednesday after talks between Prime Minister Rishi Sunak, US President Joe Biden, German Chancellor Olaf Scholz, French President Emmanuel Macron and Italy's leader Giorgia Meloni.

A Downing Street spokeswoman said: "The Prime Minister welcomed the decisions by allies to announce major battle tank contributions and updated on the UK's unwavering support for Ukraine, including his decision to donate a squadron of Challenger 2 tanks last week.

"This decisive, collective action would be a catalyst for other countries to follow suit, the Prime Minister added.

"The Prime Minister said it was now clear Russia was on the backfoot, and there was a window for international partners to accelerate efforts to secure lasting peace for Ukraine.

"He called on allies to intensify their support in the coming weeks and months."

It comes after Mr Biden on Wednesday announced the US is to send 31 M1 Abrams tanks to Ukraine after Germany earlier vowed to also send Leopard 2 tanks.

He said America would send "the most capable tanks in the world" that are needed to help the Ukrainians "improve their ability to maneuver in open terrain."

The decisions by Washington and Berlin come as the Western allies help Ukraine prepare for a possible spring counter-offensive to try to drive Russia out of territory it has seized. The UK has already promised to send tanks.

"The expectation on the part of Russia is we're going to break up," Mr Biden said as he announced the decision. "But we are fully, totally and thoroughly united."

He said the decision to send tanks is "further evidence of our enduring and unflagging commitment to Ukraine."

The move is a U-turn after the US has suggested that the complexity of the Abrams tanks was a barrier to supplying them to help Ukrainian forces against Russia's invasion.

It also comes despite Moscow warned Berlin that sending tanks "does not bode well for future relations" and told the US that should it authorise such a move it would be a "blatant provocation".

The US leader insisted the aid is being used to help Ukraine defend and protect its land.

"There is no offensive threat to Russia," he said."If the troops return to Russia this war would be over today."

Volodymyr Zelensky hailed the tank deployments as "an important step on the path to victory".
It came after he stepped up his call on Wednesday to the West for hundreds of battle tanks to be swiftly supplied to Ukraine as Mr Putin's army is set to launch spring offensives.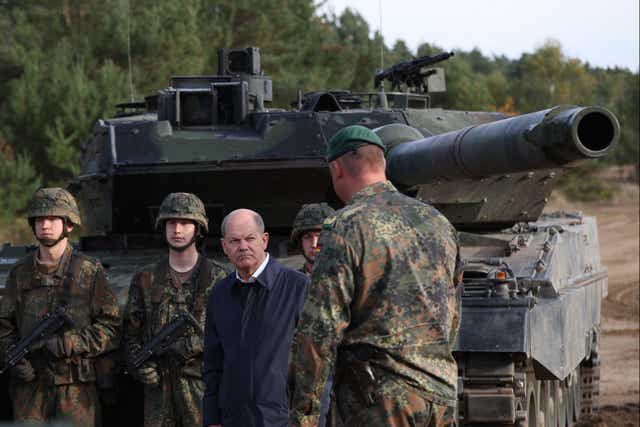 This file photo shows German Chancellor Olaf Scholz (C) talking with soldiers in front of a Leopard 2 main battle tank
In his nightly address, Mr Zelensky thanked Ukraine's allies for their support against Putin's bloody invasion. But he is calling for 300 tanks to turn the tide of the war firmly against Russia.
"It is not about five, or 10, or 15 tanks. The need is greater," he said. "Every day we are doing everything necessary to fill the deficit. Discussions need to end with decisions. Decisions to really strengthen our defence against terrorists."
He also stressed the need for "speed of implementation" of promises of military equipment.
German Chancellor Olaf Scholz announced on Wednesday morning that Berlin will supply its Leopard 2 tanks to Ukraine, overcoming misgivings about sending heavy weaponry that Kyiv sees as crucial to defeat the Russian invasion but Moscow cast as a needless provocation.
He also gave the green light to other allies, including Poland, Spain and Norway, to send their German-built Leopards. Germany hopes around 90 will ultimately be delivered to the battlefield.
"This decision follows our well-known line of supporting Ukraine to the best of our ability. We are acting in a closely coordinated manner internationally," Mr Scholz said in a statement after a cabinet meeting.
The goal was to quickly establish two battalions with Leopard 2 tanks for Ukraine, it added, explaining that Germany would in a first step provide 14 Leopard 2 tanks from military stocks.stocks.
Training of Ukrainian troops in Germany will begin soon, and Berlin will also provide logistics and ammunition, it said. Rishi Sunak welcomed Germany's decision, saying that alongside the UK's Challenger 2s "they will strengthen Ukraine's defensive firepower".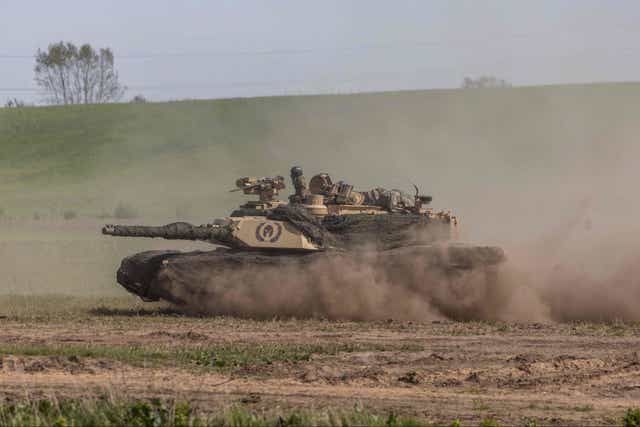 A Abrams tank

Germany was set to send around 14 Leopards, with Poland and other allies also supplying this model of tank to Kyiv. Britain has already pledged to send 14 Challenger 2 tanks.

Mr Zelensky said he was "sincerely grateful" to Germany for Berlin's "important and timely" decision to provide Kyiv with battle tanks.

But the number promised was expected to fall short of the 300 being requested by Kyiv, though this may well soon be ratcheted up.

"A few hundred tanks for our tank crews," urged Andriy Yermak, the head of Mr Zelensky's administration. "This is what is going to become a real punching fist of democracy."

Military experts said the West was in a race against time to deliver tanks to Ukraine and train its forces to be able to successfully operate and deploy them against Russian spring offensives.

Retired British General Sir Richard Barrons, former head of Joint Forces Command, said: "It will make a big difference in the way that Ukraine is able to defend territory from the coming Russian offensives, although there is a big question mark as to whether this will arrive in time this year to make a substantial difference."

But he argued: "This number is not enough to allow Ukraine to go on the offensive where it will be looking for at least three times, perhaps seven times, superiority in numbers over the Russian tanks." The timescale of the delivery of US tanks in particular was not clear, and could potentially be months.

Anatoly Antonov, Russia's ambassador to the US, said that the possible deliveries of battle tanks by Washington to Ukraine would be "another blatant provocation" against his country.

Putin may respond to the tank deployments with another military atrocity. With tensions between the West and Russia at their worst for decades, the Russian defence ministry also said today that the frigate Admiral Gorshkov had tested its strike capabilities in the western Atlantic.

The ministry said the frigate had run a computer simulation on hypersonic Zircon missiles. Zircon missiles have a range of 560 miles, and can travel at several times the speed of sound, making it difficult to defend against them. The statement did not say the frigate had launched a missile.

But the West appeared to be uniting in the supply of tanks against Putin's invasion which has entered its 12th month and killed tens of thousands of civilians.

More than 100,000 Russian soldiers are estimated to have died or been wounded, with similar casualty levels among Ukraine's military.

Two US officials said that Washington was ready to start a process that would eventually send M1 Abrams tanks to Ukraine, just days after it had argued against granting Kyiv's requests on the basis that these vehicles would be difficult to maintain in the warzone. A third official said the US commitment could total about 30 tanks.

Frontlines in the war, which stretch more than 1,000km (620 miles) through eastern and southern Ukraine, have been largely frozen for two months despite heavy losses on both sides. Russia and Ukraine are widely believed to be planning new offensives.

The Russian-installed governor of Ukraine's Donetsk region in the eastern Donbas claimed that units of the Wagner private military company were making progress in the town of Bakhmut, with fighting ongoing in previously Ukrainian-held neighbourhoods.