Pubs across the UK will be forced to close due to energy costs soaring by as much as 300%, brewery bosses have said.
Leaders of six of the country's largest breweries have called for "immediate government intervention" on sky-high energy bills this winter.

The landlord of one pub in Essex told the BBC that his energy costs had risen from about £13,000 a year to £35,000.

Pub owners said the energy crisis would cause "real and serious irreversible" damage to the industry without support.

In an open letter to the government, six pub and brewing groups - JW Lees, Carlsberg Marston's, Admiral Taverns, Drake & Morgan, Greene King and St Austell Brewery - called for urgent intervention, including a support package and a cap on the price of energy for businesses.

Rocketing energy bills come at a time when the number of pubs in England and Wales is falling, hitting the lowest level on record - 39,970 in June, according to analysis.

Simon Cleary, who runs the Plough in Great Chesterford, Essex, said his gas and electricity bills had nearly tripled to £35,000 a year.

It means the pub now needs to generate a further £1,800 in takings per week to cover the costs.

"It really is that bad," he told the BBC. "I think it's going to be really tough unless there is intervention from the government."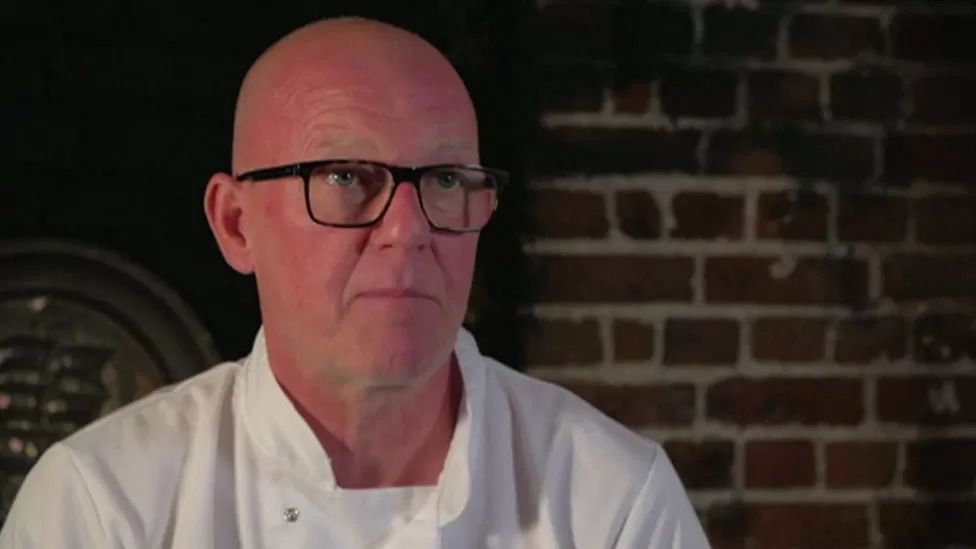 Landlord Simon Cleary needs to take another £1,800 each week to afford the bill hikes

Mr Cleary said heating the pub in the winter made up the majority of his gas bill, with about 20% used for cooking food.

In a bid to try to reduce his electricity bill, the landlord has fitted LED bulbs. However, there is only so much energy he can save because fridges, freezers and the cooling system for the cellar need to be on all the time. "You cannot turn your cellar cooling off, you need it on even in the winter."

He added: "Many pubs are very older buildings, few pubs have got cavity wall insulation. This pub was built in 1780. Back in those days nobody was thinking about conserving energy."

Chris Jowsey, boss of Admiral Taverns which has 1,600 pubs, said his tenanted pubs now pay more in energy bills than they do in rent.

He told the BBC that one of his tenants told him he was leaving after 20 years due to his electricity bill going up 450% - an increase so large he couldn't pass it on to pub customers.

Mr Jowsey said Admiral was investing in energy-saving equipment for pub cellars and to control how much energy fridges use. He also said the company was "looking very closely at a scheme to try and buy energy in bulk and to allow licensees to make use of our own scale".

But he said: "Even when we went to the energy market in recent months, no-one was initially willing to supply even us, never mind an individual licensee and their pub.

"So we're trying to do everything we can," said Mr Jowsey. "But frankly, this is of such a scale that even we can't support this on our own, we desperately need government intervention to help because actually the market is broken."

The Department for Business, Energy and Industry said "no government" would be able to control the "global factors pushing up the price of energy and other business costs".

"But we will continue to support the hospitality sector in navigating the months ahead," a spokesman added. The government said it was providing a "50% business rates relief for businesses across the UK, freezing alcohol duty rates on beer, cider, wine and spirits and reducing employer national insurance".

Emma McClarkin, chief executive of the British Beer and Pub Association, warned the rise in energy bills would cause more damage to the industry than the pandemic did if it didn't receive support in the next few weeks.

'Waiting for a PM'

The government has previously said no new policies will be announced until the new prime minister is announced on 5 September.

But Mr Jowsey said: "I find it incredible that we have to wait for one person to get elected before we actually get some decisions and some policy which will protect not just jobs, not just people's livelihoods, but also their homes - because remember most people that run pubs in this country actually live above the shop."

Jonathan Reynolds, Labour's shadow business secretary, said businesses couldn't "afford another day of this zombie government", saying his party would bring down costs for small firms by cutting business rates.

Nick Mackenzie, the boss of Greene King - one of the UK's largest pub groups with over 3,100 pubs - said the company could face "the prospect of pubs being unable to pay their bills, jobs being lost and beloved locals across the country forced to close their doors".

He added that would mean all the support given to pubs through the pandemic to stay in businesses "could be wasted".

Meanwhile, William Lees Jones, of JW Lees, said the government needed to extend the energy cap to business as well as households.

He said with more fixed-price contracts coming up for renewal the "time to act is now".

On Friday, the energy regulator Ofgem, which sets the price cap on household bills, said it would rise by 80% in October.

But unlike households, businesses aren't covered by a regulated energy price cap, meaning bills are even higher.

Aside from bills, breweries also highlighted a possible shortage of carbon dioxide (CO2) which is used in the production of beer.

CF Industries, the UK's largest CO2 producer, recently announced that it would temporarily stop production at one of its plants because rising energy prices made it too expensive to continue.