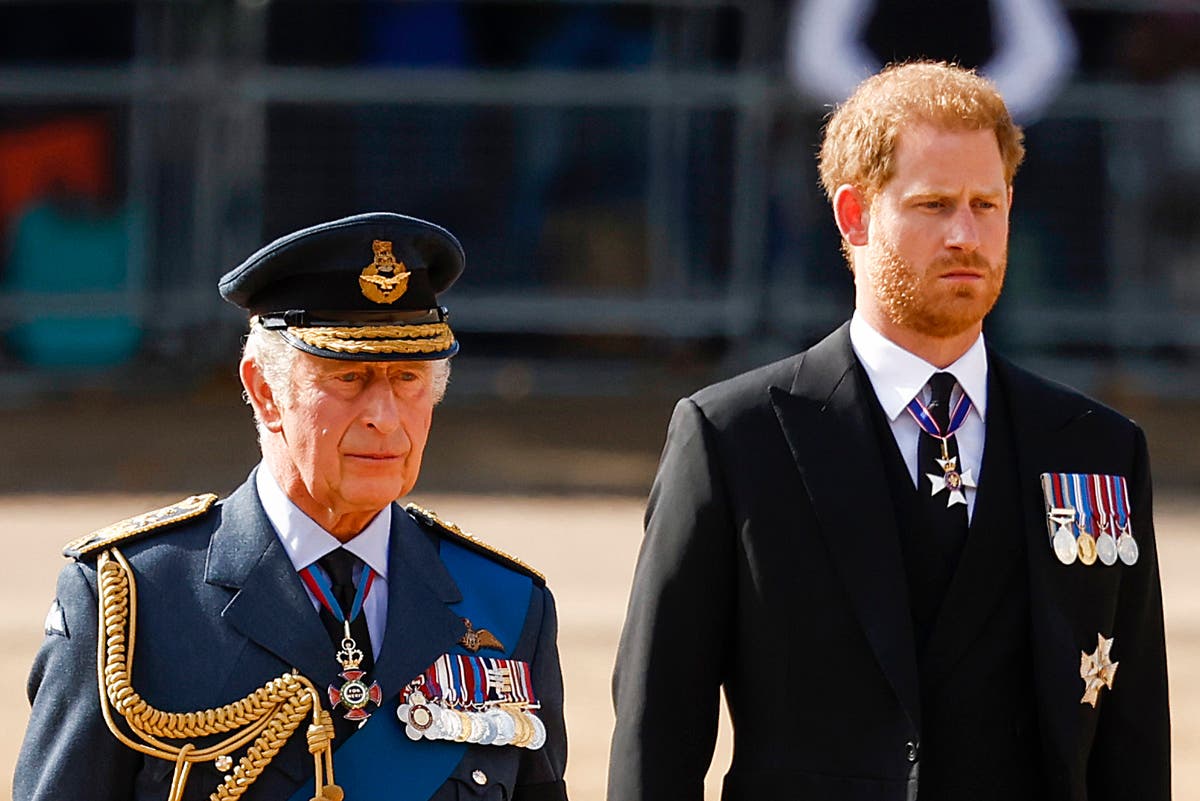 Public want Prince Harry to be at King's coronation, poll finds
Exclusive: Standard poll reveals 60 per cent want Duke of Sussex to be at father's ceremony in May
A majority of Britons say Prince Harry should be invited to the King's Coronation, a new poll revealed on Friday.

The Ipsos survey for The Standard found 60 per cent of adults believe the Duke of Sussex should be offered a place at the ceremony.

But after the controversies sparked by his Spare autobiography, Netflix series and other recent TV interviews, 30 per cent believe he should not be invited.

The crowning and anointment of King Charles III on Saturday, May 6, will be part of a weekend of celebrations which includes a procession from Buckingham Palace, a balcony appearance and a concert at Windsor Castle.

The service, conducted by the Archbishop of Canterbury, will "reflect the monarch's role today and look towards the future, while being rooted in longstanding traditions and pageantry," Buckingham Palace has said.

The events will be watched by tens of millions of people around the world and will aim to show Britain at its best, with the Royal Family centre stage.

But the furore over Harry and Meghan's departure to California and the prince's subsequent public criticisms of other royals lingers on.

The poll found a striking age gap on whether he should be at the coronation.

Three quarters of 18 to 34-year-olds say the Prince should be invited, with 15 per cent against.

However, among the 55+ age group the split is 47 per cent "yes" and 42 per cent "no".

For the 35 to 54 age group, the divide is 65 per cent supporting Harry to get an invite, with 26 per cent taking the opposite view.

The survey comes amid claims that several senior royals do not want Harry and Meghan at the coronation. They are said to be concerned that private conversations could be made public by them and exploited at a later date.

The coronation has also prompted a diplomatic headache because there will be a fraction of the 8,000 guests who came to the Queen's ceremony in 1953. The Government will have to decide which VIPs will not be invited.

The survey also showed that Harry's standing in Britain has taken a hit, compared with earlier years after his allegations about the royal family.

They include claims that William physically attacked him in his London cottage, that both brothers pleaded with Charles not to marry Camilla and that the Queen "quietly sat there" amid family rows. Buckingham Palace and Kensington Palace have declined to respond to the allegations.

However, the survey showed that William is now by far the most popular royal, ahead of his father Charles, his wife Kate and then Harry.

When people were asked which two or three royals they liked the most, 50 per cent named William, 32 per cent Charles, and 29 per cent Kate. Just 17 per cent mentioned Harry, with William, who is now Prince of Wales, three times as popular.

Princess Anne was on 16 per cent, Meghan, Prince Edward and Sophie, Countess of Wessex, all on four per cent and Queen Camilla on three per cent. The figures contrast with findings in January 2018 when Harry was level-pegging with William on popularity.

Sixty-two per cent named William as a favourite royal, 58 per cent Harry, 47 per cent the late Queen, 21 per cent Kate, 12 per cent the Duke of Edinburgh and nine per cent Prince Charles.

These figures may have been swayed by the poll being carried out just a few months before Harry and Meghan's wedding in May that year.

Gideon Skinner, of Ipsos UK, said: "Despite not being as popular as he once was, most Britons still think Harry should be invited to the coronation in May, which suggests some hope for reconciliation."

Despite the controversies and the Queen's death last September, support for the monarchy seems little changed over the last year or two but is markedly lower than in 2016 and most other times that this question was asked going back to 1993.

Sixty-four per cent now say they favour Britain remaining a monarchy, with 22 per cent saying it should become a republic, with 13 per cent "don't knows".