A protester has climbed on top of a train near a power plant in North Yorkshire.
The Axe Drax campaign group said one of its activists "halted the train", which was carrying wood pellets and heading to Drax Power station in Selby.

Images on social media show the activist, dressed in orange, waving a flag bearing the Extinction Rebellion logo. It comes as the COP26 climate summit in Glasgow draws to an end.

Drax said there had been "no impact".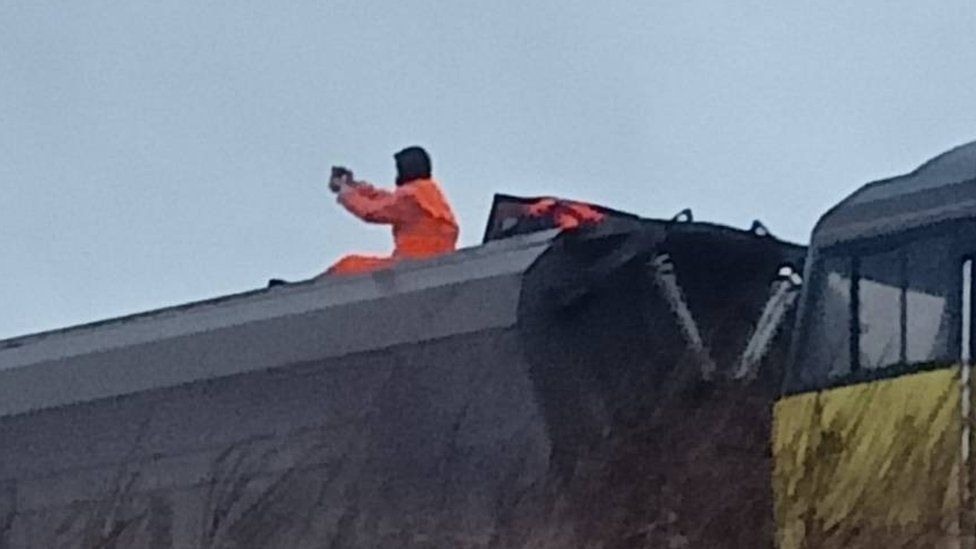 In a video message posted on Twitter, the activist said the biofuel industry was more carbon intensive than coal

Axe Drax said the demonstration was being carried out "to send a clear message to COP26 - stop the fell".

It said no other trains had been affected.

'Halt the felling'

The activist, who goes by the name of Coffee, said: "We need to keep the trees in the ground, we need a U-turn on the decision to phase out deforestation by 2030, we need to slam on the breaks.

"Halt the felling. Bring a moratorium on tree felling for six months whilst a plan is made for a future world economy."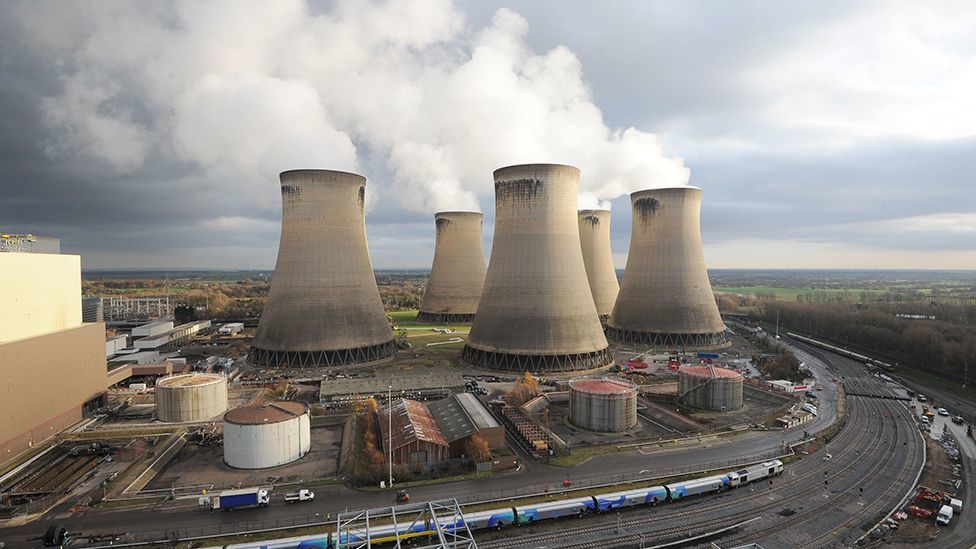 Drax switched from using coal to burning wood pellets instead at its power plant in Selby

A Drax spokesperson said: "Everyone has the right to peaceful protest but trespassing on railway lines puts the safety of train staff, as well as the protesters themselves, at risk."

"Drax Power Station has not been impacted by this action - it continues to generate renewable power for millions of homes and businesses."

The company said the power station had "slashed our emissions from power generation by 90%" since converting from using coal to "sustainable biomass".

It added Drax was "helping the UK's electricity system to decarbonise faster than any other major economy".

But in a tweet, the activist said the biofuel industry was more carbon intensive than coal.
Analysis
By Paul Murphy, BBC Look North environment correspondent

Drax is one of the UK's most controversial power stations and has been on the receiving end of environmental protest and direct action for more than a decade.

Campaigners originally targeted it because of the huge quantities of coal it burned to make electricity. But now protesters are focused on Drax's use of wood pellets to generate power.

Drax calls this fuel "sustainable biomass" and says it's good for the planet because the CO2 produced from burning wood is absorbed by the replenishment of forests where the wood comes from.

But scientists disagree over whether this process works as well as it should.

This direct action against a Drax freight train follows several days of environmental protest against the power station at the COP26 summit in Glasgow.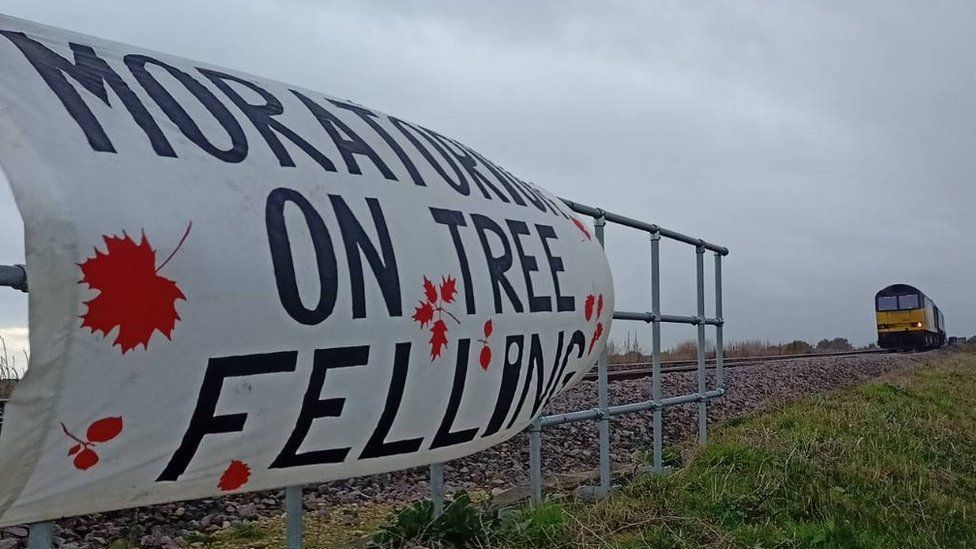 Campaigners have called for "a moratorium on tree felling for six months"

In the COP26 climate summit's first major deal, more than 100 world leaders promised to end and reverse deforestation by 2030, including Brazil where stretches of the Amazon rainforest have been cut down.

Axe Drax said biomass production "harms both people and planet" and linked deforestation to "an increase in flooding, soil degradation, biodiversity and habitat loss, noise and air pollution for local communities".