A former sub-postmaster who was convicted of embezzling money 16 years ago says the authorities are not moving quickly enough to clear people's names.
Rab Thomson's case is one of 11 in Scotland being reviewed as a potential miscarriage of justice.

Hundreds were wrongly accused of theft, fraud or false accounting due to the Post Office's faulty IT system Horizon.

The scandal has been described as "the most widespread miscarriage of justice in UK history".

The UK government said the Post Office was working with the courts to progress appeals as quickly as possible.

Rab Thomson took over Cambus Post Office in Clackmannanshire from his mum in the early 2000s, around the time the Post Office was rolling out its new Horizon system.

Mr Thomson, from Alva, said he reported shortfalls of around £60,000 to the Post Office in 2004. His branch was eventually audited and an alleged shortfall of around £5,700 was discovered.

The Post Office then pursued criminal proceedings.

Mr Thomson said he pleaded not guilty because he was innocent but changed his plea to guilty at the last minute on the advice of his lawyer in the hope of avoiding prison.

He was sentenced to 250 hours of community service.

'Horrendous' situation

He told BBC Scotland that was "the most embarrassing situation of my life" because he was in places where people knew him but didn't know why he was there. Word soon spread about his conviction.

Mr Thomson said the situation put huge pressure on his mother, Margaret, who wouldn't come out of her house because she was embarrassed.

"I went one day to see Mum and I found her dead," he said. "I blame myself to this day for losing my mum… she didn't want anything to go wrong with the family."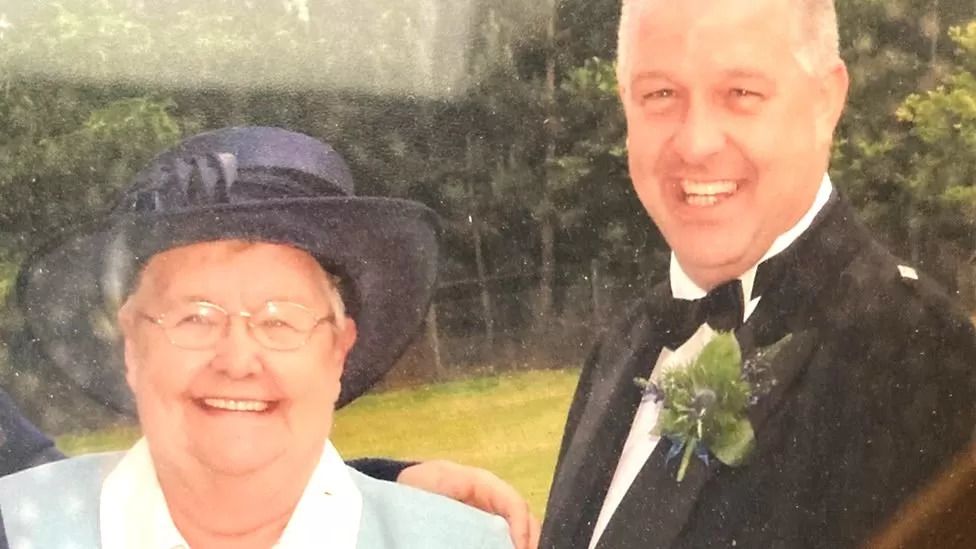 Rab Thomson's mother died before he had the chance to clear his name

He described the situation since then as "horrendous" and said he had tried to take his own life. He feels the authorities aren't moving quickly enough to quash convictions.

In recent years it has emerged the Post Office computer system Horizon was faulty and more than 700 people working in post offices across the UK were potentially wrongly convicted.

Rab Thomson is hoping to clear his name but while dozens of people in England have had their convictions quashed, those in Scotland are still waiting.

The Scottish Criminal Cases Review Commission, which investigates miscarriages of justice, is urging potential victims to come forward. It is currently investigating 11 cases, including Mr Thomson's and is expecting to announce a decision on eight cases in November.

Distressing case

Mr Thomson's lawyer David Enright said the facts of his case could not be more distressing.

"His dear mother was devastated by Robert's conviction," he said. "She has now passed and will never know what the Post Office did to people like her son.

"It is high time that Robert and other Scottish sub-postmasters receive the vindication they deserve."

A public inquiry into the scandal is under way. It heard from some Scottish victims in Glasgow earlier this year.

The UK government has set up an interim compensation scheme but Mr Thomson is not eligible unless his name is cleared.

A spokesperson for the Department for Business, Energy and Industrial Strategy said: "It is right that where a postmaster has been convicted, publicly funded compensation should only follow fair judicial process and once the courts quash convictions as a first step. The Post Office is working with the courts to progress appeals as quickly as possible."

A spokesperson for the Post Office said: "Ensuring full, fair and final compensation for all Horizon Scandal victims is a priority as we put right the wrongs of the past."