Police and community leaders are calling for calm after large numbers of people became involved in disorder in parts of East Leicester.
A witness told the BBC they had seen hundreds of people, mainly men, filling the streets.

It is the latest in a series of disturbances to have broken out following an India and Pakistan cricket match on 28 August.

Police said they were "taking control" and told others not to get involved.

Temporary Chief Constable Rob Nixon said in a video: "We've had numerous reports of an outbreak of disorder in parts of the East Leicester area of the city.

"We have got officers there, we are taking control of that situation, there are additional officers that are en route, and dispersal powers and stop and search powers have been authorised.

"Please do not get involved, we are calling for calm."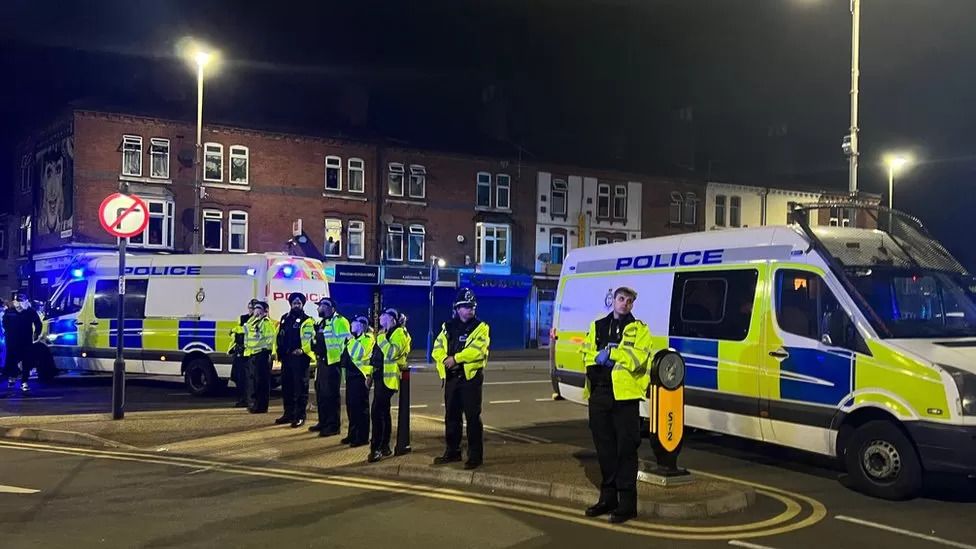 Police said they were "taking control" of the situation

Police said community leaders from East Leicester were on the ground with officers, and all were calling for calm and encouraging people to go home.

People have been told to avoid the area while the police operation continues.

As of Friday, police had arrested 27 people in relation to disturbances in the area on seven different dates.

A woman who witnessed the latest disturbance said there were people wearing balaclavas or with masks over their faces, and with hoods pulled up.

She told the BBC they were "just everywhere, it was like crowds walking away from a football match".

"There were police blocking the road; officers literally stood shoulder to shoulder blocking Uppingham Road," she said.

Claudia Webbe, MP for Leicester East, has also implored people to go home.

"This is a time for cool heads," she said.

"We can strengthen our dialogue to repair community relations.

"Your family will be worried for your safety, please accept the advice of the police who are trying to defuse and are calling for calm."