Police at the Champions League final "went looking for conflict" and must be held accountable over what happened to fans, Liverpool's metro mayor has said.
Officers have been criticised for firing pepper spray and tear gas at Liverpool fans waiting to get into Stade de France in Paris on Saturday.

Steve Rotheram, who was at the game, said he was "outraged" by the "chaotic scenes" he witnessed.

He said lessons "have to be learned... but I won't hold my breath".

Mr Rotheram, a lifelong Liverpool fan, tweeted that he had "been quiet" since the final because he had his phone stolen by pickpockets near the stadium "like many others".

The Liverpool City Region mayor said the treatment of supporters had been "difficult to witness".

"What should have been the conclusion to a brilliant season... instead ended on something of a sour note, but that was nothing to do with events on the pitch," he said.

He said he was "outraged by the treatment of Liverpool fans at the hands of the French police" and the scenes outside Stade de France were "completely chaotic, with what appeared to be a breakdown of control and communication".

"While fans travelled to the ground hoping for the night of their lives, it appears than the Gendarmerie [French national police] went looking for conflict," he added.

Mr Rotheram said he pleaded with "everybody who would listen to me including the Uefa president [Aleksander] Čeferin" to help Liverpool fans.

"He was not interested in what was happening outside. In fact quite the opposite; his arrogance astounded me," the metro mayor said.

"He was saying the authorities have killed themselves to get that game on - and I appealed to him and said 'well don't kill the fans outside' and he stopped the conversation."

France's interior minister Gérald Darmanin has said "massive, industrial-scale" ticket fraud caused Liverpool fans to turn up en masse, and that of about 30 arrests made at the Stade de France, "more than half concerned British citizens".

However, his claims have been disputed by fans, Liverpool FC and Merseyside Police's matchday officers, and Culture Secretary Nadine Dorries has urged Uefa to formally investigate the "deeply concerning" scenes.

On Monday evening, Uefa announced it had commissioned an independent report into the scenes outside the ground that delayed Saturday's Champions League final.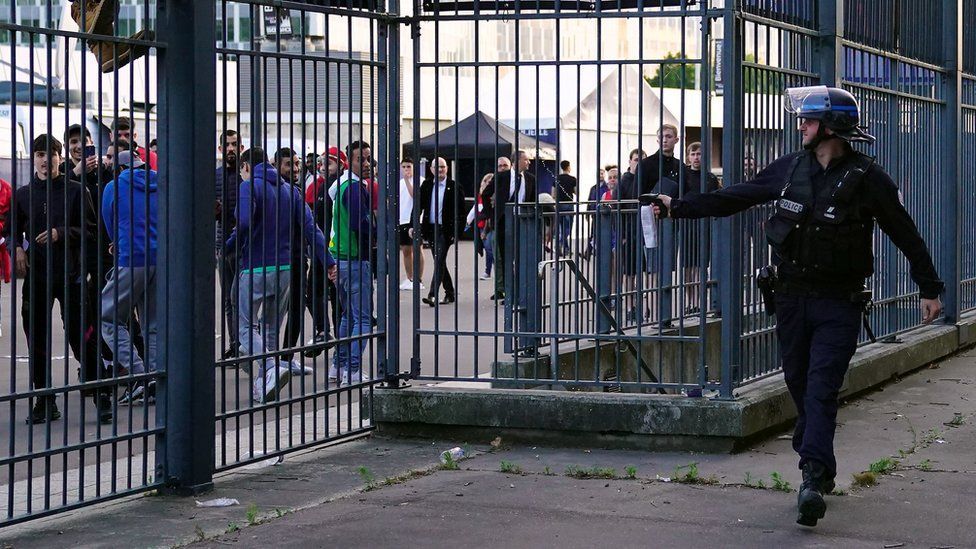 Police used pepper spray and tear gas against supporters before the game

Mr Rotheram, who was at the 1989 Hillsborough disaster where 97 Liverpool lost their lives due to police failures, said that "more than any other club, our fans understand the danger poor policing and organisation at a football match can pose".

"It was disappointing how readily other teams' supporters appear to have swallowed the lies and misinformation being perpetuated by Uefa and the French authorities," he said.

"Too often, supporters from different clubs have become easy scapegoats to distract from the incompetence of the authorities."

He said lessons "have to be learned and accountability must follow, but I won't hold my breath".

"If the authorities aren't completely honest with themselves, then how will they ever learn the lessons to stop any repeat," he added.