Five people, including a three-year-old girl, were killed in a six-minute mass shooting in the Keyham area of Plymouth on Thursday evening - the worst such event in Britain since 2010. Two more people were injured.
The attacker, named by police as 22-year-old Jake Davison, later turned the gun on himself.

Here's what we know about what happened.

Police called to Biddick Drive on Thursday evening

Officers from Devon and Cornwall police were called to a "serious firearms incident" in Biddick Drive, in the Keyham area of Plymouth just after 18:00 BST on Thursday.

Witnesses described hearing gunshots in the residential area - north west of the city near the River Tamar - and police say they received multiple calls.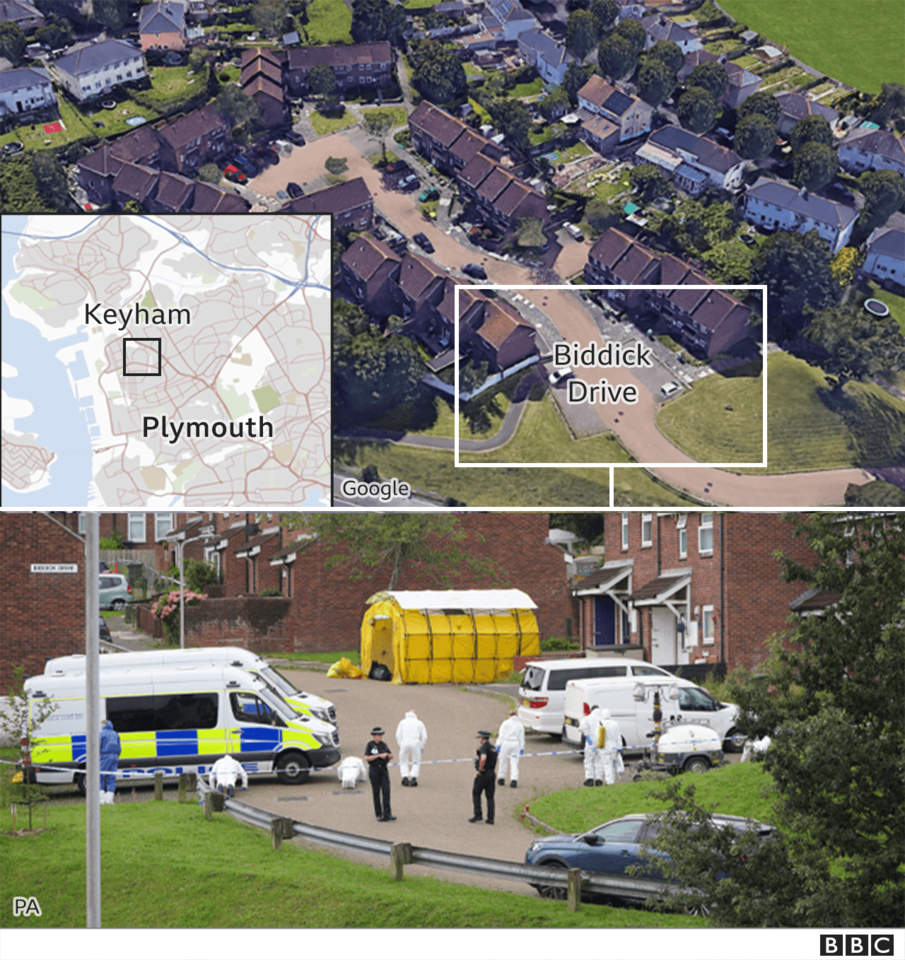 Despite officers arriving at the scene within six minutes, the gunman had already killed his 51-year-old mother Maxine Davison at a property on Biddick Drive before going outside and "immediately" shooting dead three-year-old Sophie Martyn and her 43-year-old father Lee Martyn in the street, police said on Friday.

Eyewitness Sharron, who lives nearby and did not want to give her full name, described "shouting, followed by gunshots" and told the BBC how the shooter kicked in the door of a house and then "randomly started shooting".

Further down the street, Davison shot two other local residents, a man and a woman, who are now being treated in hospital for non-life threatening injuries.

Gunman shoots at people in park

Witnesses then described how the gunman left the Biddick Drive area and began shooting at people on nearby parkland.

Police confirmed it was here that Davison - a licensed firearms holder - shot and killed 59-year-old Stephen Washington.

The weapon has been described by witnesses as a "pump action shotgun" but police have said they would not confirm this at this stage.

Attacker shoots another woman and kills himself

Davison then shot and fatally injured Kate Shepherd, 66, in nearby Henderson Place, before turning the weapon on himself, police said.

Police believe it to be a domestic incident which "spilled into the streets"

People were asked to stay inside and follow police advice as the emergency services responded. Officers are continuing to investigate 13 scenes within a cordon that is expected to remain in place throughout much of the weekend.

The last mass shooting in Britain happened in 2010 when taxi driver Derrick Bird killed 12 people in Cumbria.