Driving groups have called for more support to help drivers after the cost of filling an average family car with petrol hit £100 for the first time.
The RAC motoring group called it "a truly dark day" as the cost of filling a 55-litre tank reached £100.27 for petrol and £103.43 for diesel.

The RAC and its rival the AA urged the chancellor to cut VAT on fuel or to reduce fuel duty further.

The Treasury said it had provided £37bn to ease the cost of living already.

Rising petrol prices are putting pressure on household budgets, with energy bills and food prices also now at multi-year highs.

Pump prices began to soar after Russia's invasion of Ukraine in February led to oil supply fears. However, there are concerns that petrol retailers are not passing on a recent 5p cut in fuel duty to consumers.

According to the RAC, the average pump price of a litre of unleaded petrol is now 182.31p while for diesel it is 188.05p. However, the motoring group has warned this could rise to over £2 a litre soon.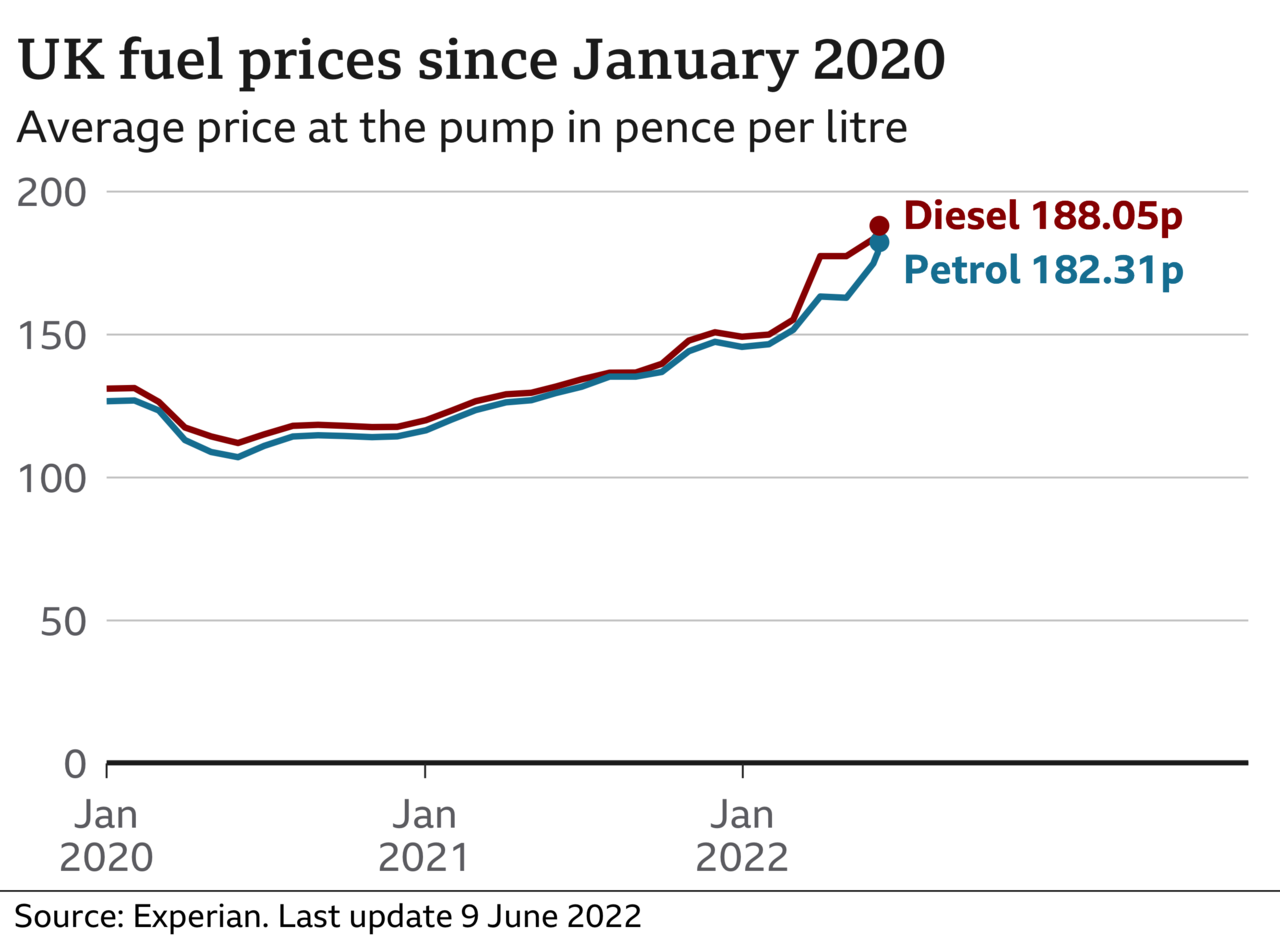 RAC fuel spokesman Simon Williams said: "While fuel prices have been setting new records on a daily basis, households up and down the country may never have expected to see the cost of filling an average-sized family car reach three figures.

"A further duty cut or a temporary reduction in VAT would go a long way towards helping drivers, especially those on lower incomes who have no choice other than to drive."

The AA called on the government to cut fuel duty by 10p per litre immediately and introduce a "fuel price stabiliser", which would reduce fuel duty when petrol prices go up and increase it when they drop.

The wholesale price of petrol - the price at which supermarkets and independent forecourts buy it at - has actually dropped by 5p since 1 June, when it was £1.55 a litre, to £1.50 on Wednesday.

But motoring groups say it takes time for changes in the wholesale price to feed through to the pumps due to the way retailers buy fuel in advance.

It comes as some UK forecourts are already selling petrol above £2 a litre, according to price comparison website PetrolPrices.

On Wednesday, the highest price was found to be 202.9p a litre at BP sites on the A1 near Sunderland, the M4 near Chippenham in Wiltshire and the M6 near Burton-in-Kendal, Cumbria.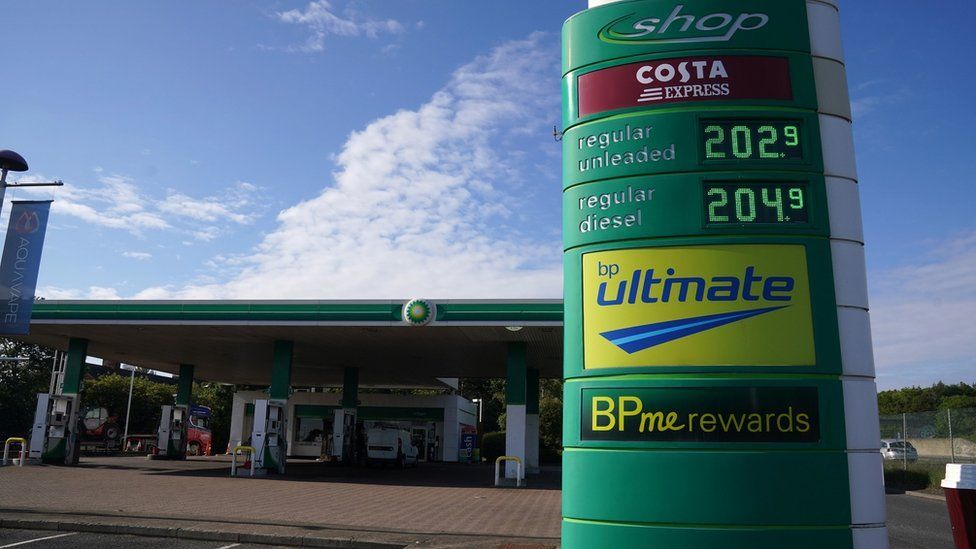 Motorists at the BP garage at Washington services on the A1(M) on Wednesday were paying more than £2 a litre

Ewan, 31, told the BBC he needed a car to get to work in centre of Aberdeen, otherwise it was a one-and-a-half hour bus journey. But he said he was now paying up to £90 to fill a tank and the petrol expenses he could claim through work were no longer enough.

The civil servant, who lives alone, said it was just one more thing pushing up the cost of living and he was now "barely" getting by.

"I used to be able to save about £200 a month but now I am dipping into savings," he said. "It makes me quite stressed out."

The RAC argues the Treasury could afford to offer more help, as the higher fuel prices rise, the more it collects in VAT receipts - currently around 30p per litre.

It added that despite March's fuel duty cut, the government still collects 53p in duty on every litre sold.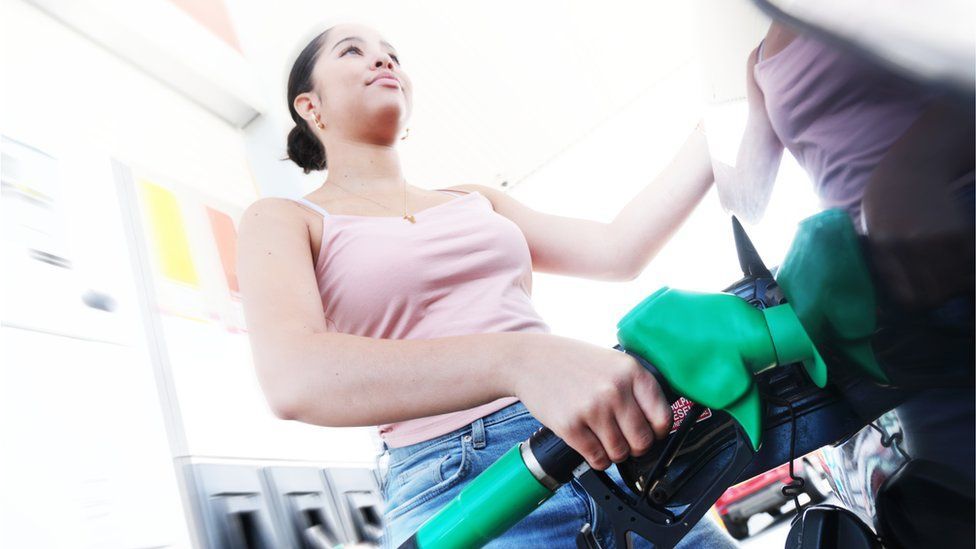 The government has so far ruled out cutting VAT, arguing that any increases in receipts it gets from higher fuel prices will be largely offset by reduced household spending and VAT on other items. It has no plans to cut fuel duty either.

Instead, Downing Street has indicated that fuel retailers failing to pass on the 5p duty cut could be named and shamed.

Answering questions from journalists in Blackpool, Boris Johnson said: "What I want to see is those cuts in taxation not just swallowed up in one gulp, without touching the gullet of the fuel companies, I want to see those cuts having an impact on the pumps.

"And we are watching very closely to see what happens."

'Not profiteering'

Lisa Stevenson, who owns Tolladine service station near Worcester, told the BBC her prices per litre - at 197.9p for unleaded and 194.9p for diesel - were purely the result of volatile wholesale fuel prices driven by the Ukraine war.

She added that customers were now buying less fuel because of the soaring costs: "A delivery of fuel would previously have lasted me a week to 10 days, now its 2-3 weeks."

Alasdair Locke, chairman of Motor Fuel Group, the UK's largest independent forecourt operator, told the BBC's Today programme that his business had passed on the 5p duty cut to consumers "immediately".

"It would be easy if there was evidence we're just profiteering but there is no evidence of that, in fact rather the opposite. Our margins are under pressure, along with everyone else's."

Commenting on the rising pump prices, a government spokesperson said: "We understand that people are struggling with rising prices which is why we have acted to protect the eight million most vulnerable British families through at least £1,200 of direct payments this year with additional support for pensioners and those claiming disability benefits."

They added that the typical employee would save more than £330 a year through a tax cut in July, while the 5p cut to fuel duty would save a typical family £100.