A bad night for the Conservatives in Thursday's local elections could bring renewed pressure on Boris Johnson - but how much impact will the ongoing Partygate scandal have on voters?
"I am a bit disappointed. I thought Boris Johnson would be a good thing but he has turned out to be a bit of a bumbling buffoon."

Linda Edgar may have a dim view of the prime minister but she says it is unlikely to stop her voting Conservative. Her message to the Westminster media is that everyone is fed up of hearing about parties in Downing Street.

Like others out shopping in Peterborough city centre in the week before local elections, she is far more concerned, and angry, about the rising cost of food in the supermarket.

Local issues, such as cuts to services forced on the Conservative-run council by a budget crisis, are also a talking point.

Linda Edgar has heard enough about Downing Street parties

Further education teacher Paul Watkins says he generally votes Lib Dem or Green but plans to vote "tactically" for Labour, to get the Conservatives out.

He is angry about cuts to library services in the city, but also wants to send a message to Boris Johnson over Partygate, saying he is "ashamed" that a British prime minister behaved in the way he did.

At general elections, Peterborough tends to swing between Conservative and Labour and is one of the areas Sir Keir Starmer needs to win back in order to stand a chance of gaining power.

The city is run by a minority Conservative administration, supported by a small group of independent councillors.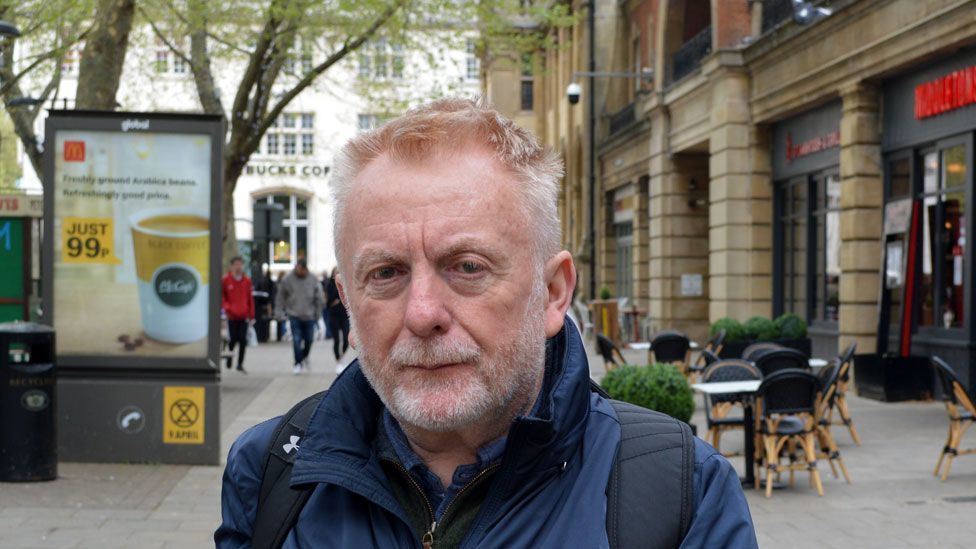 Paul Watkins says he is ashamed of the prime minister

Labour is unlikely to take control of the council on Thursday - only a third of seats are up for grabs, as in many other parts of the country.

But the party is aiming to remove the Conservatives from power after 22 years.

Activists insist they are campaigning on local issues - but group leader Shaz Nawaz admits they are also hoping for a bounce from Boris Johnson's "antics" in Downing Street, in the same way that the Tories benefited from a "vaccine bounce" at last year's local elections.

Nick Thulbourn, who describes himself as a "good old-fashioned Labour guy from back in the day", is hoping to unseat one of the three Conservative councillors in the Bretton ward, a largely working-class suburb that used to vote Labour.

He insists Labour is "being seen more and more as a viable option" for traditional, patriotic voters, in a part of the world that voted strongly for Brexit.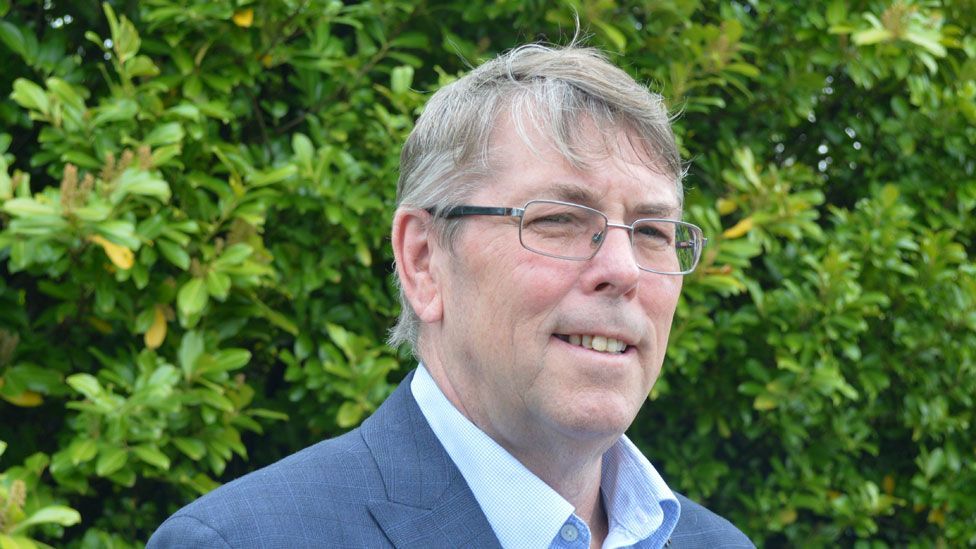 Nick Thulbourn sees himself as a 'good old-fashioned Labour guy'

"It's a Red Wall kind of area," says Mr Thulbourn, who runs a printing business.

"They are very proud of who they are and what they do. And what they want their country to deliver is to give them the opportunity to do something. They don't want to be given anything, they just want the opportunity to do something."

He says the "Partygate thing" is coming up on the doorstep, but "not as much as people would expect it to, to be honest", unlike the cost of living, which is a "constant".

And, he adds: "There are still people who say they are former Labour Party voters and they love Boris Johnson because he delivered Brexit.

"That's becoming smaller and smaller but it's still there."

He says he wants to "refresh" Labour by giving people "the tools to help themselves".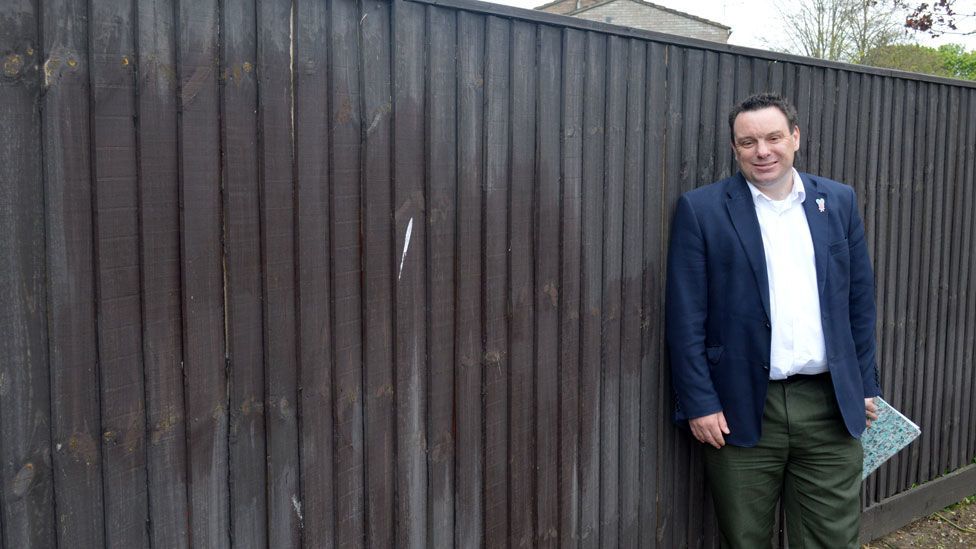 Scott Warren is happy to pose next to the "elephant" fence

His Conservative opponent, Scott Warren, a financial adviser who is defending his seat for the first time since being elected in 2018, also takes a practical approach to local politics.

As he knocks on doors in Bretton, the chat is all about hedges that need trimming and what to do about vandals.

One woman tells him she has already cast her vote for him by post because he had some "nasty graffiti" removed from a nearby fence. The new paint job looks a bit like an elephant, she jokes.

Retired couple Raymond and Joyce Collins, who began voting Conservative when they moved south from the north-east of England and bought their council house through "right to buy", are as worried as everybody else about rising prices.

"We've just walked round Sainsbury's thinking what we would have bought, I have walked past things and said 'I can't get that'," says Mrs Collins, adding that she is worried about how elderly people and young families will cope.

She does not need any prompting to get angry about Boris Johnson's flouting of lockdown rules - "he is saying one thing and doing another. It's not right" - but she says it will not prevent her from voting for Mr Warren on Thursday.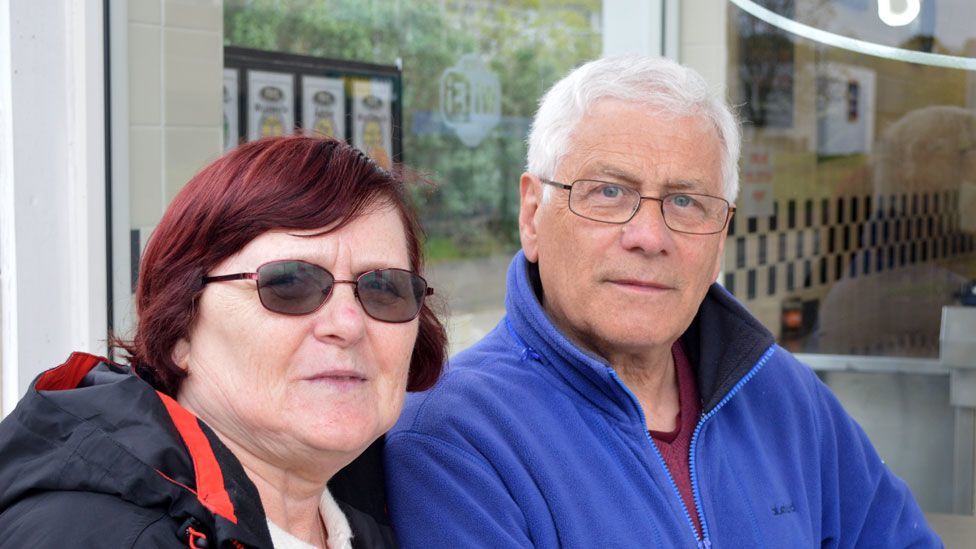 Joyce and Raymond Collins are worried about the soaring cost of food

Others raise Partygate on the doorstep, with one man expressing anger about the government's handling of the pandemic. Mr Warren deals with it by distancing himself from events in Downing Street.

"We've got no control over it, so there is no point in being frustrated or anything else. It is what it is," he says.

He will defend the council's cuts as "justified" but insists he is not in this for ideological reasons.

"They are voting for me, and what I'm going to do, rather than voting for the Conservative message."

Green Party councillor Julie Howell, who is defending a seat in a neighbouring ward, also carries her party branding lightly.

She has helped the Greens win three council seats from the Conservatives "on the bounce", she says, through hard work and being available to constituents day and night.

"Being Green has got nothing to do with it," she adds.

"People are so grateful to have councillors they can talk to pretty much any time."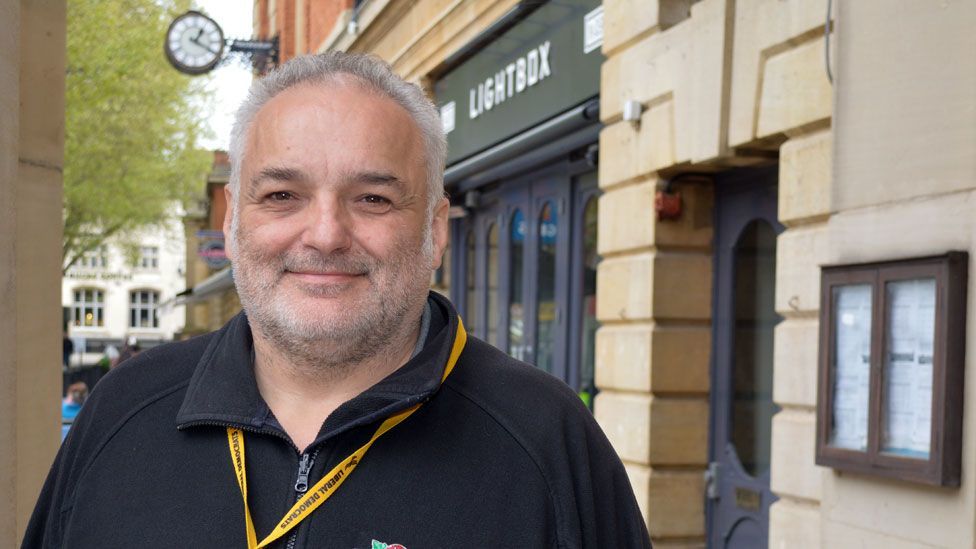 Lib Dem Christian Hogg thinks Tory voters might be "open to alternatives"

If the opposition parties succeed in gaining the three or four seats needed to remove the Conservatives from power on Thursday, Labour will have to strike some kind of deal with the Greens and the Liberal Democrats (no-one is talking publicly about a coalition).

Lib Dem councillor Christian Hogg says his party is aiming for a "hard reset" on Thursday, to return their vote share to what it was before the pandemic.

Like his rivals, he says the party is focusing solely on local issues, such as cuts to library services, but events at Westminster could be a factor.

"When we had the election last year, Conservative voters were proud to say they were Conservative voters on the door, specifically around Boris and the vaccine. This year they are not talking about Boris. Nobody brings Boris up. They are quite sheepish."

He adds: "There has definitely been a softening of the Tory vote in that regard and people are also more open to alternatives."

Just how soft that vote has become, in Peterborough and elsewhere, will become clear on Friday morning.