Penny Mordaunt won plenty of fans for her ceremonial role at the coronation but some sharp-eyed social media users thought her outfit was reminiscent of a certain budget supermarket.
The Leader of the House of Commons, who was seen by millions holding ceremonial swords, wore a striking teal outfit with a gold motif that some people thought resembled the Poundland logo.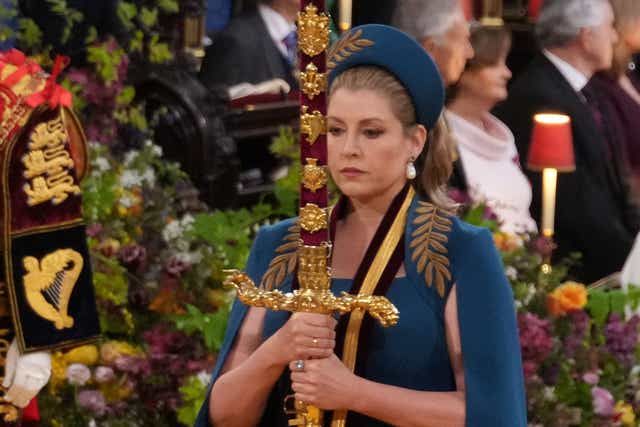 Lord President of the Council Penny Mordaunt held ceremonial swords for more than an hour

One person said: "I see Penny Mordaunt is giving @Poundland free advertising today."

As Lord President of the Council, Ms Mordaunt was responsible for bearing The Sword of State and presenting The Jewelled Sword of Offering to the King – the first time it has been carried and presented by a woman.

Following the coronation, she said said she was "honoured" to have been part of the event.

She said: "I'm very aware that our armed forces, police officers and others have been marching or standing for hours as part of the ceremony or to keep us all safe. In comparison, my job was rather easier.

"Huge and heartfelt thanks to all who made this so remarkable. I'm so proud of you all and the King and Queen today."

Speaking to The Times' Red Box Politics podcast ahead of the ceremony, she also disclosed she had been "doing some press-ups" in preparation for her sword-carrying role.

She added that she had been practising in rehearsals with weighted replicas and her experience in the Navy had helped prepare her for standing for long periods of time without fainting.

She carried the 17th-century Sword of State in procession to the abbey.

Its silver-gilt hilt features the form of a lion and unicorn and the wooden scabbard is covered in red velvet with silver-gilt rose, thistle and fleur-de-lis emblems.

Later in the ceremony Ms Mordaunt exchanged the Sword of State for the Jewelled Sword of Offering and delivered it to the archbishop.

The second sword was briefly clipped to the King's coronation sword belt and then after a proclamation by the archbishop, the King stepped forward and offered up the sword.

It was then placed on the altar and redeemed with "redemption money" by Ms Mordaunt.

The sword was later drawn and she carried it in its "naked" form – without its scabbard – before the King for the rest of the service.

The Jewelled Sword of Offering has a hilt encrusted with diamonds, rubies and emeralds and a scabbard decorated with jewelled roses, thistles and shamrocks.

It symbolises royal power and being able to decide between good and evil, and the King accepting his duty and knightly virtues.