Priti Patel's top civil servant warned her there was not enough evidence of the "deterrent effect" of the plan to send some asylum seekers to Rwanda.
In a letter, Matthew Rycroft said the policy's value for money relied on it reducing illegal Channel crossings.

He said while there was not "sufficient evidence" of the scheme's benefits, that did not mean it would not work.

The home secretary replied it would be "imprudent" to allow a lack of modelling to delay the scheme.

The exchange between Ms Patel and her permanent secretary was published by the Home Office after it emerged she had issued a rare "ministerial direction" to push through the plans, meaning she takes personal responsibility for it.

Under the £120m scheme - which was announced on Thursday - people deemed to have entered the UK unlawfully will be transported to the east African country, where they will be allowed to apply for the right to settle.

'Risking their lives'

It has faced widespread opposition, with criticism from opposition parties and some Conservatives. More than 160 charities and campaign groups wrote an open letter urging the prime minister and Ms Patel to scrap the "shamefully cruel" policy.

In the letter, the group cited Rwanda's "poor" human rights record, and argued the cost of the scheme would be "astronomical" and result in more, not fewer dangerous journeys.

The Archbishop of Canterbury Justin Welby used his Easter Sunday sermon to raise what he said were "serious ethical questions" about the scheme, before adding it was "the opposite of the nature of God".

He added the scheme could not "carry the weight of our national responsibility as a country formed by Christian values" and accused ministers of "sub-contracting out our responsibilities".

But Jacob Rees-Mogg, minister for Brexit opportunities and government efficiency, disagreed with the archbishop.

He told BBC Radio 4's World At Weekend programme: "He misunderstands what the policy is trying to achieve and that it isn't an abandonment of responsibility, it is in fact a taking on of a very difficult responsibility."

Mr Rees-Mogg insisted it was the "encouragement of people traffickers" that needed to be stopped, adding: "90% of the people coming are young men who by coming via people traffickers are jumping the queue for others. They are in doing so not only risking their lives but supporting organised crime."

In his letter to the home secretary dated 13 April last year, Mr Rycroft said she had made it clear the "rationale" for the policy was to "break the business model of people smugglers, while maintaining a fair and robust immigration and borders system".

He said it was also intended to prevent the "tragic loss of life in the Channel", deter "hazardous and illegal journeys to the UK" and to tackle the £1.5bn per year cost of the asylum system to the British taxpayer.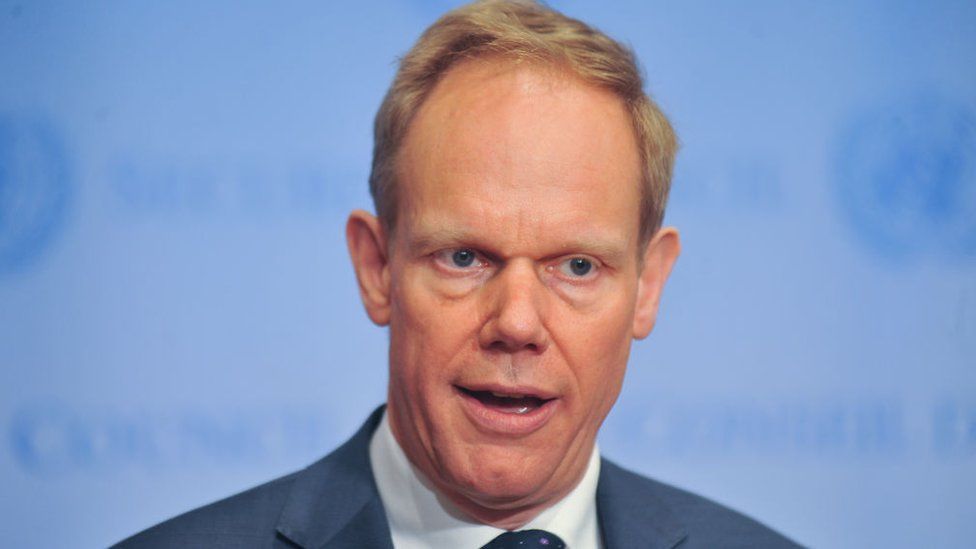 Home Office Permanent Secretary Matthew Rycroft was previously Britain's permanent representative to the United Nations

The permanent secretary said while it was "regular, proper and feasible for this policy to proceed" there was "uncertainty" over whether the plan would be value for money.

He said there were "potentially significant savings to be realised from deterring people entering the UK illegally" but the scheme's value for money depended on how well it deterred people from making those journeys.

"Evidence of a deterrent effect is highly uncertain and cannot be quantified with sufficient certainty to provide me with the necessary level of assurance over value for money," he said.

"I do not believe sufficient evidence can be obtained to demonstrate that the policy will have a deterrent effect significant enough to make the policy value for money."

Mr Rycroft said this did not mean that the scheme could not provide a deterrent - but there was "not sufficient evidence for me to conclude that it will".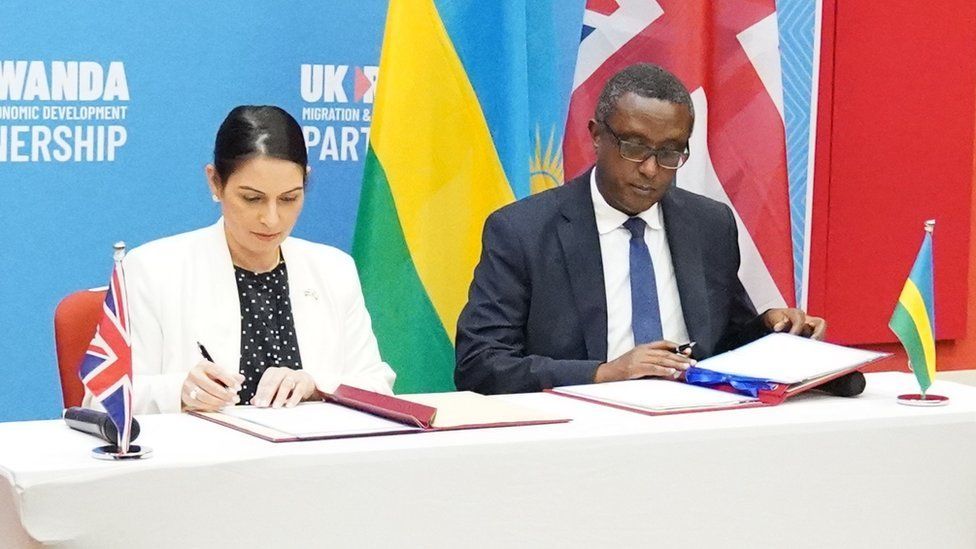 Priti Patel and Rwandan minister for foreign affairs and international co-operation, Vincent Biruta signed the deal in the country's capital, Kigali on Thursday

In her response dated the same day, Ms Patel said she understood it was not possible for the government to accurately model the scheme's deterrent effect "from day one" but said she was "confident this policy is our best chance at producing that effect".

She said: "Without action, costs will continue to rise, lives will continue to be lost."

The home secretary added it would be "imprudent" to "allow the absence of quantifiable and dynamic modelling - which is inevitable when developing a response to global crises influenced by so many geopolitical factors such as climate change, war and conflict - to delay delivery of a policy that we believe will reduce illegal migration, save lives, and ultimately break the business model of the smuggling gangs".

Ms Patel formally directed Mr Rycroft to proceed with the scheme with immediate effect.

How will the Rwanda asylum scheme work?

On Thursday, the UK and Rwanda unveiled a new deal that will see some asylum seekers given a one-way ticket to the east African nation.

Here's what we know about the scheme so far:

*  The scheme will focus mainly on single men arriving in the UK illegally in small boats or lorries

*  People who have arrived in the UK by such means since 1 January may be sent to Rwanda, where their asylum claims will be processed

*  While their claims are being considered, they will be given accommodation and support and would be free to come and go from their lodgings at all times

*  Those whose asylum claims are accepted would be helped to build a "new life" in Rwanda, with up to five years' access to education and support there, the UK government says

*  Those whose claims are rejected will be given the chance to apply to remain in Rwanda or be removed to their country of origin or another country where they have the right to reside

*  The UK government has said the first asylum seekers could be flown to Rwanda within weeks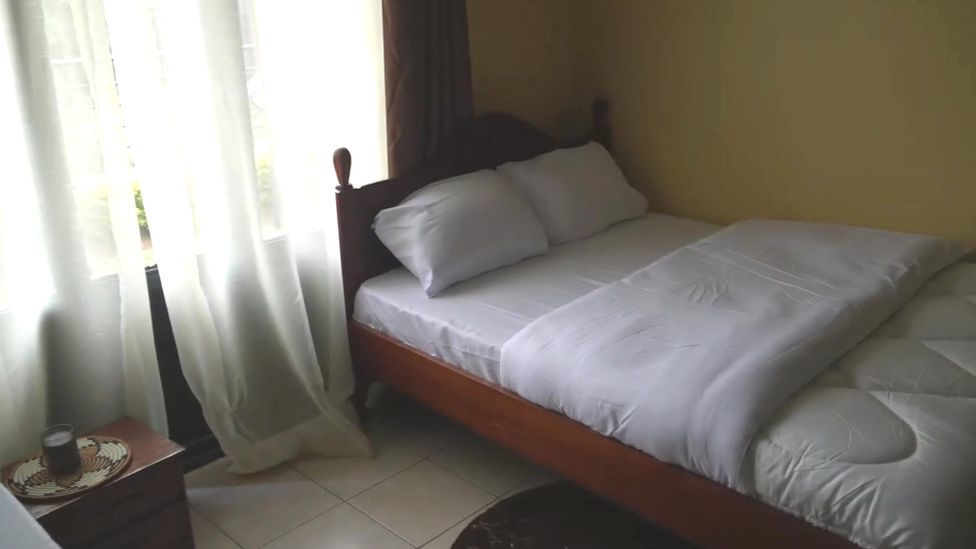 Journalists were given a tour of the typical accommodation for asylum seekers in Rwanda
Justin Welby addresses the "serious ethical questions" of sending asylum seekers to Rwanda