P&O Ferries boss Peter Hebblethwaite has admitted to MPs that a decision to sack 800 workers last week without notice broke the law.
He said there was "absolutely no doubt" that under UK employment law the firm was required to consult unions before making the mass cuts.

However, he said no union would have accepted the plan and it was easier to compensate workers "in full" instead.

The P&O boss also said he would make the same decision again if he had to.

Huw Merriman, the Conservative chair of the Transport Committee urged him to resign.

"It's untenable to come to parliament and say you decided to break the law, you have no regrets," Mr Merriman told BBC Radio 4's World at One.

"We can't have companies run by people like that. So he needs to hand his card in."

The sackings of P&O staff sparked outrage after it emerged they will be replaced by foreign agency workers paid less than the minimum wage.

Addressing a committee of MPs on Thursday, Mr Hebblethwaite apologised for the distress caused by the cuts, but said they were necessary to save the business which has been loss-making.

He said workers would receive "extremely generous" compensation, although as part of these settlements they would forgo their right to pursue further legal action against P&O.

Asked whether P&O broke the law by not consulting the unions, Mr Hebblethwaite said: "It was our assessment that the change [to staffing] was of such a magnitude that no union could possibly accept our proposal.

"So as I say, I completely throw our hands up, my hands up, that we did choose not to consult."

He added: "We did not believe there was any other way to do this and we are compensating people in full."

Asked if he would change anything about the decision made last Thursday, he responded: "That's a really, really difficult question.

"The business would close, the business was not viable. This is the only way for us to save this business and we have moved to a model that is internationally recognised and widely used across the globe and by our competitors.

"I would make this decision again I'm afraid."


Peter Hebblethwaite apologised to workers. But he remained adamant there had been no other option and gave no indication that he would change course.

MPs were aghast at his open admission that the business had chosen not to comply with the requirement to consult unions over planned redundancies.

A representative of DP World, which owns P&O, said Mr Hebblethwaite would not be sacked.

But after this morning's appearance, the calls for him to resign are growing.

No P&O worker will get less than £15,000 in compensation, he said, and a small number will receive more than £100,000.

Mr Hebblethwaite, who earns £325,000 a year as a base salary, said he could not say whether he would get a performance-related bonus after the sackings.

In 2020, the directors of P&O were paid £1.9m in total, and the highest paid director got £452,000.

Mr Hebblethwaite told MPs that the average hourly rate of pay for new P&O crewmembers would be £5.50 per hour, which is below the UK minimum wage. However, it is in line with international maritime standards.

From 1 April, the UK minimum wage for people aged 23 and over will be £9.50.

Mr Hebblethwaite said that the firm's new operating model was consistent with "models throughout the globe and our competitors".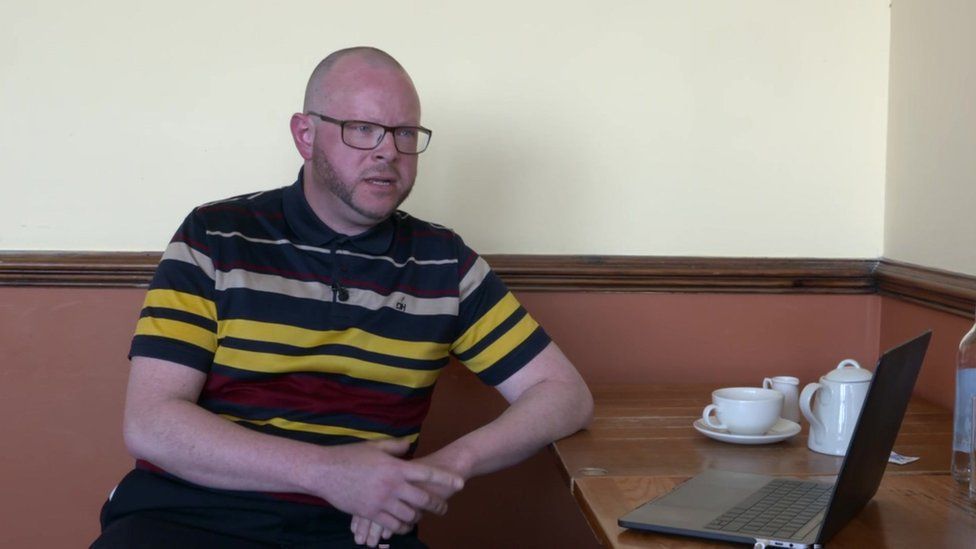 Former P&O worker John said he was 'sickened and shocked' by the hearing

By sacking its crews and taking on agency staff instead, he said the business would cut its wage bill in half.

Following the hearing MP Darren Jones, who chairs the business committee, said he was "amazed" by Mr Hebblethwaite's evidence.

The Labour MP added: "He should be fined, struck off and prosecuted."

John, a former P&O seafarer, who started working in the ferry business when he was 16, also said the P&O boss should go.

"I am sickened and shocked by this man's arrogant explanation," he said. "I don't even know if I've got the right words for how I'm feeling inside."

Meanwhile, transport secretary Grant Shapps said he would take action to prevent similar mass sackings without notice.

He said the government would "have a package of measures" to remove a "loophole in the law" it believed had been "exploited" by P&O.

MPs on the committee also raised questions about the way P&O notified foreign governments that it was going to make the redundancies, which is a legal requirement.

The company informed authorities in Barbados, Bermuda and Cyprus on 17 March - but MPs said it should have done this sooner.

On Wednesday, Boris Johnson told the Commons that "it looks like" P&O breached a similar rule in the UK, but some employment lawyers have cast doubt on that claim.

The company denies it breached any rules in this regard.
P&O Ferries boss Peter Hebblethwaite faces MPs
The government will stop a similar firing of P&O Ferries staff after the firm "exploited a loophole", says Grant Shapps.