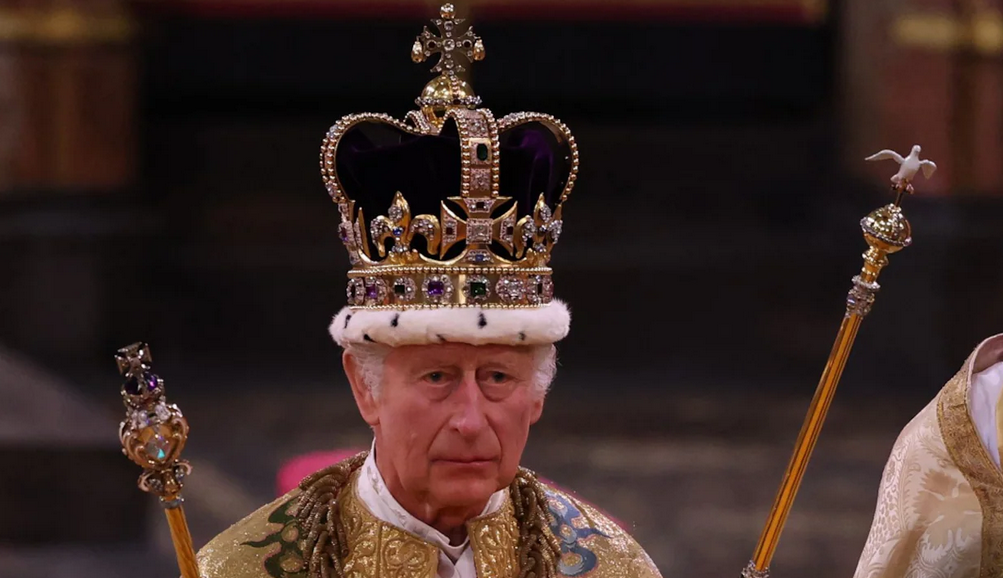 Over 52 Anti-Monarchy Protestors Arrested During King Charles' Coronation
Hundreds of demonstrators gathered among the 10-deep crowds lining the procession route in central London to stand out from those clad in red, white and blue, and to hold up signs saying "Not My King".
Police arrested the leader of anti-monarchy group Republic and 51 others at King Charles's coronation on Saturday, saying their duty to prevent disruption outweighed the right to protest.

Hundreds of yellow-clad demonstrators gathered among the 10-deep crowds lining the procession route in central London to stand out from those clad in red, white and blue, and to hold up signs saying "Not My King".

Republic said its leader Graham Smith had been detained before the procession began and photos circulated on social media showing police officers seizing demonstrators' placards.

"We absolutely understand public concern following the arrests we made this morning," Commander Karen Findlay of the London Metropolitan police said in a statement.

"Over the past 24 hours there has been a significant police operation after we received information protesters were determined to disrupt the Coronation procession."

Republic had vowed to mount the biggest protest against a British monarch in modern history and protesters booed as King Charles and Queen Camilla made their way to Westminster Abbey, and as the service was relayed publicly on large speakers.

"It is disgusting and massively over the top," said Kevin John, 57, a salesman from Devon who was among the protesters.

"It is also hugely counterproductive by the police because all it has done is create a massive amount of publicity for us. It is completely crazy."

Police did not confirm Smith's arrest. They said they had acted because they believed protesters would seek to deface public monuments with paint and disrupt "official movements".

"All of these people remain in custody," Findlay said.

Police said in a separate statement on Saturday that they had arrested three people earlier in the day based on intelligence that protesters were planning to throw rape alarms at the procession which could have scared the horses involved and thereby caused a risk to public safety.

Amongst the items seized during the arrests in London's Soho district were a number of rape alarms, the police added.

Protests also took place in Glasgow in Scotland and Cardiff in Wales, with participants holding up signs saying: "Abolish the monarchy, feed the people." On social media, many contrasted Britain's cost of living crisis with the pomp and pageantry.

Although protesters were in a minority compared with the tens of thousands gathered to support the king, polls suggest support for the monarchy is declining and is weakest among young people.

With the crown passing from Queen Elizabeth to her less popular son, republican activists hope Charles will be the last British monarch to be crowned.

"It has a hereditary billionaire individual born into wealth and privilege who basically symbolises the inequality of wealth and power in our society," said Clive Lewis, an opposition Labour Party lawmaker.


Strangely Expensive

In London, protesters demanded an elected head of state, saying that the royal family has no place in a modern constitutional democracy and is staggeringly expensive.

"Don't you think this is all a bit silly," said one placard.

Most of the anti-monarchy protesters had congregated in Trafalgar Square next to the bronze statue of King Charles I, who was beheaded in 1649, leading to a short-lived republic.

Since Charles became king last September, there have been protests at royal events. He was heckled at a Commonwealth Day event at Westminster Abbey in March and targeted with eggs in York in November.

The death of the queen has also reignited debate in Australia, Jamaica and other parts of the Commonwealth over the need to retain Charles as their head of state.

The state government of New South Wales said it had decided not to light up the sails of the Sydney Opera House to mark the coronation in order to save money. Events in other countries where Charles is head of state were also low key.

While many other European monarchies have come and gone, or are far diminished in scale and importance, the British royal family has remained remarkably resilient.

In Britain, polls show the majority still want the royal family, but there is a long-term trend of declining support.

A poll by YouGov last month found 64% of people in Britain said they had little or no interest in the coronation. Among those aged 18 to 24, the number rose to 75%.