Police investigating the attempted murder of Det Ch Insp John Caldwell have arrested a sixth man.
The 71-year-old was arrested in Omagh on Saturday under the Terrorism Act.

Det Ch Insp Caldwell was shot multiple times in front of his young son at a sports complex in Omagh, County Tyrone, after coaching under-15s at football.

Earlier, detectives were given more time to question four men already held in connection with Wednesday evening's shooting.

A court in Belfast granted an extension to the detention of the suspects, aged 22, 38, 45 and 47, until 22:00 GMT on Tuesday.

They and another man, aged 43, remain in custody having been arrested on Thursday and Friday in the Omagh and Coalisland areas of County Tyrone.

Det Ch Insp Caldwell is critically ill in hospital following the attack.

Policing representative body the Police Federation for Northern Ireland said he had suffered life-changing injuries.

On Saturday more than 1,000 people took part in a walk and a rally to show support for the senior Police Service of Northern Ireland (PSNI) officer who was off duty when he was shot.

Many attending the rally held posters which said "no going back! Unite against paramilitary violence".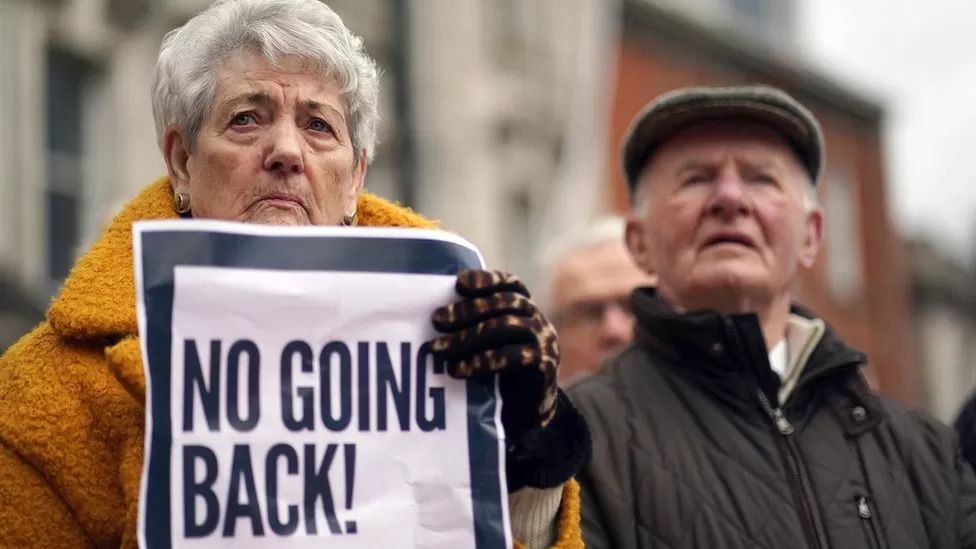 People took part in a rally outside Omagh Courthouse

The PSNI's main line of inquiry is that dissident republican group the New IRA was responsible for shooting the 48-year-old in the car park of the Youth Sport Omagh site.

Dissident republicans oppose the 1998 Good Friday Agreement peace deal and continue to use violence to attempt to unite Northern Ireland with the Republic of Ireland.

Det Ch Insp Caldwell's football club, Beragh Swifts FC, organised the walk.

The route from Beragh Swifts FC to Beragh Red Knights GAA club was short but significant - Constable Ronan Kerr was a member of the GAA club when he was murdered in 2011.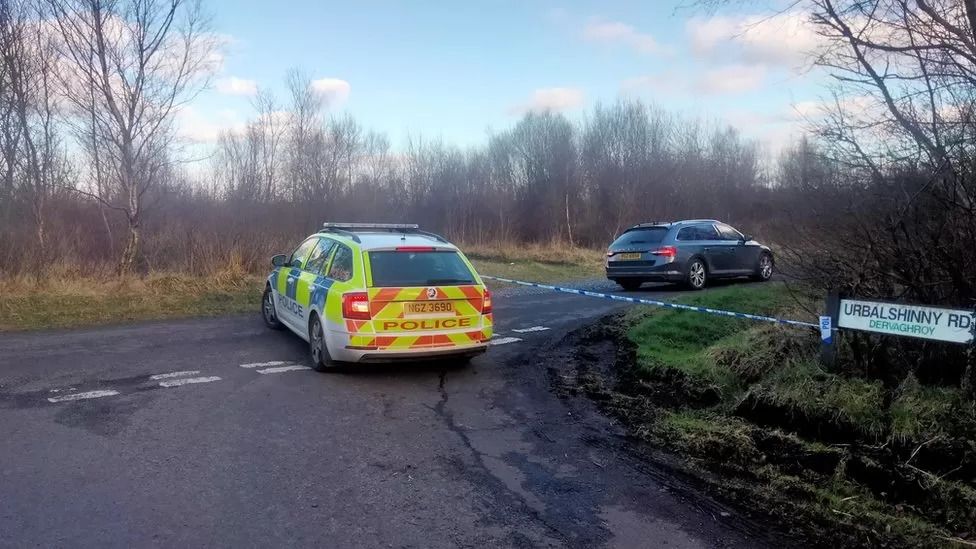 A security alert is ongoing in Beragh after a suspicious object was found on Dervahroy Road

On Saturday afternoon, after the walk, police confirmed that a security alert was ongoing in the Beragh area after a suspicious object was found on Dervahroy Road.

The PSNI said it was too early to speculate on whether the events were linked.

The rally, which was organised by trade unionists, was held after the walk on Saturday morning, near the site of a 1998 bombing which was the single most deadly atrocity in Northern Ireland's Troubles, killing 29 people.

The bombing was carried out by dissident republican group the Real IRA.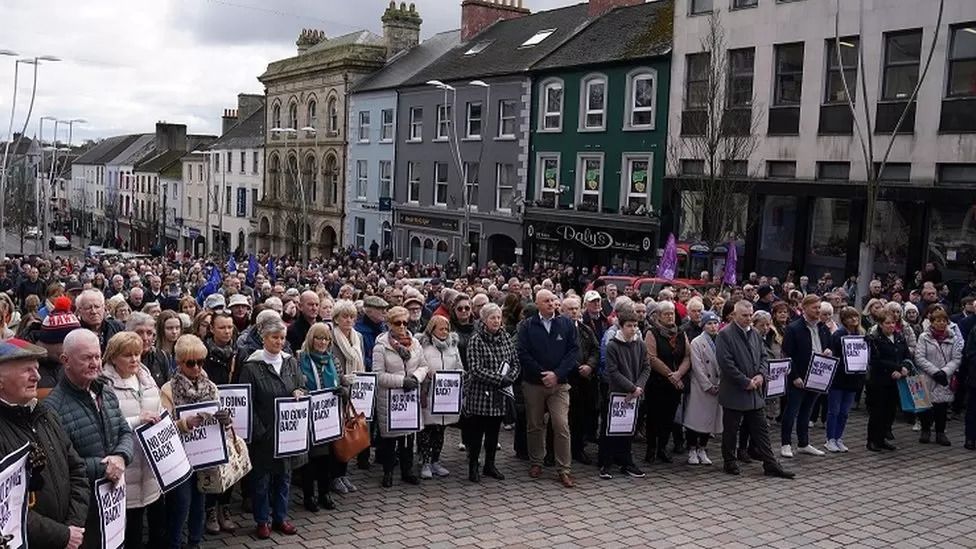 People gathered in Omagh in protest against violence
'Hit everybody hard'

Beragh Red Knights GAA club coach Celine Curran said the attack on Det Ch Insp Caldwell has "affected the community as a whole in Beragh".

"It's really hit everybody very hard," she told BBC News NI.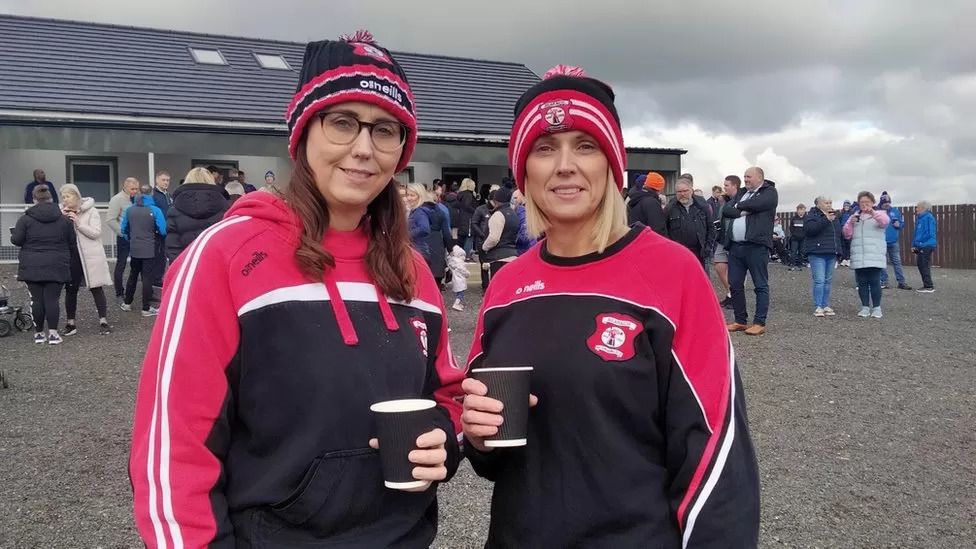 Carmel Quinn and Celine Curran are both Beragh Red Knights coaches

"We're all coaches at the end of the day. We're all parents at the end of the day.

"Our children go to Youth Sport as well - it's got nothing to do with religion.

"We are here in support of a father who was doing a coaching job and a son who has witnessed something life-changing."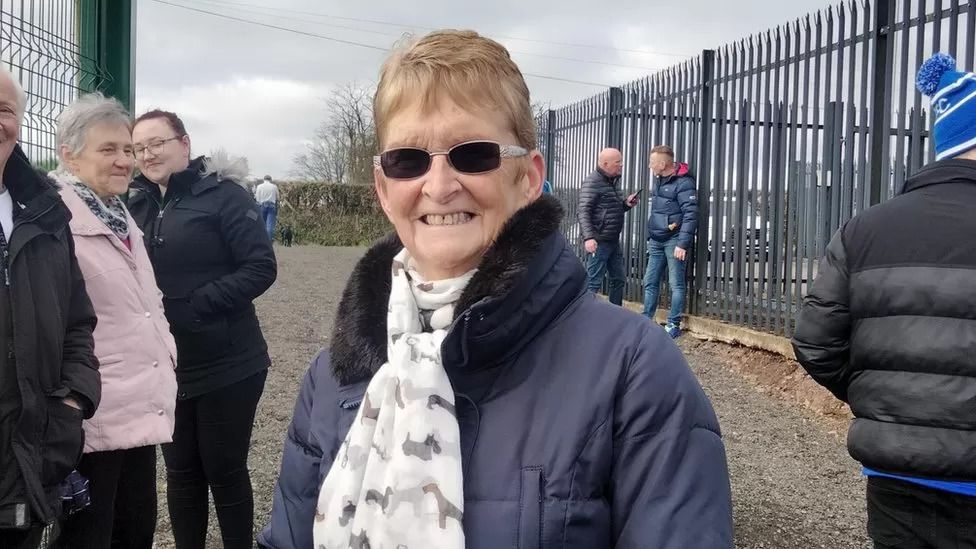 Bovelle Hamilton, who has known John since he was a boy, says the turnout was amazing

Bovelle Hamilton has known Det Ch Insp Caldwell since he was eight years old and came to show support to him and his family.

"We are absolutely shocked at what happened to him," she said.

Geoffrey Irwin also took part in the walk.

He said: "I know John personally, I went to primary school with him and also high school in Omagh."

He added that John was "very dedicated" to the club and gave up his free time to volunteer.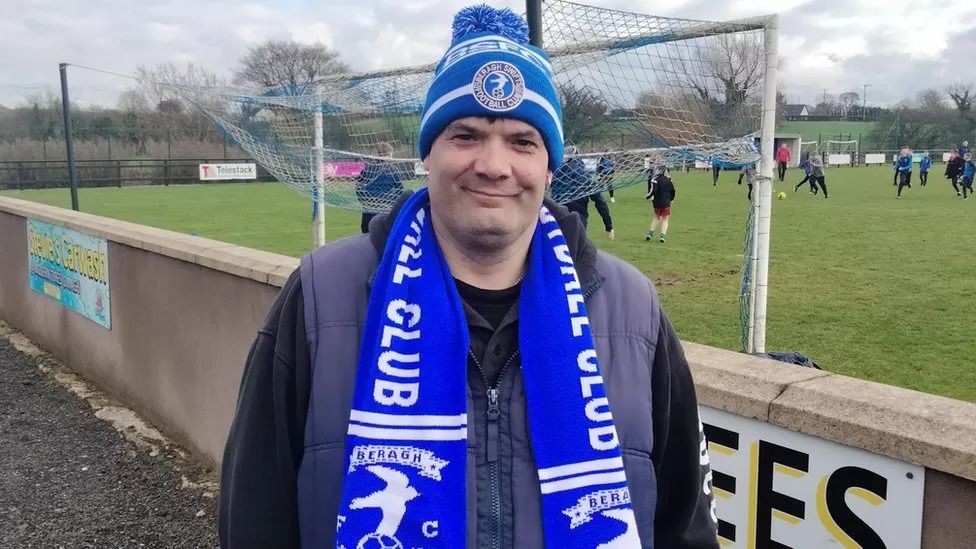 Geoffrey Irwin went to school with the senior detective

On Friday, the leaders of Northern Ireland's five main political parties presented a united front with PSNI Chief Constable Simon Byrne.

Mr Byrne said it was a significant show of solidarity that showed the "sheer sense of outrage at this pointless and senseless attack".

Investigations ongoing

Police believe the gunmen made off in a small, dark car, which was found burnt out at Racolpa Road, outside Omagh.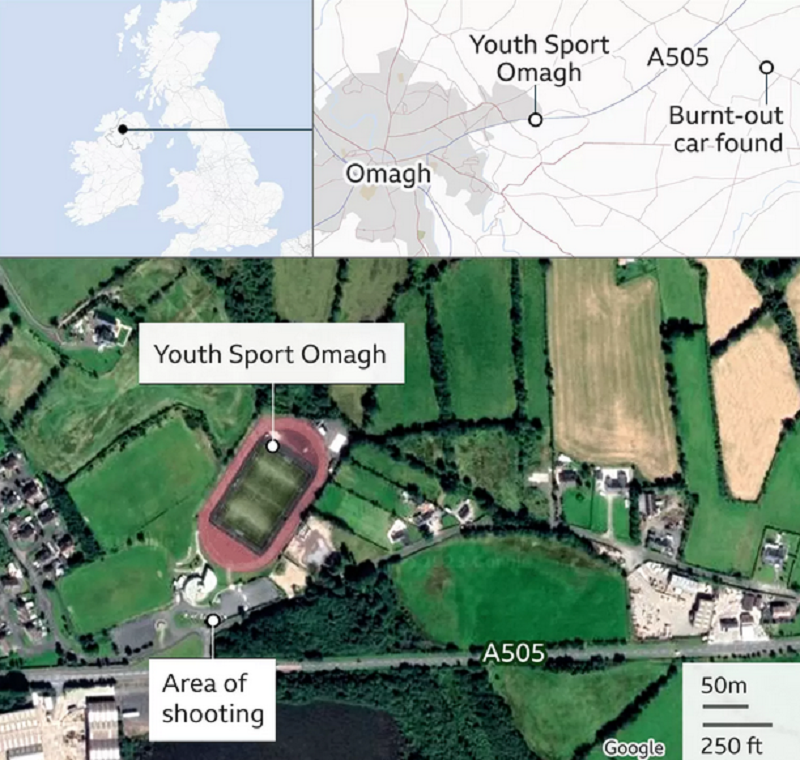 An Garda Síochána (police in the Republic of Ireland) continue to work closely with the PSNI after the shooting, a spokesperson said.

Gardaí previously said it had intensified patrolling in border counties following the attack.

It added that it would provide the PSNI with assistance as required as the investigation continues.

Last March, the the threat level posed by dissident republican terrorism in Northern Ireland was lowered from severe to substantial for the first time in 12 years.

The decision to lower the threat level was taken by the Security Service (MI5) after assessing a wide range of information, independently of ministers.

Since 2010 it had been "severe", meaning attacks are highly likely. It is now "substantial", meaning attacks are likely.

The threat level is assessed over a period of time rather than in reaction to one event.

Dt Ch Insp Caldwell has been the senior detective in high-profile inquiries including:

* The murder of Shane Whitla in a Lurgan park in January

* The stabbing of Natalie McNally in December

* The shooting of Lyra McKee, a journalist killed while observing rioting in Derry in 2019 in an attack claimed by the New IRA

* The 2011 murder of Ronan Kerr by dissident republicans, the most recent fatal attack on a police officer in Northern Ireland

He had received a number of threats in the past, BBC News NI understands, and was aware his investigations of dissident republican attacks made him a high-profile target.

He continued to carry out his activities as a football coach and whether that was a pattern that aided the targeting of him is of course a matter for the investigation.

The last gun attack on a PSNI officer was in January 2017.

The PSNI officer was hit by automatic gunfire at a petrol station in north Belfast.